News
2015-09-10
marc masters interviews joshua abrams about magnetoception for pitchfork's the out door. drag city releases automaginary, a collaborative album by abrams's natural information society & bitchin bajas.
---
2015-09-04
mojo gives magnetoception four stars + reviews from bull tongue review & the free jazz collective.
---
2015-06-16
feeling some memories of the road & the great artists i have traveled with. i took the photo of sunny & bobby few on a bus ride in france 2007, 2014 lunch at l'express photo taken by the waiter.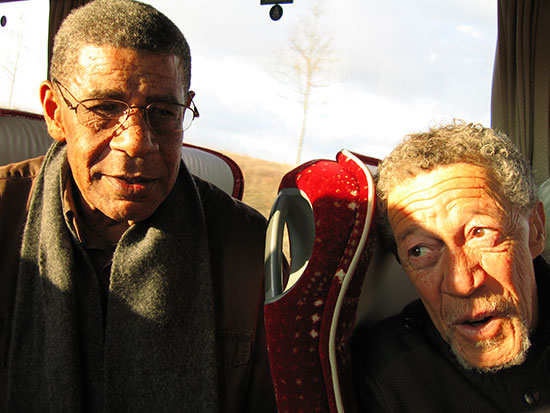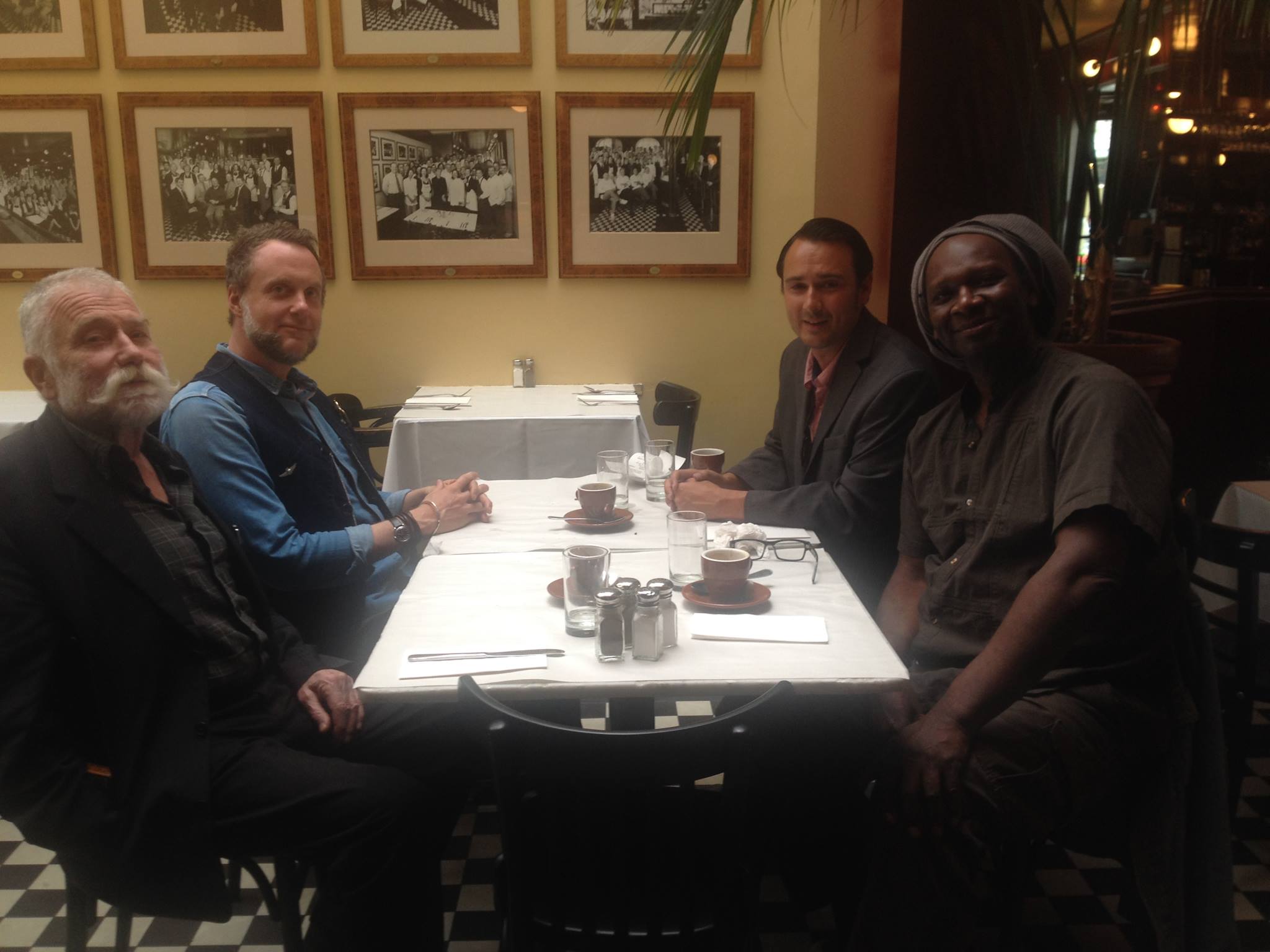 ---
---
2015-05-14
JOSHUA ABRAMS NIS ON TOUR
ken maiuri daily hampshire gazette review of 12 may montague bookmill concert
Every comfy upholstered seat and metal folding chair was occupied. Any empty space on the dusty floor had been grabbed by an audience member, cross-legged and captivated. The crowd spilled out of the intimate Montague Bookmill this past Tuesday night and onto the covered walkway leading out to the parking lot, jockeying for a good view. The focal point for these 60 or so people was Joshua Abrams' Natural Information Society, a Chicago sextet that built up a pulsing rhythm, deep and trance-inducing and heavy enough to shake a book loose from the back shelf. It landed next to me with a thud and the sudden noise was like a finger snap between my eyes, I'd been so hypnotized by the band's whirling, continuous groove. Abrams plays the guimbri, a three-stringed bass lute that originated with the Gnawa people of North Africa. You could feel the plucky low tones right in your chest, and the instrument was often both anchor and lead voice, simultaneously. He was joined by a brilliantly textured group of musicians, including Emmett Kelly on 12-string Rickenbacker electric guitar, Ben Boye on chromatic electric Autoharp and Hohner pianet, Lisa Alvarado on harmonium and gong, and double drummers Frank Rosaly and Mikel Avery. The group was in the middle of a 10-day North America tour and it was a special occasion, the official release date of its brand-new record on the Eremite label, "Magnetoception." Most of the 70-minute set was taken from that LP, as well as Abrams' previous album, "Represencing." Both records highlight Abrams and company's way of combining drone, melody and rhythm into a unique sound that shares DNA with jazz, Krautrock, minimalism, traditional music from Africa and elsewhere, psychedelic rock and more. Under lights both rose-colored and white, with a giant semi-fluorescent Alvarado painting for a backdrop, the six musicians set up in a semi-circle and began the show with a drone. Drummer Rosaly flipped his brushes over in his hand between cymbal washes, using every color in the percussion palette spread out before him. The spacey, shifting tone and texture lasted for nearly 10 minutes before a melody tip-toed out of the mesmerizing field of sound; the free-form percussion launched the band forward into a groove, a joyous tribal lullaby, part Sun Ra, part solo section of The Byrds' "Eight Miles High." The next piece, "Sound Talisman," began with the piercing boing of a gong the size of a pie plate. Alvarado held a mallet in a gloved hand and repeatedly whacked the snot out of the thin little gong; each single hit made a two-note upswoop melody, the cry of a metallic bird. The electric Autoharp and 12-string guitar together created a bigger-than-its-parts bell ensemble, chiming, ringing and rich. Again Abrams and the band built the long piece into a groovy roar, a heavy pulsing rhythm that had silhouetted heads nodding throughout the room, the sound of an infinite train rocketing past an intersection. Then Rosaly and Avery suddenly kicked into a 6/8 rock beat and the music was colored with a clattering, swaggering swing that hit my ears like late-'60s Frank Zappa and the Mothers of Invention. The two drummers got playfully rambunctious as they held things down, their fills ricocheting off each other. Another lengthy piece began with the band playing an eight-note melody in unison, something that could have worked as the theme to a spy movie. The individual parts soon separated and fanned out over a funky rock rhythm — Abrams plucked harmonics on the guimbri, which sounded very post-punk in this context — and it swerved into earthy Krautrock, kind of a relative of Can's "Mushroom." An ending section glowed and shimmered like an imperceptibly slow sunset, reminiscent of Miles Davis/Joe Zawinul's "In a Silent Way." Kelly's 12-string had a chance to peek out of the pretty drone and take some of the spotlight with thoughtful solo notes. Abrams and his Natural Information Society made music to get lost in — and their records are worth finding, especially before the bright and limited-edition vinyl goes out of print. For details and sound samples, visit eremite.com.
---