Peter Brötzmann & Nasheet Waits
Live at the 'Bottle' Fest 2005
Brö Records Brö-A CD
Personnel:
Brötzmann alto & tenor saxophones, clarinet, tarogato
Waits drums
Track Listing:
alto/drums (13:07)
cl-tenor/drums (19:48)
tarogato/drums (09:23)
alto/drums (07:54)
recorded 16 June, 2005, Empty Bottle, Chicago
producers: Michael Ehlers & Brötzmann
engineer: Lou Malozzi
design: Brötzmann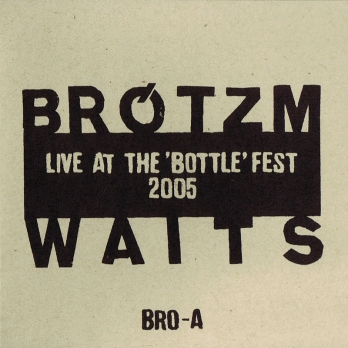 brö-a is the first release in the c/d format on brötzmann's private 'brö' imprint. produced in an edition of 400 copies to sell exclusively at concerts on the fall 2005 u.s.a. tour by brötzmann/waits, the disc is available here at eremite.com while supplies last. the package consists of a heavyweight cardstock gatefold-style sleeve (re-cycled paper), artwork by brötzmann, with the c/d mounted on a foam "hub" on the right inside panel. a handsome & unusual piece, & the music is a strictly killer representation of the brötzmann/waits dialectic.