Peter Brötzmann & Walter Perkins
The Ink is Gone
Brö Records Brö-3 LP
Personnel:
Brötzmann a-clarinet, tarogato, alto & tenor saxophones
Perkins drums
Track Listing:
side 'A'
Boot the Bastards Out
The Ink Is Gone
The Beast Filled Dark & a Beautiful Forest
side 'B'
Permanent Migration
Grass Flowers the Wind
recorded 31 March (Oni Gallery, Boston) & 1 April (Tritone, Philadelphia), 2002
producers: Brötzmann & Michael Ehlers
engineer: The Eremite Mobile Unit
design: Brötzmann
silkscreens: Alan Sherry/Siwa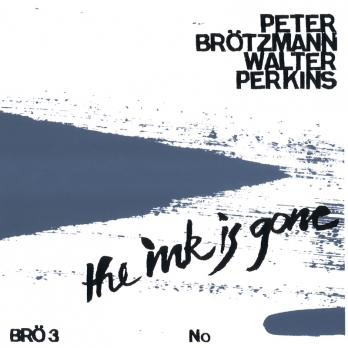 brö records no. 3 documents brötzmann's 2002 encounter with a true jazz legend, drummer walter perkins. as brötzmann said from the bandstand, "it is a great pleasure & honor for me to play with this gentleman. he is history. he has played with all my heroes, & i'm glad & grateful that i have this possibility." the music they played is marked by a depth of beauty & animation rare even by the standards of both artists' extraordinary histories. pressed on pristine 180 gram vinyl by RTI, artwork by brötzmann, jackets silk-screened by siwa records, oregon, u.s.a. in a numbered edition of 999.
cadence magazine reviewers' choices, top 10 records 2003
Exposure to American free jazz opened saxophonist Peter Brötzmann's musical floodgate, & nearly 40 years on his expressive torrent shows no signs of abatement. Brötzmann was an art student in Wuppertal when the revelation came & his signature graphics -- stocky lettering, broad, bold & textured designs & hands-on application -- continue to match the packaging of his releases to the music within. Initially, he ran his own label, Brö, issuing For Adolphe Sax & Machine Gun before becoming a key member of the FMP pool. Now, under the aegis of Eremite, Brötzmann has resurrected Brö to issue limited, numbered editions of sessions he finds special, on prime vinyl, in silk-screened card covers that have a feel as well as a look. The format is surely ideal for the fabric of his music, his sustained respiratory eruption & bronchial rush that scour the ear physically on entry. This time-lagged third Brö release is a duet with Walter Perkins, a jazz drummer who performed with Rahsaan Roland Kirk & Charles Mingus among others. The album draws on two sessions, one in Boston, the other in Philadelhia in spring 2002. Though it opens with Brötzmann on the rampage, there are also plenty of subdued passages. Perkins offers yelps of encouragement & appreciation, & responds at the kit with a veteran's guile. Brötzmann, on clarinet & tarogato as well as alto & tenor saxes, varies pace & mood to offer the broadest invitation he can to the attentive drummer.
Julian Cowley, The Wire
In the spring of 2002, Eremite producer Michael Ehlers arranged a short duo tour for Brötzmann & Walter Perkins. This limited edition lp, which revives Brötzmann's Brö label, is comprised of selections from performances in Boston & Philadelphia. Having attended the Boston show, what was immediately striking was the delight the two displayed in playing with each other. This was a true "meeting." While the reed player doesn't hold back, he responsively adjusts his playing to the elder drummer's free, bop-tinged pulse & flow. The improvisations have a warmth & joyous energy to them as they push each other with a sense of collective exploration. Brötzmann still conjures up passionate roars & dense flurries, but tempers them with a sense of measured pacing against the drummer's elastic snap & free, syncopated swing punctuated by excited vocal exaltations. The beautiful silk-screened cover & clean heavy pressing is a reminder of how great LPs are. This one will surely become a rare collectable, but it is the stellar quality of the performances that make it well worth searching out.
Michael Rosenstein, Signal To Noise