Peter Brötzmann & Jason Adasiewicz
Mollie's In The Mood
Brö Records Brö-5 LP
Personnel:
Brötzmann alto & tenor saxophones, b-flat clarinet,
tarogato
Adasiewicz vibraphone
Track Listing:
Side 'A'
1. Seasons May Vary
2. 'Round the Sun
Side 'B'
1. Mollie's in the Mood
12 September 2012, The Hideout, Chicago
producers: Ehlers & Brötzmann
engineer: The Eremite Mobile Unit
photography: Peter Ganushkin
art/design: Brötzmann
silkscreens: Alan Sherry/Siwa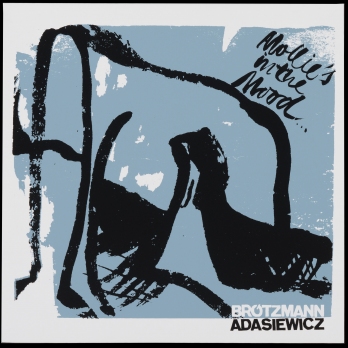 mollie's in the mood is the sequel to the brötzmann / adasiewicz 2012 tour-only cd going all fancy & the third LP on brö since the label's 2003 revival. recorded in 'you are there' fidelity live at chicago's hideout, a favorite venue of both artists, on the duo's 2012 u.s.a. tour. this is what happens when the most original vibraphonist of his generation slams into a force of nature. vinyl cut at sterling by steve fallone & manufactured by RTI. hand pulled screen printed covers on heavyweight stoughton 'laserdisc' sleeves by alan sherry/siwa. one-time pressing in an edition of 600, VINYL ONLY.
Volcanic Tongue best of 2014