Peter Brötzmann & Paal Nilssen-Love
A FISH STINKs FROM THE hEAD
Brö Records Brö-F CD
Personnel:
Brötzmann alto & tenor saxophones, b-flat clarinet, tarogato
Nilssen-Love drums
Track Listing:
1. A Fish Stinks from
the Head (22:34)
2. Range of Night (10:20)
09 April 2013, Cafe Oto, London
producers: Ehlers & Brötzmann
engineer: John Chantler
art/design: Brötzmann
silkscreens: Alan Sherry/Siwa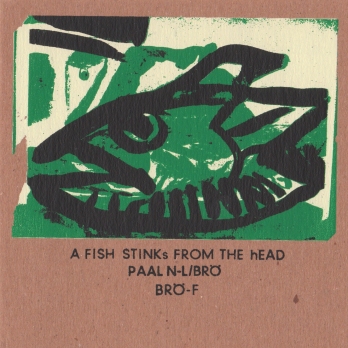 2013 tour-only CD available exclusively at concerts on the 2014 u.s.a. brötzmann/nilssen-love tour, & here at eremite.com while supplies last. packaged in a chipboard sleeve with hand pulled screen printed covers by alan sherry/siwa. green & ultramarine ink versions, combined edition size of 400 copies.