Christopher Cauley
FINland
Eremite Records MTE-06 CD
Personnel:
Cauley alto saxophone
Gregg Bendian drums & percussion
William Parker bass
Steve Swell trombone (3, 4, 6, 7, 8)
Track Listing:
Pulsebreath (5:48)
My Bell (11:31)
Heavenly Peace (7:13)
Arco Sketch (5:59)
As Ballad (5:57)
Douzes Au Santropol (10:22)
For Eva with Love & Squalor (7:50)
Agua Viva (In Memory of Salvador Roquet) (7:44)
31 May 1996, Teaneck NJ
producers: Cauley & Michael Ehlers
engineer: Jon Rosenberg
photography: Charles Gross
poem: "For Harold Bloom," A.R. Ammons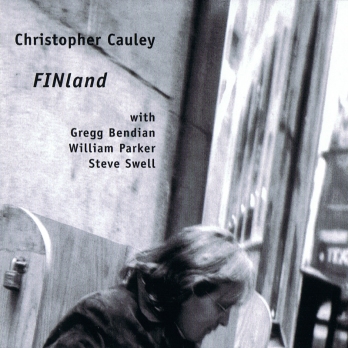 debut recording as a leader by now toronto-based musician/artist cauley. composed & improvised texts of great beauty & detail.
Ferocious & amusing, a reminder that people who go out convincingly are those with a strong sense of the communicative thrust of 'inside' playing.
Ben Watson, Hi-fi News & Record Review
Strong but measured musical statements that overwhelm with sensitivity, balance & detail.
Orelo
Sophisticated Free Mingusness.
The Wire