Raphe Malik
ConSequences
Eremite Records MTE-13 CD
Personnel:
Malik trumpet
Denis Charles drums
Sabir Mateen alto saxophone
William Parker bass
Track Listing:
Dominant Predicate (11:11)
The Gift (19:10)
Ditch Weed (10:48)
3X Twice (9:27)
GG (8:44)
26 July 1997, Fire in the Valley Festival, Bezanson Recital Hall, UMASS Amherst
producer: Michael Ehlers
engineer: Norman Blain
photography: Michael Wilderman
liner notes: Ed Hazell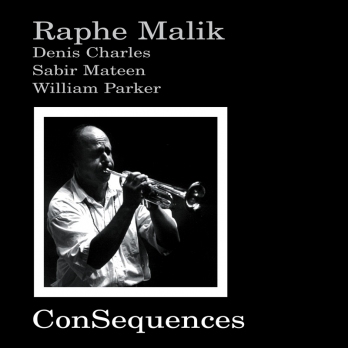 "Raphe puts his technical mastery of the trumpet to bravura use throughout ConSequences, pushing off from the initial structure established by the tunes into those extremes of expression where he is so at home. His sound is huge -- just one note tells you that -- but there's more to his playing than a big tone. Raphe has mastered the whole jazz vocabulary of the instrument. He can nail ridiculously high notes, execute the fastest lines with absolute clarity, and manipulate menacing growls, shrieks of anger and cries of joy with absolute precision. . . . His methodology is another way of doing what improvisers have done in America since the turn of the century: express the exhiliration of freedom and capture the joy that lies as deep within us as sorrow." --Ed Hazell, liner notes
jazziz magazine critics' picks top ten recordings 1999
cadence magazine reviewers' choice top ten recordings 1999
cadence magazine readers poll top recordings 1999
Once when Duke Ellington was asked to explain why he didn't deem his music 'swing,' he said he thought it was 'more kind of poignant.' Poignant is a good word for this music, too. The horns tangle & cajole & boast, but listening collectively is never abandoned. To hear these bravura technicians take time to be intimate & cooperative is more than poignant, actually. It's a blueprint for emotional honesty.
Ben Watson, Jazziz
Raphe Malik is one of the few trumpeters in free jazz with a sound big enough to knock down buildings, but on ConSequences he seems more interested in constructing new things with his blustery, fat-toned wail than ripping them apart. Recorded live in 1997 at the Fire in the Valley Festival in Amherst, Mass., with a group of veterans who understand that raw emotionalism means little without structure or context, the album seethes with white-hot expressionism, but in most cases such displays are outgrowths of the leader's memorable, surprisingly lyrical themes. Driven by the superb, intensely percolating rhythm section of bassist William Parker and drummer Denis Charles-in one of his last recorded performances-Malik and his buoyant alto saxophone foil Sabir Mateen (an able replacement for the trumpeter's long-time sax sidekick, the late Glenn Spearman) twist the contemplative heads of tunes like "Dominant Predicate" and "3X Twice" in radically different ways. Malik flexes muscle, exploiting the theme as a rocket launch into a fiery stratosphere, his searing, speaker-blowing sound full of high-wire acrobatics and brute strength, while Mateen generally stays closer to the melodic foundations, his improvisational ascents less explosive and more measured and careful. The contrast proves marvelous, as addictive as salt and vinegar. At times I find Malik's surging power a bit overbearing, but during such moments the rest of the group balances these displays with impressive restraint.
Peter Margasak, Jazztimes