Sunny Murray with Sabir Mateen
We Are Not at the Opera
Eremite Records MTE-14 CD
Personnel:
Murray drums
Mateen alto & tenor saxophone, flute
Track Listing:
Rejoicing New Dreams (18:46)
Musically Correct (18:04)
Clandestine, Giant (18:06)
Too Many Drummers, Not Enough Time (12:02)
27 June 1998, Unitarian Meetinghouse, Amherst MA
producer: Michael Ehlers
engineer: Jim Hemingway
photography & liner notes: Scott Cashman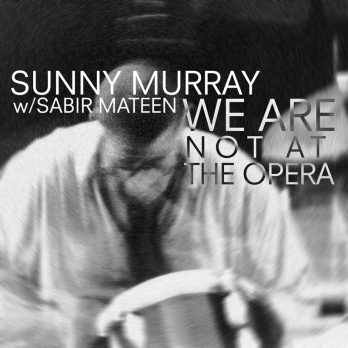 Too Many Drummers, Not Enough Time
like baby dodds and kenny clarke before him, sunny murray revolutionized the role of the drum kit in jazz. his playing with ayler and taylor opened up entirely new expressive realms for the instrument, and his influence on the last thirty-five years of improvised music cannot be overestimated. long in exile from the american scene, murray made a rare working visit to the states in the summer of 1998. this live recording from a 27 june meetinghouse performance in amherst unites him with an old comrade, the masterful multi-instrumentalist sabir mateen, who stimulates some of murray's most intense playing on record since the classic jump up side with jimmy lyons. both men are former citizens of the nation state philadelphia, pa, and that pitiless city's deep tradition of great black music courses through the set. if action music -- furiously energized and immediate -- is what you dig, this set delivers heavily.
wire magazine records of the year 1999, jazz
Much has been said in even more recent times about how happy & chilled Sunny is in Europe. Paris suits him & there has been a new tranquility in his work. However, there are still occasional opportunities to visit the USA, & the June 1998 recital at the Amherst Unitarian Meetinghouse is a reflection of how different the sixty-year-old is from his own younger self. Mateen is a much less incendiary partner than Charles Gayle, & his almost boppish phrasing on 'Musically Correct' coaxes some inspired metrical drumming from Sunny. The opening 'Rejoicing New Dreams' is a much gentler piece, a duet for flute & the most delicately enunciated percussion. Apparently Sunny was so drawn to his kit that he started playing during an intended intermission, a sound which attracted Mateen out from the dressing-room to join him; 'Too Many Drummers, Not Enough Time.' We are most certainly not at the opera. The music is made in a spirit of sympathetic informality, unbuttoned & relaxed, & it includes some of Sunny's very best work on record. A gentle classic.
Richard Cook & Brian Morton, The Penguin Guide To Jazz Recordings
Whoa. Look Out. When you look at the cover you know the shit is gonna hit the fan when this old master of the vanguard drumming tradition hooks up with the "gentle giant" of the alto, the tenor, and the flute. Sabir Mateen may not be as well-known as Sunny Murray is, but he's every bit as effective and iconoclastic. The title of the album is funny; they aren't even in the same country that opera comes from --even though Murray lives near there. So what have you got? Drums, drums, drums, and more drums. When Murray plays you can feel, as Annette Peacock put it in an interview, that there are at least 12 children inhabiting one adult body. He is everywhere creating, each time he plays, notions of polyrhythm and textural tonality that haven't existed before the moment he rolled them off his sticks onto the kit. His ability to produce contrapuntal invention is so effortless and instinctual you can feel Mateen, who is no lightweight, struggle to keep up with the flow. There are four improvisations lasting just under an hour with their own titles, and those titles don't mean a damned thing. What matters is the flow, the back and forth creation of a tidal wave of sound. It is a blowing session, sure, but you knew that coming in. The most surprising thing is, given Mateen's own musically explosive personality, how wide the dynamic range of expression is on this set. There are near silences within the rush of activity, there are moments of sublime noisemaking, and tonal agonies produced only by the passionate awareness of the other's emotion. And Mateen tries to reign it all in; he attempts to keep some sort of post-bop modal framework on the whole thing. He's doomed to fail and knows it, but just the attempt is enough to keep Murray dancing, searching for those very polyrhythms that will knock him off the mat and make him play catch up in a new way. This is a playful disc, one of ideas and fierce counterpoint, but one rooted in the warmth of creative exchange.
Thom Jurek, Allmusic.com
These four duets with Sabir Mateen, a strong multi-instrumentalist & a rapidly growing presence in the catalogs of such hardcore free jazz labels as Eremite & Aum Fidelity, provide a full airing of the many facets of Murray's drumming. The ebb & flow of these extended performances allows Murray to organically connect delicately brushed cymbal figures & full-bore barrages within a single piece. Murray's underappreciated sense of structure is very well represented by this program. Mateen more than holds his own, often prodding Murray in unexpected directions; his well developed voices on flute, & alto & tenor saxophones, are as compelling as Murray's.
Bill Shoemaker, JazzTimes
Murray's never been one to fuss with the strengths of the straightforward kit, & he still loves the idea of keeping a pulse you can time eggs by. The march meters of 'Rejoicing New Dreams' & 'Musically Correct' are constantly scrutinized & revised as they go forward, but they're there all the same. Murray is as strong & gracious as Art Blakey, & listening to him affords a lot of the same satisfaction as hearing Bu.
Richard Cook, Jazziz