Jemeel Moondoc & William Parker
New World Pygmies
Eremite Records MTE-20 CD
Personnel:
Moondoc alto saxophone
Parker double bass
Track Listing:
New World Pygmies (17:03)
Huey Sees A Rainbow (09:41)
Theme For Pelikan (13:26)
Not Quite Ready For Prime Time (12:58)
Another Angel Goes Home (04:55)
encore (09:28)
26 july 1998, Fire In The Valley Festival, Bezanson Recital Hall, UMASS Amherst
producer: Michael Ehlers
engineer: Alen Hadzi-Stefanov
photography: Michael Wilderman
liner notes: Ed Hazell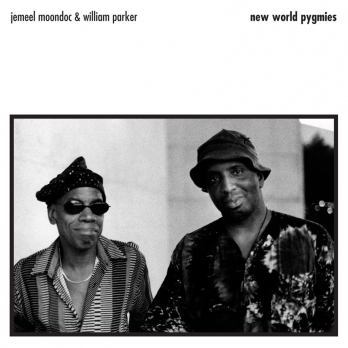 Moondoc pulls out all the stops on this album; it's the most complete documentation of his instrumental prowess on record. From the sustained melodic invention of the title track, to the sound-color-texture manipulations of "Huey Sees a Rainbow" to the gut-wrenching interpretation of "Another Angel Goes Home," Parker's tribute to the late Denis Charles, Moondoc is at the top of his game. Listening to him on the title track as he carefully picks his notes, threading his way in crazy zigzag lines that avoid cliche at every turn, I thought of Thelonious Monk - not his style but his spirit. The proud insistence on the idiosyncratic, the way he favors deliberate rough edges over polish and "technique," the unsentimental rigor of his ballads, and the sheer emotional honesty of his playing - these are Moondoc's virtues just as surely as they were Monk's and they make Moondoc's music unlike anyone else's working in the free-jazz idiom. Oh, you can hear echoes of Jimmy Lyons' merciless intellect, Ornette Coleman's vulnerability, and Jackie McLean's sharp intonation and economy. But they are filtered through Moondoc's own experience, his own heart and mind. And when history fuses with experience in the creative act, it's only the individual voice you hear in the heat of the moment that counts. What you hear is pure Moondoc. Writers and critics will have run out of superlatives long before William Parker has run out of ideas on his instrument. His creativity is boundless, he has a feel for time as distinctive as his own heartbeat, and he can play any role the music calls for. On "Theme for Pelikan" alone, he plays a two-beat march rhythm, four-four swing, (double timed for some passages), and free pulse. And his arco work, especially on the sublime "Huey Sees a Rainbow," is overpowering, terrifying, yet beautiful and human. --Ed Hazell, liner notes
cadence magazine reviewer's choices, top ten recordings 2000
magnet magazine, top ten free jazz recordings 1999
jazziz magazine critics' picks top ten recordings 1999
This is Moondoc's first recorded encounter with bassist Parker since Nostalgia in Times Square, & is a revelatory moment in the saxophonist's recorded output. People talk about the conversational quality of duo performance, but this is more like twin preachers in the mission hall, playing hard priest, soft priest alternately, the one threatening brimstone, the other promising redemption. Most of the writing is by Parker & includes the magnificent 'Huey Sees a Rainbow,' & "Theme for Pelikan,' as well as the brief, intense 'Another Angel Goes Home,' a dedication to drummer Denis Charles, whose presence would have made this record near perfect.
Richard Cook & Brian Morton, The Penguin Guide To Jazz Recordings
Listen to this live recording by alto saxophonist Jemeel Moondoc & bassist William Parker & prepare to be exhausted. Not because of some post-modern-theoretical-intellecto-minimalist brainfuck, but because Parker & Moondoc drag you through their experiences in operatic fashion --break your back with the suffering & then snap your neck soaring into elation. LIVES ARE CONTAINED ON THIS ALBUM: money, no money, winning dream girls, losing friends to heart attacks, visions of God, squandering everything, poems, paranormal desperation, hospitalization, bleeding fingers & haggard throats, the joy of creation, Old Man & the Sea-type shit... Moondoc & Parker tell stories here, something that's missing from a lot of jazz these days. & in doing so, this album verily bursts with life.
R. Dante Sawyer, Jazziz
Jemeel Moondoc's alto & William Parker's bass bounce with roughly the same amount of exuberant passion on New World Pygmies. But Moondoc comes out firing with the energy of the underdocumented. He peels off ideas that seems to stoke Parker amazingly, & you can almost see the bassist in turn literally hoping as he attacks the bass. This live set from 1998's Fire In The Valley Festival in Amherst, Massachusetts, makes one yearn for the physical sight of Moondoc, all up & down his horn --even as he corrals the range to suit a focus on variations & permutations.
Andrew Bartlett, Coda
Bring together one of the under-recorded, unsung masters of alto saxophone, Jemeel Moondoc, with the astonishing bass playing of William Parker, and what do you have? It should not come as a surprise to anyone that this live set from the 1998 Fire In The Valley Festival is not only some of the best Moondoc material on disc, but also a fine example of some of the best free saxophone playing in recent years. Parker is a strong addition to any group, but he is mostly in a supporting role here, while Moondoc spurts forth line after line of creative inspiration. There is an acerbic quality to the saxophonist's sound, reminiscent of Ornette Colemen's tone from the early 1960s. Moondoc is a sort of odd, underrated elder statesman of free music, occupying a role not dissimilar to that of Chicago tenor saxophonist Fred Anderson. There is much to savor on this one, and a lot from which younger musicians can learn.
Steven A. Loewy, Allmusic.com