Jemeel Moondoc and the Jus Grew Orchestra
Spirit House
Eremite Records MTE-29 CD
Personnel:
Moondoc alto saxophone, conduction
Lewis 'Flip' Barnes trumpet
Roy Campbell, Jr trumpet, pocket trumpet, flugelhorn
Tyrone Hill trombone
Michael Marcus baritone saxophone
Zane Massey tenor saxophone
Codaryl Moffett drums
Bern Nix guitar
Steve Swell trombone
John Voigt bass
Track Listing:
Quick Pick (10:47)
Brass Monkeys (09:08)
Flora (14:54)
Spirit House (26:32)
End Game (03:17)
In Walked Monk (09:14)
30 March 2000, Bezanson Recital Hall, UMASS Amherst
producer: Michael Ehlers
engineer: The Eremite Mobile Unit
photography: Ben Bernhart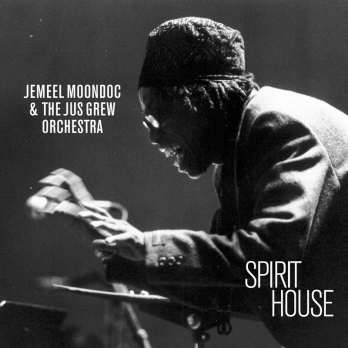 the jus grew orchestra was jemeel moondoc's chief artistic focus for nearly a decade. the band's hellified performances at lower east side venues such as neither/nor, 1st on 1st, & the newyorican poetry cafe are the stuff of underground legend. lower east side gentrification & a burgeoning conservatism in jazz combined to put the band out of work. nearly one decade later, moondoc re-formed jus grew for a series of nyc concerts & a new england tour, the source for this audio-verite concert recording. the band's combination of modern conduction techniques, blues & cosmos, super-churning rhythms, & heroic soloing will loosen the death root in your head.
Raw, loose, and wild, Jemeel Moondoc's Jus Grew Orchestra features some of the best improvisational talent east of the Mississippi. Moondoc's compositions and arrangements effectively highlight the strengths of the players, the list of which reads as a sort of who's who of the avant-garde jazz scene. Standouts include trombonist Steve Swell, who puts in one his best displays on disc; trumpeter Roy Campbell, impressive and svelte; baritone saxophonist Michael Marcus, navigating the ocean depths; tenor saxophonist Zane Massey, with a surprisingly agile performance; and drummer Cody Moffett, whose searing solo on "Spirit House" tears down the house. Tying it all together is the remarkable writing of Moondoc (who also solos on alto), with contagious riffs, danceable melodies, and careening rhythms. Never out of control and yet full of adventure, Moondoc steers the ten-piece band around a self-imposed obstacle course, in which the only guideposts are his fertile imagination. Some listeners may be reminded of some of Henry Threadgill's non-electric, early group efforts, which combined quirky melodies with non-swinging bursts of flaming brass. Moondoc translates the concept to a larger structure, with his own individual stamp and raucous ensemble writing. A band that begs to be heard live, Moondoc's Jus Grew Orchestra ignites and inflames passionately and breathlessly. If it is a bit unpolished at times, the overall spirit easily compensates. In all, a joyous fusion of hard bop and avant-garde visions.
Steven Loewy, Allmusic.com
Jemeel Moondoc's music is in the midst of a full-blown renaissance. Having single-handedly taken up the cause of disseminating the altoist's new work the Northampton, Massachusetts, Eremite label has released five of his recordings in as many years (essentially doubling his extant discography). Two more decisive entries to his ever-developing oeuvre, these discs suggest yet again that those listeners who ignore him do so at their own disservice. Realizing the financial realities of the creative music marketplace Moondoc has found it necessary to supplement his income with a skill outside music. In his case however the requisite 'day gig' has striking (and advantageous) parallels to his musical one. He is a architect's assistant and the principles of mathematics so integral to the field of structural engineering carry over creatively into musical settings. Moondoc's compositions have deeply ingrained pathos and logic that jibes well with both the rigors of improvisation and the individual strengths of his colleagues. Whether he's mapping for large jazz orchestra or small ensemble his music always seems to incorporate a guiding balance between personal emancipation and cooperative communication. The instrumentation on Revolt of the Negro Lawn Jockeys recalls Eric Dolphy's seminal 60s Blue Note date Out To Lunch and Jamal's vibes match much of Bobby Hutcherson's porous luminosity moving from glowing melodic clusters to agile harmonic embroidery. Working around and within the swirling rhythmic sphere of Moffett he sculpts a scrolling counterpoint of shifting colors and shapes. "Moon Mode" is essentially a chain of rubato phrases and extended solos bracketed by unison heads, but far from sounding like a threadbare litany the piece is instead a scintillating showcase for the players alone and as a team. Moondoc's initially solo is especially instructive starting on an even, easy keel, but quickly gaining momentum through beveled melodic tangents. Breedlove, whose worldly background includes a tour of duty as musical director for the Skatalites, serves as a dynamic counterpart to moondoc's horn. His measured, but intensely soulful locution on the ballad "You Let Me into Your Life," taps deeply into a polyglot reservoir of influences and Moondoc underscores his ideas with by muffled verbal encouragements. Speaking from both the heart and the intellect the altoist's own lines are ripe with emotive eloquence. Like smiling sambo, the ornamental artifacts of the title track carry heavy connotations of america's history of racial inequity. Moondoc's musical imagining of their uprising is at once darkly humorous and oddly ominous. A shifting Mingusian theme with distant echoes of "Pithecanthropus Erectus" serves as center, but the players only revolve around it in pure form at inception and terminus. Jamal's elongated solo is checkered with Voigt's guitar-like strums and stops. A declamatory press roll from Moffett acts as end cap and Moondoc marshals the forces for a final tertiary encore to end the set. Operating at a similar level of proficiency and synergy on Spirit House the Jus Grew Orchestra acts as a vehicle for Moondoc's ambitious large-scale interplay. Mixing solo-driven pieces akin to those of his smaller ensemble, with grand collective improvisations the program is at once intensely inviting and generous. some of the most exciting voices on the current east coast improvisatory scene fill the band slots. horn-heavy by design the group boasts a three-man rhythm section with mettle enough to spare when it comes to supporting the girth. moondoc's clever pen also lends a hand augmenting the engine room with riffing and layered brass and reeds when more punch is necessary. nix's shimmering bop-striped chords nurture a linear core alongside moffett's roaring traps and allow the horns free reign to frolic en mass on the opening "quick pick." voigt is largely lost in the shuffle and almost inaudible; but he repositions near the front for an unaccompanied arco prelude on the chamber-tinged "brass monkey." nix is again a stabilizing force wedging lyrical strums between sections of loquacious horn polyphony. moffett flirts playfully with a syncopated shuffle underneath as muted brass bleats gleefully above. the lush arrangements of the aptly christened "Flora" offer still another surface for the horns to find purchase. Parading a lavish echelon of melodic streamers Moondoc's early solo is a model of emotion mixed with self-discipline. Massey picks up the snaking line and runs down his own variation soaked in soulful vibrato. soon after Swell, Moondoc and Marcus emerge in succession giving way to a final collective ascent into stratospheric dissonance. As good as these tracks are however, it's the telescoping title piece that really steals the show. Hearing the horn combinations twist and jockey through a crowd of melodic constituents it becomes possible to imagine Moondoc's gnarled hands darting quickly gesticulated cues to the various vociferous factions. Moffett keeps a loose, but muscular squad of beats scampering through the fluid changes, routinely balancing back beat funk with textural cymbal fire and only occasionally slipping into mic distorting bombast. His culminating solo is awash in tightly channeled excess energy. Nix does his usual fill in the blanks, but unfortunately Voigt is again mostly buried in the mix. But the upshot is all of the horns are rationed a healthy helping of solo space and it's a thrill to hear each man have his say. The ending repartee between Moondoc flittering alto and Campbell's jocularly smeared brass spreads a boisterous dollop of icing on the cake. "End Game" packs an incredible amount of spontaneously orchestrated activity in a mere pittance of minutes and opens out into the angular circus hilarity of "In Walked Monk." Riffing ardently like a choir at a revival tent meeting, the horns regularly clear a path for each soloist to speak adding encouragement from the sidelines. Exiting with a final collective the shout the band drinks in a deluge of well-earned applause. Jemeel Moondoc takes each opportunity he is afforded to record and repays the invested faith with musical monuments of deep merit and lasting resonance. Each of his projects possesses a level of quality in line with the best creative improvised music of today. What's more these two new entries suggest that the well is far from dry and that the composer/improvisor/architect still has much to say. With the continuing aid of eremite we as listeners should consider ourselves lucky to be privy to the sounds he has yet to unleash.
Derek Taylor, onefinalnote.com