Sunny Murray
Perles Noires vol. I
Eremite Records MTE-45 CD
Personnel:
Murray drums
Sabir Mateen alto & tenor saxophones, clarinet
Dave Burrell piano (1-4)
Alan Silva bass (6 & 7)
Louis Belogenis tenor saxophone (6 & 7)
Track Listing:
Fox Hunting In Manhattan I (12:17)
Fox Hunting In Manhattan II (12:34)
Fox Hunting In Manhattan III (08:11)
Three Is A Crowd (05:06)
Top Dogs Boogie (20:26)
Lonely Woman (11:41)
Trail of Tears (06:55)
1-4: 10 October 2003, Tonic, NYC
engineer: The Eremite Mobile Unit
5: 9 October 2003, Bezanson Recital Hall, UMASS Amherst
engineer: The Eremite Mobile Unit
6 & 7: 7 June 2002, Unitarian Meetinghouse, Amherst MA
engineer: Alen Hadzi Stefanov
producer: Michael Ehlers
photography: Lea Mae Dyjak
liner notes: Ed Hazell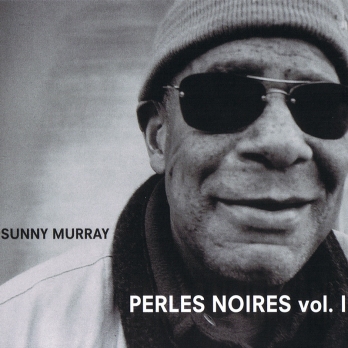 sunny murray's talent is bigger than any category you could use to describe it. he's one of the most original musical minds of the past 50 years, a genuine innovator, the liberator of the drum kit, and an artist of uncompromising honesty. murray's playing in the 1960s with albert ayler, cecil taylor, archie shepp, & others opened up entirely new expressive realms for the drums in jazz. murray's act of liberation --to free drummers from their strict time keeping role-- still outrages many listeners, and his militant individuality, his obstinate adherence to his artistic vision over the years, still make him something of an outlaw presence in jazz. it should come as no shock to his listeners, then, that the music on this c/d and its companion volume, recorded on brief visits to the u.s. from murray's home base in paris, is full of fire and surprise, ornery as hell, charming and urbane, and totally, unstintingly true to his free-spirited aesthetic.
The man who invented free-jazz drumming some five decades ago remains as committed and uncompromising --and as ineffably great-- as ever. These two releases are culled from live performances by Murray and saxophonist Sabir Mateen from 2002 and 2004. Joining them on various tracks are pianists Dave Burrell and John Blum, saxophonists Oluyemi Thomas and Louis Belogenis and bassist Alan Silva. Mateen has long been one of my favorites. Few saxophonists are better able to act and react in the moment. He can create with only the slightest input; give Mateen a cymbal ping and he'll use it as inspiration to construct a riveting 20-minute solo. Murray gives him a great deal more than a ping. His timbral and dynamic insights are unsurpassed among jazz percussionists. His imagination is vast, certainly --he comes at you with an unceasing flow of ideas-- but what sets him apart is his total immersion in the task at hand. He gets so deep inside the music: painting rhythms around melody, inciting and elaborating. No drummer is more spontaneously inventive. None plays with a greater depth of feeling. Of the sidemen, Mateen is best attuned to Murray, although Silva and Blum come very close. Special note should be taken of Blum. The dude is sick; he's like a free-jazz Frank Hewitt, only much younger --a monster player shamefully ignored by the New York City critics and overlooked by the labels. He should be heard. These albums are evidence --as if any were required-- that when it comes to free-jazz drummers, he who wrote the book still gets the last word.
Chris Kelsey, JazzTimes
Drummer Sunny Murray's sound of breaking glass is still shattering what passed as conventional jazz wisdom over 40 years ago, when he broke onto the New York scene with Cecil Taylor and, most importantly, Albert Ayler. On this two-volume set, Murray not only demonstrates that he can still crash and bang with abandon, but that he can also sharpen his idiosyncratic musicality to surprisingly fine points. Subsequently, these recordings buttress the assertion that Murray is the most original stylist since Kenny Clarke. Murray is heard with five different groups, the very high common denominator being reed player Sabir Mateen, one of the more powerful underground forces on the US scene. Vol. I may garner more initial buzz, since, in addition to a strong duet, it includes four trios with pianist Dave Burrell and two tracks with bassist Alan Silva in a quartet rounded out by saxophonist Louis Belogenis. Though Vol. II does not feature such Fire Music legends, it features two notable improvisers, reed player Oluyemi Thomas and pianist John Blum, who more than pass muster in respective trios with Murray and Mateen.
Bill Shoemaker, pointofdeparture.org
Much has been said in even more recent times about how happy & chilled Sunny is in Europe...The same spirit infuses much of the music on these more recent duo-plus-guests dates. The exception is a slightly fraught reunion with pianist Dave Burrell on the three parts of "Fox Hunting In Manhattan," & the tellingly named "Three Is A Crowd" (recorded at Tonic & all on Volume one), where there is definitely gunpowder in the air. Murray plays quietly for the most part, but with a constant threat lying below the surface. The only duet with Mateen, "Top Dogs Boggie," is a career highlight & an ideal place to study Murray's close attention to horn lines, which he seems able to duplicate precisely. The remaining material comes from a quartet date with saxophonist Louis Belogenis & bassist Alan Silva at the Unitarian Meetinghouse. They start with a subtle, moving version of Ornnete Coleman's "Lonely Woman," followed by a brief, oddly uncertain "Trail of Tears," which casts a slight shadow over Eremite's insistence that there was more than enough material available from Murray's Northeastern tour (inconsistently dated autumn 2003 & autumn 2004 in the sleeve notes) for two CDs. Volume two has some of the best music, but again is marred by the uncertainty of reedsman Oluyemi Thomas, who hadn't worked with this pairing before & sounds awkward. Add to that the unfamiliar pitch & attack of his C melody saxophone & the chemistry is just slightly off. By contrast, pianist John Blum fits in beautifully, & "Changing Times II" shows off Murray's gift fork working with piano players as well, taking keyboard phrases & blending them to his own idiom. "Nostalgia" sees Mateen keep to the background after a fine alto opening, but he's back in force on the closing "Now You Hear It, Now You Don't." Of the tracks recorded the day before with Thomas, only "Philly Sure Has Changed" is completely successful. Mateen's tenor is in great voice & Thomas has found his place in the mix. Murray puts in some Blackfoot figures towards the end & then comments wryly, "Sometimes it's nice to be with cowboys & Indians." Typically, he then changes the pace entirely with "Sundance at Midnight," a lyrical interlude, & on "Changing Times I" where he plays be-bop with dizzying ease.
Brian Morton, The Wire
Sunny Murray is widely credited with being the first drummer to fully liberate the kit, developing a form of omni-directional accompaniment that dissolved the distinction between supporting and leading and helped spark the free jazz revolution that took place in the early 60s. Indeed, Murray spent time with most of the new music's major theorists, including both Cecil Taylor and Albert Ayler. But in recent years he hasn't seemed like quite the drummer he was, lacking the focus and (perhaps more inevitably) some of the power of his earlier performances. Both volumes of Perles Noires, then, come as a real slap around the head. Both discs document the core duo of Murray and saxophonist Sabir Mateen, best known as a member of NY guerrilla jazz outfit Test, alone and in the company of various guests, including pianists Dave Burrell and John Blum, saxophonist Louis Belogenis and bassist Alan Silva. Murray is on fierce, articulate form and he makes with some wild solo statements, building compulsive tattoos from associative percussive strategies, as well as moments of pure, straight-ahead thump. Mateen's formulations are just as spontaneously charged, roaring out of the gate with a screaming, vocalised sound before dropping to moonbeams of late-night melody. A beauty.
David Kennan, Scotland Sunday Herald