Joshua Abrams
Natural Information
Eremite Records MTE-61 CD
Personnel:
Abrams guimbri, mpc, percussion, harmonium, bass, bells, dulcimer, donso ngoni, ms20
Jason Adasiewicz vibraphone
Lisa Alvarado harmonium
Jim Baker arp 2600
Ben Boye autoharp
Emmett Kelly guitar
Frank Rosaly & Noritaka Tanaka drums
Track Listing:
1. Mysterious Delirious Fluke of the Beyond
2. Abide in Sunset
3. Dolphin Cave Dazzling
4. Cabin
5. In Ex Or Able
6. A Lucky Stone
7. Sound Talisman
8. Represencing
recorded 2008/2009/2012 Chicago
1 & 4 recorded at the West Side Cabin
2 recorded by Griffin Rodriguez at Shape Shoppe
3 & 5 recorded by Noritaka Tanaka at Shevitz's Attic
6, 7 & 8 recorded live at the Hideout
producers: Abrams & Michael Ehlers
front & back cover paintings: Lisa Alvarado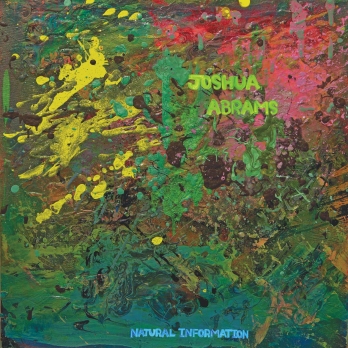 itunes download
bandcamp lossless download
bassist & composer joshua abrams has been in the thick of chicago's vibrant music scene for fifteen years, playing & recording as leader & sideman in projects across the genres. he co-founded the "back porch minimalist" band town & country (thrill jockey/box media) & with matana roberts & chad taylor the trio sticks & stones (thrill jockety/482 music). he has released four records under his own name as well as two under the moniker "reminder" that navigate the realms of jazz & improvisation, electro-acoustic composition, beatmaking, minimalism and field recordings (eremite/delmark/eastern developments/lucky kitchen). he has appeared on over 50 recordings including records by fred anderson, hamid drake & bindu, bonny "prince" billy, nicole mitchell black earth ensemble and black earth strings, sam prekop, mike reed's loose assembly, ernest dawkins chicago 12, savath & savalis, prefuse 73, rhys chatham, rob mazurek, tortoise, the roots, edith frost, mia doi todd, matana roberts, diverse, joan of arc, lorren mazzacane connors, david grubbs, david boykin, chris conelly, & the cairo gang. he has performed with roscoe mitchell, bill dixon, von freeman, fred anderson trio, john tchicai, the exploding star orchestra, henry grimes, axel dorner, fred lonberg-holm, peter evans, damo suzuki, wilbert de joode, jandek, walter wierbos, tony conrad, bobby broom, sean bergin, nate wooley, craig taborn, david stakenas, fred hopkins, rhys chatham, kurt rosenwinkel, neil michael hagerty, lin halliday, raymond strid, douglas ewart, toumani diabate, the chicago underground orchestra, ron dewar, baby d, kevin drumm, terry x, frederick lvunquist, the roots, jim o'rourke, kurt vonnegut, & earle brown. when in chicago he plays weekly with jeff parker and john herndon.

natural information, abrams 1st record for eremite is another fascinating entry in a solo discography of recordings that gather aesthetic input from all over the map into vivid personal statements. at the heart of natural information is the guimbri, a three-stringed animal hide bass traditionally used by the gnawa of north africa in healing ceremonies. combining solo, trio & quartet formats with adroit use of sampling techniques abrams creates intricate psychedelic environments that join the hypnotic character of gnawa guimbri music to more contemporary musics & methodologies. brown rice era don cherry, sandy bull's "blend" recordings & can's "magic" albums are super-heavy but in this case earned & appropriate historical reference points.
CD edition presented in a high gloss stoughton miniaturized gatefold sleeve with 20 minutes of previously unreleased additional material.
the wire magazine top 50 records of 2010
ni kantu top ten records of 2010
pitchfork guest list top ten records of 2010
matador records matablog top ten records of 2010
dusted best of 2010
wfmu beware the blog 2010 favorites
wax poetics jeff parker's top ten discoveries of 2010
foxy digitalis best of 2010
reckless records employees best of 2010
aquarius records customers favorites 2010
arsnovaworkshop 2010 year end lists
lars gotrich's (NPR) best of 2010
A Chicago bassist who's spread himself out over the last 15 years through all kinds of jazz, rock & improvised music, especially in the bands Town & Country & Sticks & Stones, Joshua Abrams has delivered one of the rough gems of the post-everything musical era in Natural Information. Here Mr. Abrams mostly plays guimbri, the three-stringed North African bass lute that you might have heard in Gnawan music; the seven tracks unfold in improvised low-fidelity one-chord jams with small percussion instruments, vibraphone & a little guitar. Every piece, even one recorded at the Hideout, a club in Chicago is quiet & commanding, bound by its own mysterious glue. The small Massachusetts label Eremite is releasing it only on LP, with audiophile-quality vinyl; that's good, because this is very nondigital music, & you'll enjoy hearing the spaces around the sounds as much as the sounds themselves.
Ben Ratliff, The New York Times
Seasoned Chicago musician Joshua Abrams (Town & Country) takes off on his own, building a solo album around the guimbri (a three-stringed African cowhide bass) and flights of fancy with a sampler, harmonium, hand percussion, and a dulcimer. He's joined in trio by guitarist Emmett Kelly, drummers Frank Rosaly and Noritaka Tanaka, and Jason Adasiewicz on vibes in the creation of super-deep pulse pounders that skirt jazz but bear down on the spiritual explorations that ought to lie within. Rigorous musicianship flows out of this ensemble like warm, unfiltered honey sliders with the occasional stinger left in; barbed, mellifluous expression that tunes towards the heart of the sun in a living, worshipful, vibrant flow of ideas and feeling. Though the music feels improvisational at points, the emphasis placed on rhythm should not be overlooked, and the label's own comparisons to Don Cherry's Brown Rice and certain Can records is as apt as any of us could maintain; the tempered, involved rambling of "Abide in Sunset" also speaks to the Saharan majesties of latter-day Sublime Frequencies vinyl editions. I get the sense that many musicians make this sort of attempt often, in that they'd like to be a bit more profound but don't have the language necessary to get there, even if their skills suffice. Abrams has created a rare and wonderful thing, a whirling, warm-blooded extension of the cosmic traveler's inner consciousness, filled with surprise and steadiness instead of apprehension and fear; a world where we all ought to try to live. Fans of raga, psychedelic rock, jazz and world music are in for a real treat with these six offerings. Easily one of the best records 2010 will see. 550 copies.
Doug Mosurock, dustedmagazine.com, still-single.tumblr.com
There's the indie rock electric bassist, the underground beat scientist, the stalwart sideman in acoustic jazz ensembles, the free improviser, the front-porch minimalist, and the electronic composer who cooks up sounds in a Lucky Kitchen. If you ask the real Abrams to stand up, they'd all leave their seats; he inhabits each role with sincerity and a deep respect for the requirements of his chosen style. Natural Information presents another Abrams, the transcendental trance-inducer. Chicagoans have seen this one around town, playing instrumental jams on his guimbri (a Moroccan camel-skin bass lute) with percussive accompaniment by the likes of Avreeayl Ra, Chad Taylor, or a drum machine; outside of town, the only way to get a taste of Abrams in this guise has been his work on Fred Anderson and Hamid Drake's From The River To The Ocean. But neither of these encounters fully prepares you for the extraordinary Natural Information, which is a departure for both musician and label. Most of Eremite's releases are no-sugar-added naturalistic free jazz efforts by men who'd qualify for an AARP membership; this one is pan-generic and studio-enhanced, and made by a man too young to need bifocals. And while it draws on Abrams' experiments with Saharan grooves and his affiliations with both rock and jazz musicians, it doesn't sound like any record he's ever made before.

The record divides tidily into three parts. There are two tracks each by two different bands, and two more featuring Abrams alone. Opener "Mysterious Delirious Fluke of the Beyond" sets a mood of rarefied otherness with a surge of electronically processed hammered dulcimer. The rest of the side one is a kaleidoscopic whirl of constantly changing but always in synch rhythm patterns articulated by Abrams' guimbri and metal castanets, Frank Rosaly's tom-heavy drums, and Emmett Kelly's (aka Cairo Gang) buzzing electric guitar; imagine Sterling Morrison sitting in for a spell with Bachir Attar. Side two features two pieces by the now-defunct AAT, which included vibraphonist Jason Adasiewicz and drummer Nori Tanaka. The trio usually worked in a jazz vein, but these tunes meld gut pulses and metallic chimes to hypnotic ends. Between their bright lights is a shadowy, solitary exploration of layered electronic and acoustic drone tones. The Rosaly-Kelly trio takes the record home with another lengthy slow burn, only this one is backlit with blues and gospel hues. Its name is "A Lucky Stone," and you'll want to carry its spirit with you wherever you go.
Bill Meyer, Signal To Noise
Natural Information gets your attention right away: it's a limited edition, 170-gram LP and the heavyweight cardboard cover has bright abstract expressionist painting on both sides with the hand-lettered artist's name and title barely interrupting. Chicago bassist Josh Abrams is in multi-instrumentalist, world music drone mode here, sometimes mixing samples into live performance and drawing on a plethora of 'world' instruments and a few close associates. The brief opening "Mysterious Delirious Fluke of the Beyond" is a solo piece for dulcimer, a steadily evolving, metallic wash of hammered strings. A second solo piece, "Cabin", has Abrams combining a doson'ngoni (a six-string bass lute from Mali) with bells and synth. The most substantial pieces here - "Abide in Sunset" runs to 15 minutes - are played by a trio with Abrams playing guimbri (an African three-string bass with a hide resonator) and harmonium with Emmett Kelly (guitar) and Frank Rosaly (drums), using sampling and additional percussion to create densely rhythmic, gradually unfolding music that blurs the line between acoustic and mechanical repetition, deeply involving group gestalt that has more parts than a trio would suggest. "Abide in Sunset" is an extended invocation of North African gnawa music while the trio's second outing, "Lucky Stone", emphasizes an electric guitar-raga component, suggesting affinities with early psychedelia like Paul Butterfield's "East-West". A second trio has Abrams playing bass and bells with Jason Adasiewicz (vibraphone) and Noritaka Tanaka (drums) for some acoustic improvisation that's even more sharply focused on rhythmic permutation, with Abrams' forceful bass playing coming to the fore on "In Ex or Able". This is engaging, deliberately hypnotic music, its style ambiguously pitched between retro psychedelia, contemporary drone and timeless North African.
Stuart Broomer, All About Jazz New York
Town & Country & Sticks & Stones are his other conduits, though he's played with just about everyone on the Chicago scene & off it, & those groups names catch something of how Joshua Abrams's natural information is conveyed: simple sound materials deployed in contexts that mix folk melody, foregrounded basslines & machined beats that insistently recall Jah Wobble's Bedroom Album (certainly more so than the Brown Rice-era Don Cherry the label is claiming as an ancestor).

For the most part, Abrams focuses on the three-string guimbri, which gives a softer, twangier sound than an upright bass, but with a resonant throb all its own. It's featured strongly on the two long tracks "Abide In Sunset" & the live "A Lucky Stone," but doubled with harmonium, percussion & Akai MPC1000 sampler. The other players on those cuts are Emmett Kelly, a different kind of guitarist to Abrams's usual partner Jeff Parker --all loopy jangles & Velvet's flavoured nod-out passages-- & Frank Rosaly, who shares drum duties with Noritaka Tanaka.

Vibraphonist Jazon Adasiewicz is the only other musician involved, adding light, fleet lines to "Dolphin Cave Dazzling" & "In Ex Or Able." The impression is of a larger ensemble because Abrams also deploys bass, bells, doussn'gouni, a Korg MS20 &, on the opening track, a hypnotic dulcimer that swoops in & out of phase with itself. This is "Mysterious Delirious Fluke of the Beyond," which might stand as title for the whole album, which is quietly evanescent, scattered with sudden breathtaking glimpses, & insistently uplifting.
Brian Morton, The Wire
Bassist/multi-instrumentalist and improviser/composer Joshua Abrams is an extraordinarily busy and versatile figure in the Chicago creative music scene. Working with musicians like Fred Anderson, Matana Roberts, and Nicole Mitchell, he could simply stake his career on being a first-call bassist; however, improvised music only scratches the surface of what his fingers and mind are capable of. He's also in demand in post-rock and electro-acoustic settings, and has even put in a stint with the Roots. As a solo artist / bandleader, Abrams has run the gamut from field recordings and electronics to open improvisations with extended technicians like Axel Dörner and Guillermo Gregorio. But even that level of eclecticism doesn't prepare you for Natural Information, which contains wholly unclassifiable improvisations from two Abrams-fronted trios as well as meditative solo music.
The trios here involve guitarist Emmett Kelly and drummer Frank Rosaly, and vibraphonist Jason Adasiewicz and drummer Nori Tanaka, respectively. Following the particulate waves of amplified dulcimer and harmonium (shades of Edward Larry Gordon) on the opening "Mysterious Delirious Fluke of the Beyond," the Abrams-Kelly-Rosaly faction strikes gold with the hypnotic West African-inspired psych of "Abide in Sunset." Here, Abrams is on guimbri, a four-stringed bass lute, hypnotically reconfiguring otherwise unadorned patterns in tandem with toms and the rattle of shakers and finger cymbals. One thinks of Malachi Favors or William Parker, though there's a starkly minimalist quality to Abrams' work. While the grit and twine of Kelly's electric guitar could be seen as foreground, his rural psychedelic echoes provide dusty counterpoint to an extraordinarily deep rhythmic canvas.
A different sort of minimalism pervades the AAT trio (Abrams, Adasiewicz, Tanaka): bass and vibes sustain a hovering dance with Tanaka's hand percussion on "Dolphin Cave Dazzling", while "In Ex or Able" is a light, clipped waltz merging flamenco strum with brushes and upper-register metallic bounce. An electronic wash folds over guimbri, guitar and percussion at the outset of "A Lucky Stone," droning underneath bright, new-day-dawning electric wrangle and the rhythm section's dry swagger. A merger of Ahmed Abdul-Malik, Quicksilver Messenger Service, and minimalist percussion music is probably the last thing you'd expect from Joshua Abrams (or, for that matter, Eremite Records). Natural Information is not only marvelously unexpected, but also a damn fine record.
Clifford Allen, paristransatlantic.com
For years, bassist Joshua Abrams has been a vital part of Chicago's jazz, free-improv, rock and neo-classical scenes. His performance this summer as part of a group of jazz musicians collaborating with Malian kora player Toumani Diabate added a new dimension, which comes across vividly on his new record (available only on LP). While Abrams has skillfully added such African instruments as the guimbri and ngoni to his repertoire, what's more crucial is his minimalist approach, where melodies and beats unfold slowly, but become indelible once they arrive. This dynamic is on a similar wavelength to such West African Tuareg groups as Tinariwen and Etran Finatawa. Throughout the record, stunning contrasts also emerge, such as the ethereal composition "Dolphin Cave Dazzling" set against the driving, indirectly funky rhythm section of vibraphonist Jason Adasiewicz and drummer Noritaka Tanaka with Abrams on bells. Meanwhile, Abrams' own rich bass tone has never been more pronounced, even within the constantly swirling instrumental textures. The sound quality of the 180-gram vinyl is first rate, and Lisa Alvarado's colorful album art (the sort of packaging lost in the digital era) is the ideal visual counterpart to Abrams' soundscapes.
Aaron Cohen, Downbeat
Familiarity breeds excitement in Chicago's Northside jazz-improv scene, which is currently thriving with a relatively insular group of very talented players and composers. Bassist Josh Abrams has encircled this scene from many angles, but his own compositions in Town & Country have been distinctive—extremely repetitive, trancelike, delicate, fiercely minimal. This LP under his own name continues along that path with some twists, chiefly his use of a drum sequencer and an African three-string bass called a guimbri (among other things). It features some Chicago standouts as well. Drummer Frank Rosaly reigns in his increasingly Corsanoesque intensity on the deep grooves (ex-Chicagoan Nori Tanaka is similarly effective on a couple tracks). Emmett Kelley contributes hypnotic desert-blues guitar lines, and Jason Adasiewicz, one of my favorite Chicago musicians, contributes celestial vibraphone that produces a striking textural counterpoint to the rest. The whole thing is dense, surprisingly dynamic, and extremely immersive, like the best kind of locked groove. With a colorful, abstract oil painting printed on thick cardboard and a thick vinyl slab, "Natural Information" is a serious release, a standout document from a scene currently possessed with limitless potential.
Travis Bird, Foxydigitalis.com