Joshua Abrams
Represencing
Eremite Records MTE-62 CD
Personnel:
Abrams guimbri, organ, ms20, harps, bells, harmonium, mpc
Lisa Alvarado gong & harmonium (4,7,8,9)
Mikel Avery drums (4,5)
Ben Boye autoharp (9)
David Boykin tenor saxophone (1,3)
Emmett Kelly electric & acoustic guitars (4,7,9)
Nicole Mitchell flutes (6)
Jeff Parker electric guitar (8)
Tomeka Reid cello (5)
Frank Rosaly drums (9)
Jason Stein bass clarinet (6)
Chad Taylor gong & drums (1,2)
Michael Zerang tambourine (8)
Track Listing:
1. San Anto
2. Represencing
3. Moon Hunger
4. Sound Talisman
5. Sungazer
6. The Ba
7. Enter Mountain Amulet
8. Cloud Walking
9. Sound Talisman
recorded at home summer 2011 by JA
9 recorded live at Constellation 2013
producers: Abrams & Michael Ehlers
painting: Lisa Alvarado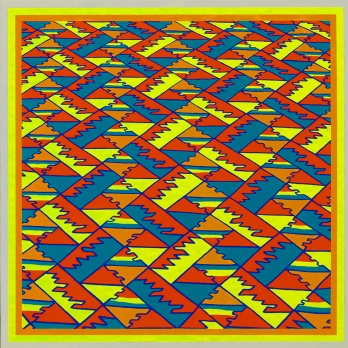 itunes download
bandcamp lossless download

represencing is the second installment of the joshua abrams sound world introduced on his 2010 eremite album natural information. recorded at home in chicago summer of 2011, abrams again organizes small group statements around the resonant grooves of the north african ceremonial instrument the guimbri with a unique & broadly assimilative compositional voice. sources from traditional musics to minimalism, jazz to krautrock, animate represencing, but Abrams is always grounded in the solidity of true working musicianship & he proves himself an artist fluent not just in styles but traditions. abrams' guest musicians embrace his polyglot approach. goaded (the guimbri is partly constructed from animal-hide) by abrams to focus on a particular facet of their vocabularies, jeff parker & emmett kelly appear as finely contrasting rhythm guitarists, michael zerang gets virtuosic on a tambourine & david boykin devotes himself to altissimo long-tones & circular breathing. others perform more structural roles, such as jason stein's bass clarinet, or, as with nicole mitchell's diaphanous choir of flute parts, function as landscape. the moondog-influenced "sungazer" is an aria for tomeka reid's spirited cello. throughout the album gong rhythms, synthesizer "sub" bass, harmonium & organ return as unifying coloristic elements. abrams likens the overall experience to "entering a forest from different directions," & cites as inspirations the AACM, don cherry, arnold dreyblatt, hamza el din, popul vuh, pharaoh sanders, & sandy bull's duets with billy higgins.
any one of these pieces would play fantastically as all-night trance music but abrams opts instead to miniaturize his environments, teasing the open & 'endless' forms of the compositions to present poetic episodes that imply sonic vastness. something of an exception to this practice is the ten minute title track, a duo with drummer chad taylor that is a tour de force of two brilliant rhythm players improvising to the omega point.

the CD edition of represencing is presented in a matte stoughton miniaturized 'laserdisc' sleeve with 25 minutes of previously unreleased additional material.
in the two years following the original release of represencing, abrams has toured north america & europe with a shifting line-up of musicians as 'the natural information society,' & scored the music for the award-winning films the trials of muhammad ali & life itself.

pitchfork staff list top ten albums 2012
magnet magazine best of 2012 jazz/improv
baltimore city paper 2012 top ten experimental & avant-garde records
ni kantu best of 2012 list
matador records matablog top fifteen records 2012
KDHX DJs top 10 albums 2012
stupid scientifical best vinyl albums 2012
reckless records staff best-of 2012
foxy digitalis best vinyl only release 2012
village voice pazznjop 2012
downbeat 4 star review