Jeff Parker
Slight Freedom
Eremite Records MTE-65 LP
Personnel:
Jeff Parker electric guitar, effects, samplers
Track Listing:
Side 'A'
1. Slight Freedom
2. Super Rich Kids
Side 'B'
1. Mainz
2. Lush Life
recorded 2013 & 2014, Hollywood
producers: Parker & Michael Ehlers
engineers: Ehlers, Emmett Kelly, Griffin Rodriguez
photography: Mikel Avery
screenprinting: Alan Sherry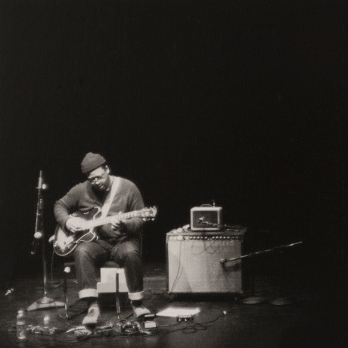 slight freedom, jeff parker's first ever solo record, presents the first opportunity to hear the guitarist in fully self-revealed circumstances. recorded 2013 & '14 in the hollywood hills as he relocated from chicago to los angeles, parker combines the dark tonal palette & percussive attack he's long been known for with real-time processing elements & field recordings, deftly crafting a unique world of solo guitar music --multilingual, mysterious, alive with extraordinary sonic events, with a sturdy intelligence in charge & a raw homestyle vibe. the record is yet another defining moment for parker in 2016, a year that already includes a brilliant ensemble album (the new breed) & tortoise's 25th anniversary tour & record (the catastrophist).
parker's title composition sets the album's cavernous mood. terse lines & ricocheting loops morph into a gnarly ambient section that resembles neil young droning out over a vg+ copy of discreet music. parker creates a different sort of ambient space in his take on frank ocean's 'super rich kids,' bending the melody around a bossa nova rhythm into a moodsville tone poem. parker makes an extraordinary long-form statement out of chad taylor's 'mainz,' a piece he first recorded with taylor & chris lopes on the album bright light in winter. twice the length of the trio recording, the multi-layered soliloquy finds parker leaping from the high rung to damn near orchestral heights, pushing his techniques & concepts to their breaking points. it's one of the great solo performances you'll hear from a musician this year. to say "lush life" comes with formidable baggage is an understatement. parker achieves instant classic status with a rendition that sounds beamed-in from a decommissioned satellite --burned out, covered in space grit, yet still formally nuanced & beautifully reflective of strayhorn's world-weary lyrics.
twenty years into the game it's a joy for eremite to present work by an artist who's clearly taking his music to the next level.
mastered by helge sten at audio virus. pressed on premium HQ-180 gram vinyl by RTI & presented in a heavyweight stoughton 'laserdisc' sleeve. hand-pulled screenprinted labels, dust jackets & sleeve by alan sherry of siwa. edition of 850 LP copies, digital available thru i-tunes & E music.
pitchfork 8.0 review
new york times best albums 2016
NPR top ten solo guitar records of 2016
john mulvey's 'favourite albums 2016' at uncut
philip sherburne #6 album 2016
soundohm best of 2016
reckless records 2016 employee best of lists
magnet magazine best of 2016 jazz/improv
At first hearing, Jeff Parker's solo record doesn't take much from the recent revival of Tortoise on The Catastrophist, or from his work on Rob Mazurek's remarkable Some Jellyfish Live Forever, or even from the sunkissed soul of his own The New Breed, but it's clear after a while that there's a common energy behind all of these. It will be hard for a while to think of Parker as a Californian musician, so thoroughly did he seem embedded in Chicago's new music, but things haven't changed that much with the move to Los Angeles, and Parker's extraordinary ability to glue a group together and provide a foundational authority to each track is precisely what makes this beautiful LP so compelling.
Whatever precisely is meant by the album title, it seems to signal that the move west isn't some grand unshackling but simply a new address and maybe the start of a spell in which Parker has to fall back on his own resources a little: namely his Gibson ES335, his ZT amps and a Boomerang Phrase Sampler. The title track sets a mood for the album as a whole: thoughtful, inward, but highly disciplined and contained. The rhythmic energies Parker draws on are always deceptive: 12/8 figures that feel like stretched out three-quarter, regular fours that turn out to have no discernible count whatsoever.
On "Slight Freedom" and even more obviously on the second side opener [percussionist] Chad Taylor's "Mainz", he plays with time, creating a sense that a musical structure is being revealed in stop-action photography, but very slowly and amid real-world goings-on rather than the sterile anticipation of a studio. One of the best things about Slight Freedom is the feeling that the whole thing is being busked somewhere in public.
Something similar happens on a deadened, hungover, utterly bereft cover of "Lush Life", which seems to reveal close familiarity with John Coltrane's but which dispenses pretty much completely with the Billy Strayhorn melody. Parker's on his own, but observed, like the guy mumbling at the end of the bar who might be dangerous or who might just be very, very sad.
Something similar on a super-clever deconstruction of Frank Ocean's "Super Rich Kids" – these kids have "nuthin'", remember – which might just be a sly commentary on the Instagrammed emptiness of moneyed life on the far Western littoral. Parker never shows his hand completely so you can't be sure.
There are long passages of drone or dissonant hum through the set. Rhythms emerge which don't seem to have a functional role. Thinly sketched lines turn out to have the strength of hawsers. Nothing quite as you expect. A terrific record from a guy who plays the enigmatic backstop even when out on his own.
Brian Morton, The Wire
What does the concept "slight freedom" mean when you're a musician like Jeff Parker? Is the qualifier tongue-in-cheek? It's not like he must hear the word "no" very much. Since the 1990s, as a linchpin of Chicago's music scene, Parker has developed his singular voice across a variety of contexts. He's a core member of Tortoise, where his playing often feels like the glue that holds the band together; as a co-founder of the Tortoise spin-off Isotope 217, he tackles looser, spongier strains of jazz-funk. Then there are his sideman gigs—for Toumani Diabaté, Matana Roberts, Mesheel Ndegeocello,, among many others—and his activities in a number of more traditional jazz ensembles, including his long-running trio with bassist Chris Lopes and drummer Chad Taylor.
Even as a frontman, though, Parker is a stealthy player, not a limelight-hugger; he's known for his restraint and his carefully controlled tone. His uncluttered playing seems to hew to the tenets of Marie Kondo's The Life-Changing Magic of Tidying Up: "Discard anything that doesn't spark joy."
This past year has seen Parker moving outward, in multiple directions—filigreeing the edges of Tortoise's sly, energetic comeback, The Catastrophist; exploring tangled textures and timbres alongside cornetist Rob Mazurek on the album Some Jellyfish Live Forever; and rolling up a decade's worth of beat sketches on The New Breed, a laid-back set of soul-jazz experiments colored by his recent move to Los Angeles.
With Slight Freedom, he tries something new yet again. Unlike The New Breed, where a handful of collaborators helped execute his ideas, Slight Freedom, his first totally solo album, is all Parker. He recorded everything live in the studio with no overdubs, using a Boomerang Phrase Sampler to layer loops and drones in real time. But where some users of looping pedals are prone to building up towering stacks of tone, Parker's restraint still prevails. He constructs the title track like a spider spinning its web: Using a dubby, percussive pattern as the main support, he lays down fine, almost invisible fibers—seemingly wispy yet deceptively sturdy—that are more structural than ornamental. There are no wasted motions. Yet the whole, which seems to hang in mid-air, glistening, remains deeply expressive, despite its extreme economy.
"Slight Freedom" sets the tone for the whole album. All four songs, including a drowsy instrumental cover of Frank Ocean's "Super Rich Kids" and a loosely woven instrumental version of Billy Strayhorn's "Lush Life," are quiet, atmospheric mood studies that tend to conceal more than they reveal. Sometimes it seems as if Parker is intent upon hiding behind his own shadow: In "Super Rich Kids," his muted, almost bossa nova-like plucks are nearly obscured by sounds pouring in through an open window: braking buses, car horns, the occasional burst of police siren, terse and menacing. A similar kind of veiling happens on "Lush Life," in which a dull electrical hum stretches from beginning to end, masking the contours of Parker's tremolo-soaked guitar with faint dissonance. Parker's take on the standard is bittersweet, almost resigned; from time to time, the melody reluctantly pokes its head out from beneath the chords, but mostly the song dwells in an all-consuming fog—a perfect evocation of Strayhorn's hungover and heartbroken narrator, slumped against the bar in some seedy dive.
"Mainz," on the other hand, gives Parker his chance to shine—at least, within the spare framework he has set up for himself. It's hardly acrobatic, but the song's unusual time signature, which switchbacks between 13/8 and 12/8, is as tricky as it is lithe. In his trio's 2012 recording of the Chad Taylor composition, the band closes out the song by locking into a slow, driving groove, but here he takes a considerably different tack: The song's final five minutes are just pure, shimmering held tones and softly droning feedback.
It turns out that some of the album's most striking moments are those, like this one, where the least is happening. In the opening "Slight Freedom," the principal theme is eventually swallowed up into a luminous bath of tone, and for six more minutes he proceeds to gently stir it, eking quiet mini-melodies out of the swirl. It's not jazz, it's not ambient, it's not noise; it's something more idiosyncratic and more personal, something only Parker could have come up with. Perhaps this is what "slight freedom" is supposed to mean: Not an anarchic exploding of rules, not the total liberation proposed by free jazz, but a steadier, stealthier path—dissolving boundaries, softening constraints, and wearing away at the edges of things until the ideas run as freely as water.
8.0 rating
Philip Sherburne, Pitchfork
Nate Chinen's New York Times best albums 2016
JEFF PARKER "The New Breed" (International Anthem) and "Slight Freedom" (Eremite). This guitarist stamps each of these albums with slow-burn charisma and a sense of solitude. "Slight Freedom" is a proper solo effort, recorded live with a Gibson 335 and effects pedals; "The New Breed" is a retro-futurist jazz-funk reverie, slithery, smart and cool.
One is tempted to think of Jeff Parker as the first guitar anti-hero. He's a subtle player, first and foremost, not given to showy pyrotechnics and rapid-fire flights of plectral fancy. His chameleonic, almost self-effacing, presence on recordings by Tortoise, Joey Defrancesco, Isotope 217, Fred Anderson, the Brian Blade Fellowship, Peter Erskine, Nicole Mitchell, Yo La Tengo, Hamid Drake, Joshua Redman, Scott Amendola, George Lewis and countless others is startling for its sheer stylistic diversity. Yet, Parker, unlike pretty much any other guitarist—or musician for that matter—always fits in. His playing, always deeply soulful, is more than just apropos; it belongs. Always somewhat terse and restrained, the sheer melodious strength of Parker's improvisations and accompaniments makes one wonder who's adapting to whom. In any setting, his playing has a sort of clarity that illuminates the music from within. It's the sort of musicianship that comes with a deep understanding that music-making is necessarily a collaborative group activity. Even Parker's albums as a leader—while quite obviously forged from his own unique musical vision—have an even-handed, conversational feel to them.

It's precisely these properties that make Parker's first solo recording, Slight Freedom, so eagerly anticipated. The quintessential group player is finally out on his own. Parker does not let us down; you knew he wouldn't, though. Slight Freedom is a total delight from start to finish. Craftily, he forms an ensemble of one via the subtle use of found sounds, delays, carefully-chosen samples, a few distinct effects, and other manipulations in real time. One gets the sense that sound artists such as Brian Eno, John Cage, J Dilla, and frequent collaborator Rob Mazurek (who, like Parker, maintains an active parallel career in the conventional jazz world) are just as important to his artistic development as B. B. King, James Blood Ulmer, or Derek Bailey. And one can hear all of this on Slight Freedom.

Buoyed by rhythmic-motorik amplified tapping, the title track is hypnotic and minimalist, though its spine is this gritty, nocturnal blues riff. The riff fades as eerily harmonized drones gather and occupy the foreground. Parker's shimmering, slowly unfolding improv here seems allied to the work of European experimentalists such as Hans-Joachim Roedelius. An urban environment—the brief yelp of a police siren, traffic sounds, the beeping of a truck backing up—impart an oddball innocence, and jauntily contrasting rhythms, to Parker's gently percolating, samba-informed cover of Frank Ocean's "Super Rich Kids." Penned by drummer / vibraphonist Chad Taylor another frequent collaborator, "Mainz" also appears on Parker's trio album, Bright Light in Winter (Delmark Records, 2012). Strongly rooted in the jazz lineage, "Mainz" is right in Parker's wheelhouse; lyrical, mournful, melodic, with interesting harmonies and an eminently grok-able ostinato that's perfect for sampling and manipulation. The piece dissolves into a blinding sunburst of drones and sustained, slightly distorted tones. The presence of "Lush Life" here is strangely unsurprising. Underpinned by what sounds like sampled feedback, Parker plays Billy Strayhorn's timeless ballad faithfully but with the tremolo turned way up, giving it a dreamlike aquatic feel. Throughout this rather brief album, the one constant is that all of Parker's choices are the right ones.

It's worth mentioning that the LP version of Slight Freedom is a deluxe pressing on super-heavy audiophile grade vinyl. Eremite Records has clearly spared no expense to bring this project to fruition. Aesthetically pleasing in every way, Slight Freedom is one of the year's more remarkable recordings.

5 stars
Dave Wayne, allaboutjazz.com
Jeff Parker is an inveterate collaborator who seems to relish opportunities to realize other musicians' ideas. Consider the guitarist's work with Rob Mazurek, Makaya McCraven, Fred Anderson, and the instrumental quintet Tortoise; in all of these settings he has found ways to make the ensemble sound bigger and more eventful without demanding the spotlight. So 2016 is quite a remarkable time for him, since it's the year that he released two solo albums.
The first, The New Breed, was named after a clothing shop that his dad ran, which says a lot about the priorities and experiences that informed that album. Not only did it feature hip-hop-influenced grooves and compact melodies that Parker could play for the whole family; his daughter Ruby closed the record with a vocal turn. Slight Freedom presents the more adventurous side of Parker's playing, but it is rooted in the same African-American pop lineage. The title track starts with an echoing figure that is close kin to the O'Jays' "For The Love Of Money," only to patiently morph into a liquid ambient reverie; on "Super Rich Kids," he re-contextualizes a Frank Ocean theme by subverting the original's airtight production.
On the other side of the LP, Parker uses delays to fashion an elaborate yet uncluttered interpretation of "Mainz," which was written by former Chicagoan Chad Taylor. The LP closes with a return to aquatic motion in the form of a lazily drifting yet exquisitely constructed rendition of Billy Strayhorn's "Lush Life." Parker dials back both bitterness and sweetness in order to isolate the composition's implications of memory.
4.5 stars


Bill Meyer, Downbeat
Over 30 years ago, the late Sonny Sharrock recorded a solo album simply titled Guitar. This brief but captivating album gave us all the sound of a special talent who used his unorthodox guitar playing (he initially wanted to be a saxophonist) in combination with studio trickery such as loops and overdubs. The borders between jazz and rock melted away, and the electric guitar was handed a bold new context from that point forward. Tortoise guitarist Jeff Parker's solo album Slight Freedom is poised to achieve the very same legendary status as Sharrock's Guitar. The cover is adorned with a black and white photo of the artist at work—just like on Guitar. The running time is 37-plus minutes—just as it is on Guitar. Details, details, yes, but Slight Freedom is also the guitar album fringe-jazz listeners have been waiting for patiently.
If I can fault Slight Freedom for one thing, it's that it's a vinyl release. This isn't to suggest that vinyl is inferior, because it's not—but to suggest that this music will enjoy limited exposure. This is unfortunate because there is precious little out there that sounds like Slight Freedom, especially in the world's ever-growing "jazz" collective. Sure, Parker may play a smooth, boppy melody on a song like "Super Rich Kids", but it's shrouded in an irresistible ambient murk. "Mainz" turns Parker's hypnotic guitar feedback into the main attraction halfway through its 12-minute length. The 11-minute title track is rhythmically driven by a looping, popping sound, something not too far removed from a racquetball bouncing off a hardwood floor. Even the spaciest Tortoise tracks are insufficient in preparing for what awaits you on Slight Freedom.
The name Slight Freedom sounds like a misnomer at first. After all, this is the sound of a seasoned guitarist enjoying every bit of freedom afforded to him, to the point where the record belongs on the number one spot in a melding, heavily-hyphenated genre unto itself. But when I think about the word slight, I'm reminded that the vinyl format imposes some limitations. Slight Freedom comes with two songs per side, and even a wizard such as Parker has to keep an eye on the timer when weaving together his unprecedented textures. He has forced himself to experiment without indulging. Not everyone can do that, let alone do it well. What places Jeff Parker into a league unto himself is the fact that he can turn that paradox into an album that is just as enjoyable as it is adventurous. That fact that he released Slight Freedom within the same calendar year as the fun and funky The New Breed is further proof that Parker is a rare talent, and that his solo flights are a rarer thing still. If there is any remaining justice at all in the music world, Slight Freedom will be released in more formats so that it may be enjoyed thirty years from now the way Sharrock's Guitar is still enjoyed today.
John Garratt, Popmatters