Joshua Abrams & Natural Information Society
Simultonality
Eremite Records MTE-68 LP
Personnel:
Abrams guimbri, bass, small harp, bells
Lisa Alvarado harmonium, Leslie, percussion
Michael Avery drums & percussion
Ben Boye chromatic electric autoharp, piano, Wurlitzer
Ari Brown tenor saxophone (B2)
Emmett Kelly electric guitar
Frank Rosaly drums & percussion, resonator bells
Track Listing:
Side 'A'
1. Maroon Dune
2. Ophiuchus
3. St. Cloud
Side 'B'
1. Sideways Fall
2. 2128½
recorded Chicago & Montreal, 2014 & 2015
producers: Abrams & Michael Ehlers
engineers: Thierry Amar & Cooper Crane
cover painting: Lisa Alvarado
screenprinting: Alan Sherry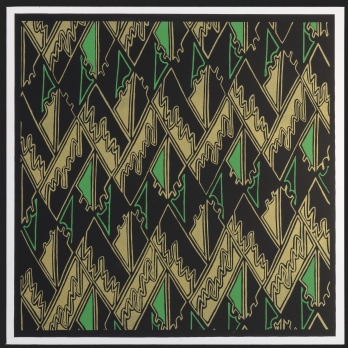 the follow-up to joshua abrams's critically acclaimed 2015 album magnetoception is here. simultonality, credited to joshua abrams AND natural information society (NIS), is the first recording in the project's nine year, four album history made by a regularly gigging manifestation rather than a special assembly of friends. recorded in 2014 & 2015 in single takes by the full ensemble during & after tours of the u.s. & canada, simultonality sets out new pathways for abrams & the NIS to reach the next summit, & once more affirms the project's unique approach to joining traditional musics, american minimalism & jazz with the gnawa ceremonial instrument the guimbri.
stasis, continuity & repetition, central qualities of abrams language, defined magnetoception, a double album of beautifully spacious & unhurried music that rated high on both pitchfork "the out door" & the wire's lists of the best records of 2015. these same qualities form the heart of abrams's music on simultonality. but where abrams once said magnetoception is about "winter & death," simultonality —in abrams's words— is an album of "pure motion." without sounding frenetic it is the most explosive NIS music on record, & without sounding over-determined it is abrams's most structured & thru-composed music yet. much of it is also fast ("the last record was slow"), a mass of densely patterned elements swiftly orbiting constantly reconfiguring centers that are variously harmonic & rhythmic, clearly stated or implied. while so teeming & tightly packed as to sometimes seem impossible to parse, the music is at no time any more disorderly than a colony of bees pollinating a vast garden. its many moving parts function in mutualistic relationship toward fulfilling abrams's long stated intention for the project: to help listener's achieve a meditative center & to consciously use music as a gateway to living. abrams credits the great bassist & composer william parker as an inspiration for this intention.

the musicians on simultonality date back to the nascency of NIS. along with hamid drake, mikel avery & frank rosaly are abrams first-call drummers for the project. abrams prefers two or more drummers in NIS whenever possible. on simultonality, avery is in the left channel, rosaly the right. the metallic shaker sound sometimes heard in the center of the stereo image is the rattle attached to abrams's guimbri. astute heads may recognize the rhythm in "sideways fall" as jaki leibezeit's drum break in can's "vitamin c." at abrams behest the two drummers divided the beat into separate parts. according to hamid drake the rhythm was popularized, if not originated, by john "jabo" starks & clyde stubblefield of the J.B.'s. nearly ten years into its existence, abrams & the NIS wear their influences with creativity & ease.

long standing NIS members ben boye & emmett kelly were previously together with abrams, or not, in bonnie prince billy's band, & abrams & boye have at different times played in kelly's band the cairo gang (boye & kelly are presently in ty segall's freedom band). harmonium player lisa alvarado also contributes the large format pattern paintings used by NIS at concerts & for its album covers.

a note on simultonality's closer, "2128½ south indiana". abrams is back on bass, as he was in the 1990s when serving as house bassist for the weekly session at fred anderson's velvet lounge (address 2128½ south indiana ave, chicago). at the end of the night anderson often played alice coltrane's journey in satchidananda as he re-stocked the bar & the musicians packed up their instruments. the open-form group improv that starts the piece makes explicit abrams & NIS's roots in free music culture, until the journey to the spirit of fred anderson & back to the glory of the velvet lounge begins. guest artist ari brown's gently wheeling, prayerful solo comes from way deep inside chicago's heavyweight tenor saxophone history.
along with the usual hooey about talent & vision, perseverance & sacrifice, great music just involves time. eremite released earlier recordings by this manifestation of NIS as bonus tracks —recorded 2012 & 2013 respectively— on our 2014 CD reissues of natural information & represencing. with the release of simultonality we at last definitively show the project's direction of the last five years (& as anyone who heard abrams's november 2016 residency at chicago's hideout knows, he is already moving on).

eremite LP edition pressed on premium quality audiophile vinyl by RTI, presented in replica audiophile dust sleeves & heavyweight stoughton laserdisc jackets screenprinted by alan sherry / siwa. first edition 825 copies, s/o. second edition 610 copies with red or turquoise in place of the green on the first edition cover.
aqarium drunkard 2010>2019 'decade' list
rolling stone 20 best avant albums of 2017
pitchfork 8.1 rating
the wire magazine #7 record 2017
uncut magazine #15 record 2017
john mulvey, uncut, #2 favourite record 2017
aquarium drunkard 2017 year in review
chicago reader, peter margasak's 40 favorite albums of 2017
three lobed records "listening time well spent" 2017
paradise of bachelors records 2017 year-end list
stranded records 10 favorite 2017 releases
CKUT favourite sounds of 2017
rough trade records staff picks of the year 2017
carpark records staff picks 2017
chirp radio best of 2017
mac, merge records 2017 year-end playlist
WWOZ favorite recordings of 2017
free jazz blog's 2017 top 10 lists
hhv.de staff picks 2017
At once tensile and hypnotic, Simultonality, the new album from Joshua Abrams and Natural Information Society, has an aesthetic of repetition and renewal. Mr. Abrams draws on a global scrapbook of sources: the liquid chime of 20th-century minimalism, the trebly funk of guitar-driven jazz fusion, the burrowing pulse of West Africa's Gnawa music. At the Bridget Donahue gallery the group will appear in quartet form, with Mr. Abrams on guimbri (a Gnawa stringed bass), Lisa Alvarado on harmonium and percussion, Ben Boye on Wurlitzer and chromatic autoharp, and Mikel Avery on percussion. The concert is part of a continuing series of performances in coordination with the gallery's exhibition of Ms. Alvarado's work, which blends textiles, paintings and sound.
Giovanni Russonello, New York Times
Joshua Abrams made his name playing the double bass on the same exploratory Chicago scene that has spawned the likes of Tortoise, Hamid Drake and Matana Roberts. Here, however, he switches to the guimbri (a three-string lute associated with the Gnawa musicians of Saharan Africa) in a project that mixes spiritual jazz, spiky post-rock and Terry Riley-inspired systems music. "Maroon Dune" is a hypnotic groove in a 10/4 rhythm; "Sideways Fall" sounds like Can's Jaki Liebezeit jamming with Philip Glass; while the closing track, "2128½," is a pulsating jazz waltz that recalls Alice Coltrane, with tenorist Ari Brown in the Pharoah Sanders role. What holds everything together, however, is the spectral presence of Africa – with Abrams' goatskin-covered guimbri bouncing around the mix, sharing sonic space with resonator bells, bow harps and thumb pianos. A compelling Afro-futurist voyage.
John Lewis, The Guardian
One of the tireless mainstays of Chicago jazz, Johsua Abrams first established himself as a bassist, though he's also a composer, bandleader, and multi-instrumentalist with a special fondness for the guimbri (also know as the sintir), a plucked three-string lute from West Africa. Simultonality, his brand-new follow-up to Magnetoception, provides the best introduction to Abrams' music for people who aren't already deep into avant-garde jazz; the present Chicago scene came into its own through a close relationship to indie and post-rock, and there is more than a touch of classic Krautrock to the record's groovy, looping, cross-thatched rhythms. On "Sideways Fall," the longest cut, Abrams and his five-piece band lead the listener straight into psych-motorik jazz heaven.
Ignatiy Vishnevetsky, A.V. Club
Dusted, and particularly this writer, stands corrected. The last time we dealt with Joshua Abrams and the Natural Information Society was in a review of Automaginary, the group's summit with the Bitchin Bajas. That review suggested that the Bajas brought the krautrock influence while Abrams was responsible for the Gnawa and world jazz references, but we were too binary for our own good. On Simultonality's "Sideways Fall," which takes up half of side two, drummers Mikel Avery and Frank Rosaly lean into Jaki Liebezeit's beat pattern for Can's "Vitamin C."
The aforementioned tune connects the dots between Can, James Brown and Moroccan trance grooves, and that's by no means the whole story. While Abrams and his group may confine themselves to natural information, that doesn't mean that they can't cast a wide net. The cascade of resonating electric strings and staccato harmonium that opens "Opiuchus" is like a neon-lit refraction of Steve Reich's "Music For Eighteen Musicians," and the swinging, cross-hatched rhythm workout that follows combines electric and acoustic sonorities like a banner woven from sky and earth. "Maroon Dune" uses another Can-derived rhythm as the foundation for another celestial-terrestrial dance; while most of the band keeps loose reign on a bucking beat, bellows-driven and electric keyboards glide overhead, evincing the paradoxically slow appearance of fast-moving clouds. Musical and elemental forces converge harmoniously without losing their essence. It's a soul-warming response to the agents of fracture at work in America and other places.
On all of these pieces, Abrams plays a Moroccan bass lute known as a guimbri, which infuses the music with a ceremonial vibe. But he sets it aside on two others. He plays harp and messes with the tape speed on "St. Cloud," a brighter-toned study of motion within motion. And he switches to double bass for the slow-burning closer "2128½." The titular number refers to a now-empty patch of South Indiana Avenue that was once occupied by Fred Anderson's Velvet Lounge. The Velvet's jam sessions and out of town bookings provided essential schooling for both musicians and audiences, and Abrams played there many times. The piece starts out free and agitated, courting chaos, but then segues into a walking bass line over which Ben Boye lays down a carpet of cosmic electric piano chords and saxophonist Ari Brown blows a blues that blends the yearning of early 1960s John Coltrane with the sandpapery grit that Pharoah Sanders brought to Alice Coltrane's music a decade later.
One might get the idea from all these historical references that Abrams is just another guy who wants to show what he knows. But that misses the point that all of these antecedents used rhythm and tone to heal, enthuse, and mesmerize. This music was fashioned with similar intentions in mind, and it uses the recognizability of past intentions to help put its point across.
Bill Meyer, Dusted
Natural Information Society, led by the bassist Joshua Abrams, has been a going concern for the better part of a decade, rooted in the go-anywhere ethos of the Chicago experimental scene. On the band's fourth album, Simultonality, Abrams often slows things down to a meditative crawl, borrowing ideas from both postminimalist chamber music and premodern folklore: He spends much of the album playing the guimbri, a three-stringed Gnawan lute, in hypnotic patterns. But there's also still a jazz pulse in this music, as Abrams shows with the closing track, "2128½," featuring the prayerful cry of Ari Brown's tenor saxophone and the polyrhythmic lope of Mikel Patrik Avery's drumming.
Nate Chinen, wbgo.org
Joshua Abrams makes music about time and patience—music that, as he put it, "offers the possibility of slowing down." With his group Natural Information Society, he crafts simple loops, primarily with a three-string African lute called the guimbri. A plethora of sonic elements—including guitar, harmonium, autoharp, and all kinds of percussion—gather around him like moss crawling up a wall. The result is a sound that moves forward while simultaneously seeming to freeze time.
The restraint of Abrams' work matches his long-arc career, which he began in Philadelphia as an early member of the Roots. Moving to Chicago, he formed Thrill Jockey group Town & Country and became ensconced in the city's jazz and indie scenes. Many of the people he met there, including Cairo Gang's Emmett Kelly and Tortoise's Jeff Parker, have performed in Natural Information Society, a rotating collective that recently solidified into a working unit.
You can hear the effect of that consistency on Simultonality, the fourth Natural Information Society album in seven years (alongside an excellent collaboration with Bitchin Bajas). The group moves together like a carbon-based machine, loose enough to allow for surprises but always focused on one goal. Over tracks that often last eight minutes or more, their focus takes on a Zen quality, as Abrams' loops become so entrancing they seem to create their own private dimension in space-time.
Much of that time-expanding effect derives from Abrams' unique choice of instrument. With its rubbery, resonant tone, the guimbri traditionally has been used for healing and trance ceremonies, which can sometimes last for upwards of eight hours. And so Abrams' simple figures can continually hold attention across long stretches because his tone is so rich and multi-layered. Throughout Simultonality, his playing forms the foundation of each song, offering his bandmates a core around which they can circle, fly, digress, and connect.
As a result, the music on Simultonality coaxes you to quiet your mind and focus your attention, but it doesn't necessarily move slow. The majority of the songs here surge forward at an energetic clip, with some even sounding nervously excited. On opener "Maroon Dune," Abrams' pounding two-note cycle spawns guitar strums and drum rolls that intensify the song even though the pace doesn't quicken. A shuffling rhythm instantly propels the 12-minute "Sideways Fall," powering the group through thick sonic terrain (a perfect analogue to the rolling train tracks in the tune's accompanying video.)
Abrams and his group don't spend all of Simultonality in high gear. One track, "St. Cloud," consists primarily of gentle bells and chimes, the musical equivalent of a trickling waterfall. And on closer "2182½," Natural Information Society swerve into straight-up jazz, supporting the contemplative sax strains of Ari Brown as if they were a mid-period John Coltrane ensemble. It's a nice glimpse of the diversity this group is capable of, infusing traditional structures with meditative qualities. But overall, Simultonality advances Abrams and Natural Information Society's signature sound, one that gets even more unique the further it grows and expands.
Marc Masters, Pitchfork
Students of Chicago post-rock, jazz and its diaspora will recognize Josh Abrams' name from sundry LP credits including Will Oldham & his own, underrated, Town & Country. For the past few years, though, Abrams has focused on shifting rhythm ensemble Natural Information Society, and a sound pivoted by the bass pulse he generates from a guimbri (a three-stringed North African lute). Simultonality is the most exhilarating manifestation of the project so far, as Abrams and a crack band (including Emmett "Cairo Gang" Kelly & Ryley Walker sidemen Ben Boye and Frank Rosaly) combine the devotional atmospheres of both jazz & gnawa, Terry Riley's minimalist frenzy, and the skittering grooves of Stereolab & Tortoise. An LP of multiple vibrational highs —not least when tenorist Ari Brown channels the spirit of Pharoah Sanders three and a half minutes into "2128½." 9/10
John Mulvey, Uncut
Simultonality is the fourth fully-realized album from Joshua Abrams's Natural Information Society, & while it continues down the path of its predecessors, it's a truly remarkable record in & of itself. Simultonality is Abrams's strongest declaration of purpose yet, presenting his vision of ecstatic minimalism with striking clarity.
For more than 25 years, Abrams has played with everyone from tenor icon & AACM co-founder Fred Anderson to the Roots. Also, his hands are in seemingly every important Chicago post-rock project in between. He was in Sam Prekop's band, played on a milestone early Tortoise EP & was a member of Town & Country. Despite this breadth of experience, the focus of the Natural Information Society project has been nothing but consistent. In this platform, Abrams weaves his experience in experimental rock groups, study of postwar American composition, & training in jazz & North African trance-music traditions into an intricate array of continuously collapsing patterns of sound. You wouldn't be wrong to call this music meditative, but you'd be remiss to not also mention its relentless, momentous pulse. Early in his career, Steve Reich famously borrowed from traditional African musics. Simultonality strips from American minimalist music any sheen of secular, academic sterility & returns it to the source, albeit delivered by a furious motorik beat.
On most of these tracks Abrams plays a ceremonial instrument of the Gnawa of North Africa, the guimbri. The first Natural Information Society album to be recorded with a regular band, Simultonality also features guitarist Emmett Kelly, who Abrams has played with in the Cairo Gang & with Bonnie "Prince" Billy, & harmonium player Lisa Alvarado, whose paintings are hung to accompany performances of the group. One of these paintings has been reproduced for the album's cover, beautifully silkscreened by Alan Sherry of Siwa. Pressed on heavyweight vinyl by RTI, in a limited edition of 825 copies.
Stranded Records
Even before the play button is pressed, Joshua Abrams & Natural Information Society's new album delivers two messages with crystal clarity.

The first leaps from the black, green, and gold-patterned graphic bleeding off the sleeve in all directions. The second is in the unwieldy Venn-like title Simultonality — perhaps a mutation of "simultaneous" and "tonality"?

This album continues the broad conceptual framework of Magnetoception and Represencing. That this new sleeve replicates these forms, but treated in flat colours, only adds to the visual and aural overlap at play here.

The work of Joshua Abrams has always reminded me of the composer Morton Feldman. In the academic paper Feldman the Rug-maker, Weaving For John Cage, music theorist Meg Wilhoite asserts, "There is an intimate connection between the rugs Feldman admired and many of the pieces he wrote in the last fifteen years of his life.

"These rugs set up an overall effect of sameness by systematically repeating a set of patterns, while at the same time disrupting this effect by slightly altering the components of those patterns.
"Similarly, Feldman wrote long works that produce a sense of skewed sameness by writing musical patterns that repeat many times, but change in intonation and/or rhythm almost imperceptibly."
With Simultonality, we are invited into an extended exploration of interlocking sounds that take us on a musical carpet ride… Of course, there is a cool, conceptual air, but the reality, the actual music, is exhilaratingly beautiful and thoroughly human.
That may be because the music was created in a live studio setting, with a varied grouping of players. Everyone is a selfless component in the overall composition, knitted together in the construction of a vast aural textile.

This, to my ears, is Morton Feldman's latter-day garage band.
Individual sounds fall Tetris-like into each other, as if every vacant space was designed to fit its neighbour.

A sound repeated is rhythm, and in the hands of committed musicians, there's an opportunity to play with similar elements that mesh in ways that illuminate. With a high degree of subtlety, the repetition weaves pulsing textures. Individual sounds fall Tetris-like into each other, as if every vacant space was designed to fit its neighbour.

Simultonality is a palette of different densities and in its opening seconds throws the listener into its most rock-based posture. "Maroon Dune" has existed forever before the listener is invited in. Imagine the funkiest Fela Kuti drumbeat bleached in sunny Tropicália, and add harmonium wheeze.

The album moves through a series of fairly static blocks of sound, each with different densities and colours. Gaps and windows begin to appear as the album progresses; the music becomes more exposed and net-like. A slither of pristine electronic sound introduces the gamelan-infused gem "St. Cloud". Stringed instruments create patches of thick shadow as the sound tumbles forward.

You could argue that any one of these sound passages conveys the title concept or the sleeve graphic. Background info from the label suggests the drummers (one in each channel) are approximating CAN's Vitamin C in the album's 12-minute-long "Sideways Fall".

While it becomes apparent later on in the track, I had already joined the dots to something else. John Cale and Terry Riley's Church of Anthrax is often maligned, but its unique double-drummed organ-led grooves and various pulsations have been gloriously and loving revisited here.

The last track "2128½" has its elements interlocking in a way that now resembles free jazz. Threads are loosened, the pattern is less conspicuous, but the proceeding tracks have all helped map out that, there is still nothing but glorious structure here.
For me, Simultonality sees Joshua Abrams & Natural Information Society expand these approaches into a more varied setting than on previous albums. You could argue that any one of these sound passages conveys the title concept or the sleeve graphic.

The same concept could well have been attempted with cold digital means, and that would somehow miss the point. The organic, tiny imperfections only reinforce the magic at play here. Clearly, it's a beautiful and exhilarating way of celebrating the avant garde, and a showcase of telepathic group musicianship. Importantly, it never fails to welcome the listener with warmth and humanity.
John J Nichol, brownnoiseunit.com
Existing somewhere between free jazz and motorik, Joshua Abrams has created yet another stunner within the compositions of Simultonality. Yet Abrams is not fashioning music from established genres, he and NIS are creating something wholly new and untethered. In a world of tumult and uncertainty, music that challenges our norms and places outside comfort zones may scare away those who need it most. But within chaos is calm, and Simultonality finds that Zen center in repetitious melodies and freeing exploration.

Abrams' instrument of choice is the guimbri, used in Gnawa ceremonies. It's rich bass reverberations, caused by slapping its strings, creates a unique sound for Western listeners. And considering how Western scales have invaded musical cultures the world over in the last 100 years, it's interesting to hear an instrument designed for different time signatures and melodies to be placed into Western contextualization. Yet Abrams isn't trying to wrestle the guimbri into our expectations, but is rather creating a bridge between the rhythms of Africa and the Western world. Perhaps its why reviews of past Abrams work have been centric on its jazz-like stylings; perhaps it explains that when these drastically different cultures merge within Simultonality, the results are best without words from our bastardized language. For all our invention and slang, it's still hard to describe the feeling of utter freedom that is found in any work of art, yet it's here.

It should be noted this is not a cheap purchase, and yet I can't help but feel the price tag is not asking enough. Not because artwork of this caliber demands more from us monetarily (though it should, as it also asks for our patience and ability to cast aside what is expected for what just is), but because it is worth something more than music-pressed-on-wax. It took three spectacular albums for many of us to catch up to Abrams, but as my lungs burn and muscles cramp, I'm glad to have expended all this energy to be a part of Abrams and NIS' latest phase.
Justin Spicer, KEXP.org
Or pantonality in the old money. Joshua Abrams's bass and guimbri throb hypnotically over busy 8/8 drums on the opening track, while ancient creatures low piteously as they plod across a parched landscape. "Maroon Dune" has elements of minimalism, but also something of the harmonic richness and ensemble depth of the late Charlie Haden's Liberation Music Orchestra. Saxophonist Ari Brown in particular seems to come from that lineage, a declamatory player who favours orphic concision over the longform solo.

The other instrumental sounds are less familiar in this context: Lisa Alvarado plays harmonium and adds Leslie percussion; Ben Boye opens the rocky "Ophiucus" on chromatic electric autoharp; Emmett Kelly initially seems anonymous on electric guitar, but it's his chiming chords that hold the structure together more often than not. There are two drummers: Mikel Avery and Frank Rosaly, the latter also supplying resonator bells and other percussion. It's essentially the same group that made Magnetoception in 2013, though the earlier album had no horn part and Hamid Drake's percussion was more linear and embellished than what we get here.

Abrams's recent use of the guimbri, which is also favoured by fellow bassist William Parker, sometimes recalls the tagnawit music of the Gnawa (recently covered in a Wire Primer) but with an openness of structure that again recalls Haden, or perhaps even more, Carla Bley. There are moments on Simultonality that might have been lifted from Bley and Paul Haines's Escalator Over The Hill. The limitations of a three string lute – the guimbri is also known across the region as the sinter – might seem obvious, but it is an instrument of high status, played by the Maalem or master of ceremonies in Gnawa ritual, and that is very much Abrams's role. He appears to conduct the ensemble via subtle shifts in direction or dynamics.

"Sideways Fall" on the B side feels like a bit more of the same, but its intricacies soon announce themselves and it's perhaps the strongest single item on the five-track album. "2128½" might be the street address of a property in Greeley, Connecticut, or it might be a reference to a star cluster in Gemini. Who knows? It's a perfect place to kick back or to ship out and explore the heavens. Abrams lets you do both.
Brian Morton, The Wire