Joshua Abrams & Natural Information Society
Mandatory Reality
Eremite Records MTE-70/71 x2LP
Personnel:
Abrams guimbri, flute
Lisa Alvarado gongs, harmonium, flute
Mikel Patrick Avery gongs, tam-tam, flute
Ben Boye electric autoharp, piano, flute
Hamid Drake tabla, tar, flute
Ben Lamar Gay cornet, flute
Nick Mazzarella alto saxophone, flute
Jason Stein bass clarinet, flute
Track Listing:
MTE-70 Side 'A'
1. In Memory's Prism
MTE-70 Side 'B'
1. Finite I
MTE-71 Side 'C'
1. Finite II
MTE-71 Side 'D'
1. Shadow Conductor
2. Agree
recorded Chicago, Electrical Audio, 2017
producers Abrams & Michael Ehlers
engineer Greg Norman
cover painting Lisa Alvarado
screenprinting Alan Sherry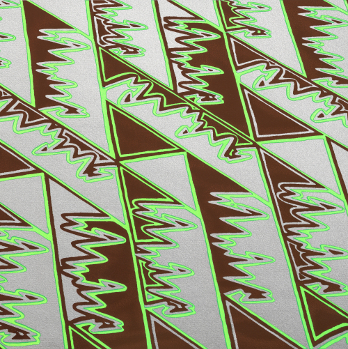 PLEASE NOTE. this is the x2LP edition of mandatory reality. the x2CD edition is mte-71/72. pre-orders are scheduled to ship first week april, or thereabouts. when pre-ordering, please bear in mind that eremite is one of two dudes in a cave, & that handmade records take time. eremite packages mandatory reality in a double-walled LP mailer (bags unlimited box MLPB12snug) with x4 cardboard "filler pads". all together, the packaging, heavyweight gatefold sleeve & x2LPs weigh nearly three pounds, meaning a high shipping cost for international orders. i will experiment with another packaging option soon that, if successful, may bring down the cost to ship internationally. in the meantime, all orders --without exception, will be sent using the packaging described above.
mandatory reality, the new album by joshua abrams & natural information society, is here. setting aside (for the moment) the electric instrumentation of simultonality (2017) & magnetoception (2015), joshua abrams conceived mandatory reality for an eight-piece acoustic manifestation of NIS, consisting of himself on guimbri, lisa alvarado - harmonium & gongs, mikel avery - tam-tam & gongs, ben boye - autoharp & piano, hamid drake - tabla & tar, ben lamar gay - cornet, nick mazzarella - alto saxophone, & jason stein - bass clarinet. a 2 LP set, the album is comprised largely of two performances, both joshua abrams compositions, 24 & 40 minutes in length. while new to the band's records, long duration pieces are familiar to those who've heard JA&NIS in concert in recent years, where elaboration on a single composition for an hour or more is not unusual.
gradual tempos dominate mandatory reality. recorded two months before the 2017 solar eclipse, mandatory reality is the sound of joshua abrams & NIS taking its time. merging methodical compositions with sonically voluptuous orchestration, abrams heightens the immersive & hypnotic qualities JA&NIS music is known for, taking the band & the listener deep into a collective meditative space. a grand realization of long-form psychedelic music, mandatory reality is a dispatch from a sound world that is increasingly unique to itself.
all performances on mandatory reality are full takes recorded live to tape by the full ensemble, magnificently captured by greg norman at electrical audio, chicago—the first true 'audiophile' recording of joshua abrams & natural information society. mastered by helge sten at audio virus, oslo. LPs pressed on premium audiophile-quality vinyl at RTI from kevin gray lacquers. textured gatefold stoughton 'laserdisc' jacket, retro-audiophile sleeves & record labels hand-screenprinted by alan sherry at siwa studios, northern new mexico. edition of 999 copies. x2CD edition available as mte-71/72, lossless digital files available on bandcamp.
liner notes
Sometime in the early 2000s I went to see the band Town and Country and remember wishing that their tunes went on longer. They were clearly referencing Minimal music, but without its durational aspect. Since that band's demise, Josh Abrams has made a series of hypnotic albums with his own group, Natural Information Society, in a different, more jazz-based direction than Town and Country. Magnetoception's double album format allowed for an marked expansion of material; loosening some of the time restrictions let the music's repetitions really take hold, and now with Mandatory Reality, another double album, he has made what can only be called an epic. The pieces are structured within a properly Minimalist framework, and the track lengths are extended even more dramatically to do so. Twenty or even forty minute running times are not so unusual for exploratory jazz, where solo space tends to be left open-ended, but there are few solos on Mandatory Reality. NIS is an all-acoustic ensemble here, which reinforces the chamber music vibe; eliminating electric guitars and drum kits this time removes the hints of rock, fusion or African pop music found in prior NIS lineups.
The haunting "Memory's Prism" starts off with guimbri and autoharp playing a simple repeated scalar figure, in the tradition of many of Don Cherry's melodies (such guimbri patterns are the foundation of much of NIS' music). A few sustained notes are chosen to hover above it in succession, recalling Minimalist classics like Philip Glass' Music With Changing Parts and Frederic Rzewski's Coming Together; as denser harmonies are added, the figure shifts but the tonal center stays ambiguous. When "Finite" starts, one can't help but notice how similar its basic melody is to "Memory's Prism"—it turns out that "Memory's Prism" grew out of "Finite." "Finite"'s tempo is slightly faster, but it introduces instruments more gradually. Following the guimbri, the horns disperse the melody, each taking a single note separately, spatialized in the stereo image. At one point they start to stretch the pitches out, sax and piano adding filigrees (the sax quoting a Coltrane solo, from "Spiritual"). The guimbri phrase goes through different permutations, with notes being subtly subtracted as the piece goes on; twenty minutes in, the changes become more noticeable as the guimbri figure is now half as long as it was when it started. Over the next twenty minutes the guimbri part is further broken down until it's a single note, with the instruments playing in unison on every beat.
This makes for a natural lead-in to "Shadow Conductor," a shorter piece of fast, jabbing eighth notes, much like Julius Eastman's four-piano works from the late 70s and somewhat similar to the beginning of "Ophlucus" from NIS's Simultonality LP. The feeling, though, is more hushed than frantic. There's a tension in the close intervals, and again some sustained tones are overlaid, as on "Memory's Prism." Everyone joins in on wooden flutes for "Agree," either letting long notes twist microtonally or contributing rapidly chattering high pitches. Its ghostly ambience can also found in John Stevens/Spontaneous Music Orchestra's ' "Sustained Piece" or Cornelius Cardew's The Great Learning, where massed voices carry drone tones in artless concordance.
While Minimalism has roots in modal jazz, among other things, there has been very little crossover --Stevens' free music/drone pieces c. 1970 (as heard on For You To Share) were an early experiment, Terry Riley's 1975 concert and radio sessions with Don Cherry in Köln & Marion Brown's appearance on Harold Budd's Pavilion of Dreams being rare meetings of the two worlds. Both the Shandar and India Navigation labels released albums by free jazz and Minimalist composers in the 70s, though without connecting the dots. Mandatory Reality is a bold statement that dives headlong into the possibilities of this largely unknown lineage, a fully realized reckoning of jazz and Minimal methodologies. Alan Licht
In the fertile & interconnected Chicago music scene, Josh Abrams has been a discreetly important presence for over 20 years: jamming with Tortoise, backing Will Oldham, sharing band members with Ryley Walker, playing bass with a constellation of local jazz notables. Of late, his energies have been concentrated on this shifting collective, where his hybrid of spiritual jazz & the most patient kind of minimalism can be fully realized. Mandatory Reality, the fifth NIS record, is their best yet, with Abrams' guimbri --a three-stringed African lute-- leading his crack band through long-form trance-outs that are equal parts Don Cherry & Phillip Glass. "In Memory's Prism" sustains the mood for a stately 24 minutes, only for "Finite" to take up directly where it left off, & run for another 40. The restraint, especially from the horn section, is astonishing: the overall effect absorbing to the point of transcendence."
John Mulvey, Mojo