Joshua Abrams & Natural Information Society
Mandatory Reality
Eremite Records MTE-70/71 x2LP
Personnel:
Abrams guimbri, flute
Lisa Alvarado gongs, harmonium, flute
Mikel Patrick Avery gongs, tam-tam, flute
Ben Boye electric autoharp, piano, flute
Hamid Drake tabla, tar, flute
Ben Lamar Gay cornet, flute
Nick Mazzarella alto saxophone, flute
Jason Stein bass clarinet, flute
Track Listing:
MTE-70 Side 'A'
1. In Memory's Prism
MTE-70 Side 'B'
1. Finite I
MTE-71 Side 'C'
1. Finite II
MTE-71 Side 'D'
1. Shadow Conductor
2. Agree
recorded Chicago, Electrical Audio, 2017
producers Abrams & Michael Ehlers
engineer Greg Norman
cover painting Lisa Alvarado
screenprinting Alan Sherry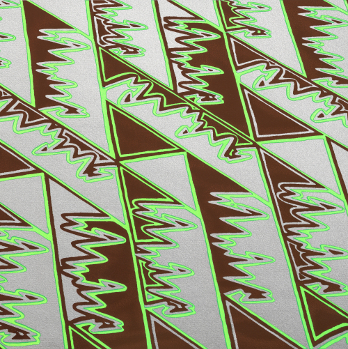 PLEASE NOTE. this is the x2LP edition of mandatory reality. the x2CD edition is mte-71/72. eremite packages mandatory reality in a double-walled LP mailer (bags unlimited box MLPB12snug) with x4 cardboard "filler pads". all together, the packaging, heavyweight gatefold sleeve & x2LPs weigh nearly three pounds, meaning a high shipping cost for international orders. i will experiment with another packaging option soon that, if successful, may bring down the cost to ship internationally. in the meantime, all orders --without exception-- will be sent using the aforedescribed packaging.
mandatory reality, the new album by joshua abrams & natural information society, is here. setting aside (for the moment) the electric instrumentation of simultonality (2017) & magnetoception (2015), joshua abrams conceived mandatory reality for an eight-piece acoustic manifestation of NIS, consisting of himself on guimbri, lisa alvarado - harmonium & gongs, mikel avery - tam-tam & gongs, ben boye - autoharp & piano, hamid drake - tabla & tar, ben lamar gay - cornet, nick mazzarella - alto saxophone, & jason stein - bass clarinet. a 2 LP set, the album is comprised largely of two performances, both joshua abrams compositions, 24 & 40 minutes in length. while new to the band's records, long duration pieces are familiar to those who've heard JA&NIS in concert in recent years, where elaboration on a single composition for an hour or more is not unusual.
gradual tempos dominate mandatory reality. recorded two months before the 2017 solar eclipse, mandatory reality is the sound of joshua abrams & NIS taking its time. merging methodical compositions with sonically voluptuous orchestration, abrams heightens the immersive & hypnotic qualities JA&NIS music is known for, taking the band & the listener deep into a collective meditative space. a grand realization of long-form psychedelic music, mandatory reality is a dispatch from a sound world that is increasingly unique to itself.
all performances on mandatory reality are full takes recorded live to tape by the full ensemble, magnificently captured by greg norman at electrical audio, chicago—the first true 'audiophile' recording of joshua abrams & natural information society. mastered by helge sten at audio virus, oslo. LPs pressed on premium audiophile-quality vinyl at RTI from kevin gray lacquers. textured gatefold stoughton 'laserdisc' jacket, retro-audiophile sleeves & record labels hand-screenprinted by alan sherry at siwa studios, northern new mexico. edition of 999 copies. x2CD edition available as mte-71/72, lossless digital files available on bandcamp.
liner notes
Sometime in the early 2000s I went to see the band Town and Country and remember wishing that their tunes went on longer. They were clearly referencing Minimal music, but without its durational aspect. Since that band's demise, Josh Abrams has made a series of hypnotic albums with his own group, Natural Information Society, in a different, more jazz-based direction than Town and Country. Magnetoception's double album format allowed for an marked expansion of material; loosening some of the time restrictions let the music's repetitions really take hold, and now with Mandatory Reality, another double album, he has made what can only be called an epic. The pieces are structured within a properly Minimalist framework, and the track lengths are extended even more dramatically to do so. Twenty or even forty minute running times are not so unusual for exploratory jazz, where solo space tends to be left open-ended, but there are few solos on Mandatory Reality. NIS is an all-acoustic ensemble here, which reinforces the chamber music vibe; eliminating electric guitars and drum kits this time removes the hints of rock, fusion or African pop music found in prior NIS lineups.
The haunting "Memory's Prism" starts off with guimbri and autoharp playing a simple repeated scalar figure, in the tradition of many of Don Cherry's melodies (such guimbri patterns are the foundation of much of NIS' music). A few sustained notes are chosen to hover above it in succession, recalling Minimalist classics like Philip Glass' Music With Changing Parts and Frederic Rzewski's Coming Together; as denser harmonies are added, the figure shifts but the tonal center stays ambiguous. When "Finite" starts, one can't help but notice how similar its basic melody is to "Memory's Prism"—it turns out that "Memory's Prism" grew out of "Finite." "Finite"'s tempo is slightly faster, but it introduces instruments more gradually. Following the guimbri, the horns disperse the melody, each taking a single note separately, spatialized in the stereo image. At one point they start to stretch the pitches out, sax and piano adding filigrees (the sax quoting a Coltrane solo, from "Spiritual"). The guimbri phrase goes through different permutations, with notes being subtly subtracted as the piece goes on; twenty minutes in, the changes become more noticeable as the guimbri figure is now half as long as it was when it started. Over the next twenty minutes the guimbri part is further broken down until it's a single note, with the instruments playing in unison on every beat.
This makes for a natural lead-in to "Shadow Conductor," a shorter piece of fast, jabbing eighth notes, much like Julius Eastman's four-piano works from the late 70s and somewhat similar to the beginning of "Ophlucus" from NIS's Simultonality LP. The feeling, though, is more hushed than frantic. There's a tension in the close intervals, and again some sustained tones are overlaid, as on "Memory's Prism." Everyone joins in on wooden flutes for "Agree," either letting long notes twist microtonally or contributing rapidly chattering high pitches. Its ghostly ambience can also found in John Stevens/Spontaneous Music Orchestra's ' "Sustained Piece" or Cornelius Cardew's The Great Learning, where massed voices carry drone tones in artless concordance.
While Minimalism has roots in modal jazz, among other things, there has been very little crossover --Stevens' free music/drone pieces c. 1970 (as heard on For You To Share) were an early experiment, Terry Riley's 1975 concert and radio sessions with Don Cherry in Köln & Marion Brown's appearance on Harold Budd's Pavilion of Dreams being rare meetings of the two worlds. Both the Shandar and India Navigation labels released albums by free jazz and Minimalist composers in the 70s, though without connecting the dots. Mandatory Reality is a bold statement that dives headlong into the possibilities of this largely unknown lineage, a fully realized reckoning of jazz and Minimal methodologies. Alan Licht
In the fertile & interconnected Chicago music scene, Josh Abrams has been a discreetly important presence for over 20 years: jamming with Tortoise, backing Will Oldham, sharing band members with Ryley Walker, playing bass with a constellation of local jazz notables. Of late, his energies have been concentrated on this shifting collective, where his hybrid of spiritual jazz & the most patient kind of minimalism can be fully realized. Mandatory Reality, the fifth NIS record, is their best yet, with Abrams' guimbri --a three-stringed African lute-- leading his crack band through long-form trance-outs that are equal parts Don Cherry & Phillip Glass. "In Memory's Prism" sustains the mood for a stately 24 minutes, only for "Finite" to take up directly where it left off, & run for another 40. The restraint, especially from the horn section, is astonishing: the overall effect absorbing to the point of transcendence.
John Mulvey, Mojo
A recent New York Times story on productivity proposed shifting emphasis from time-management strategies to something called "attention management": "the art of focusing on getting things done for the right reasons, in the right places and at the right moments." Chicago bassist and bandleader Joshua Abrams has practiced his own kind of attention management over the course of his career, not as a means to more productive ends but as the goal itself. As he told Pitchfork a few years ago: "I encourage everyone who's playing to keep that sense of driving on the road without knowing how far it is to your destination. So keep alert but stay patient, and we can get to a focused place, where we feel like it can go on forever."
Abrams has roots spread across Chicago's creative music scene, having worked with post-rock bands, singer-songwriters, electronic producers, and free-jazz players, but his Natural Information Society, with its ever-changing lineup, is where he has given the freest rein to his wandering instincts. Perhaps that sense of attentiveness his music inspires come from Abrams swapping his acoustic bass for the three-stringed guimbri, a lute from Northern Africa whose resonant low end and buzzing resonance are conducive to trance states. With each successive release from the band comes the suggestion that the songs can go longer and push deeper, and with Mandatory Reality, Abrams and his cohorts strain against the confines of recorded music. The 81 minutes that these four pieces inhabit—all put down in real time in complete takes with no overdubs—push both the ensemble and the listener into an immersive and sublime space.
The octet that Abrams has convened for this iteration of NIS has its roots in Windy City jazz, from woodwind players Nick Mazzarella, Jason Stein, and cornetist/ flautist Ben Lamar Gay to legendary percussionist Hamid Drake. Drake's presence on tabla and frame drum here makes clear a through line stretching back to the worldly spiritual jazz o fDon Cherry, yet the music itself drifts closer to the classic minimalism of early Philip Glass and Steve Reich. But where those minimalists were driven by New York's speedy metabolism, the 20-plus minutes of "In Memory's Prism" are exquisitely slow, like tai chi or a record played back at16 rpm. It's so languid that you feel not so much like you are listening to a band so much as walking among them.
"Finite" might be the most gorgeous entry in the NIS catalog, all 40 gradual, unhurried, undetectable minutes of it—a musical mountain. Abrams' thrumming guimbri is soon joined by Drake's tabla and Ben Boye's considered piano, a mixture suggestive of a liminal space between Indian classical, Chinese court music, and Dixieland jazz. When the horns enter, each sounds a note in a cycling motif. With almost every turn in the cycle, new tones emerge, like the shuddering drone of Lisa Alvarado's harmonium and Stein's bass clarinet. Each horn extemporizes on the original figure, and the vibrato on a gorgeous sax solo 10 minutes in conjures Coltrane while also echoing the subliminal buzz of Abrams' guimbri. "Finite" spends the first half accruing more details as solos emerge out of the foliage, never quite stepping to the fore so much as being glimpsed among the piece's open spaces. It feels as connected and individualized as birds chirping in a garden.
Just as Gay provides a burnished, hushed cornet solo near the midway point, the piece starts to turn, and Abrams' guimbri figure is slowly eroded away. As steady as the buildup has been, the group's hike back down the mountain is just as gradual,the underlying bass pulse paring back and each phrase growing shorter. Nearly 40 minutes from where we started, they align on a single pulse.
"If our music's political, it's because it offers the possibility of slowing down," Abrams has said. With the amount of time spent taking in the sheer size of these canvases, a certain effect does take hold, one that's increasingly rare in our experiences of art, much less our daily lives. Perhaps that's what the title is meant to suggest: The music moves so slowly as to impart the notion that this sense of pause, of dilated attention, might itself be the mandatory reality, rather than the one that clutters our waking lives from every possible angle.
Just as abruptly, the last quarter of the album plunges us amid the onrush of "Shadow Conductor," the band's rapid-breath, flickering eighth notes like a particular antsy take on Music for 18 Musicians. The sudden ratcheting up of speed between pieces is the album's only real disruption, a moment of hastiness that at first seems unearned. After over an hour of totally becalmed drift, the bustling pace here at album's end feels like leaving a day spa only to squeeze onto a rush-hour train. You might find yourself simply wishing the album extended just a few minutes longer.
Andy Beta, Pitchfork
With Abrams, a veteran bassist affiliated with Chicago's broad-minded experimental jazz community, it makes less sense to speak of tracks than to talk about stories. Each of the four lengthy performances on his new album with Natural Information Society unfolds slowly and consequentially, with a sense of abstract narrative. On the nearly 24-minute "In Memory's Prism," Abrams keeps the underlying bass line — played on the guembri, and indebted to North African music— almost unchanged while the harmony and instrumentation slowly shift above. (At various times, there's harmonium and trumpet and autoharp and bass clarinet in there, to name a few.) It all has the implacable momentum of migration, or the feeling of a big new idea just coming into being. At the very least, it will put your mind in a place of peaceful wandering; by the end, you're likely to wind up deep in your own imagination, remembering or inventing a story of your own.
Giovanni Russonello, The New York Times
Mandatory Reality is the calmly hypnotic new album by Joshua Abrams & Natural Information Society, a group with a strong feeling for the slow reveal. Abrams, who is best known as a bassist, mainly plays guimbri, a three-stringed Gnawan lute, on the album; his partners include Ben Lamar Gay on cornet, Lisa Alvarado on harmonium and gongs, and Hamid Drake on tabla and tar.
"In Memory's Prism" is the opening track, a nearly 24-minute odyssey built over a serpentine drone. It's a journey full of peaceful reflection, but not without its tensions: listen for the subtle dissonance between the vamp and the long tones played by the horns. In the album liner notes, Alan Licht draws a comparison between this music and the durational aspect of classical minimalism. That feels true but slightly skewed, because of the root connection that traditional African music expresses in this performance. Like the Art Ensemble as mentioned above, Abrams and company are looking far into the past while negotiating with the near future.
Nate Chinen, wbgo.org
Slow down. That's the message that pulses, softly, insistently, and repeatedly, throughout the run time of Mandatory Reality, the new album from composer and bassist Joshua Abrams and his group Natural Information Society. Recorded live at Steve Albini's Electrical Audio studio in Chicago, it is the most patient album from the group in a long discography full of them. Playing the guimbri, a three-stringed African bass with enough percussive possibilities to allow it to serve as a self-contained rhythm section, Abrams leads his seven collaborators, which include Ben Lamar Gay, Hamid Drake, Lisa Alvarado, and other members of the Chicago improv and experimental scene, into a world of long form possibility. The songs here are long: the first two, "In Memory's Prism" and "Finite," add up to more to than an hour of sound, and are followed by two shorter, though still considerably lengthy songs.
"We've been extending our live performances over the last three or four years,"Abrams says. "At a certain point, I realized that a combination of extending the performances and reducing the material gave us an opportunity to go further. At first, maybe we'd play a 75-minute set with six pieces or seven pieces. Now, that's down to one or two pieces. That lets us take our time more, it invites us to enter a different type of listening, be at a more relaxed pace, even if the music moves quickly. Those opportunities are there more, stretching it out."
The approach invites the listener to do so as well. Like 2017's Simultonality, the new record is an enveloping and hypnotic listen, wedding formal minimalist approaches to spiritual jazz, German kosmiche textures to Gnawa trance music. But Mandatory Reality differs in terms of rhythm, removing the driving drum kit from the scenario in favor of Drake's tabla and percussionist Michael Patrick Avery's gongs and tam-tam—a more impressionistic set of percussive sounds. "We go in phases a bit," Abrams says of the shift away from the drum kit for this particular effort. "At times, I've been interested in wanting to 'de-industrialize' the drum kit a bit."
Though modal jazz of Pharoah Sanders and Freddie Hubbard aren't always readily associated with the minimalism of Steve Reich or Julius Eastman, Abrams says the connections between the styles are foundational: "You often see collaborations between various figures—Don Cherry and Terry Riley, Harold Budd and Marion Brown. It's kind of shining a light on those connections, which are for whatever reason considered a little more separate."
Recognizing bridges between sounds has been one of the guiding principles in Abrams' long career. He started off in Philadelphia, where he was a member of the Square Roots, a precursor to hip-hop stalwarts the Roots, before immersing himself in the Chicago experimental music scene, where he played with fusion-minded groups like Tortoise and Town and Country. The latter, which played chamber jazz with an avant-garde tinge, serves as an early indicator of Natural Information Society's trajectory.
"[Harmonium playaer] Jim Dorling coined this really great descriptor for [Town and Country], calling it 'back porch minimalism," Abrams says. "Some of that aesthetic has continued with me. Something I've tried [to do with NIS] from the beginning…is create a space where all the little changes could be felt."
That openness, the sense of possibility, space, and most importantly, freedom, makes Mandatory Reality feel like a balm in our hyper speed times. We often don't allow ourselves the luxury of experiencing individual, focused moments. The music Abrams seeks to create not only celebrates the possibility of focus, but widens and expands its boundaries.
"For me, it gives the musicians the opportunity to slow down, to try and take the approach of savoring what we're building together," Abrams says. "If we can get to that space, you notice the focus broadens and zooms in at the same time."
Jason Woodbury, Aquarium Drunkard