Natural Information Society with Evan Parker
descension (Out of Our Constrictions)
Eremite Records MTE-74/75 x2LP
Personnel:
Joshua Abrams guimbri
Lisa Alvarado harmonium & effects
Mikel Patrick Avery drums
Evan Parker soprano saxophone
Jason Stein bass clarinet
Track Listing:
MTE-74 Side 'A'
1.d(OoOC) I
MTE-74 Side 'B'
1.d(OoOC) II
MTE-75 Side 'C'
1.d(OoOC) III
MTE-75 Side 'D'
1.d(OoOC) IV
recorded London, Cafe Oto, 2019-07-09
producers Abrams & Michael Ehlers
engineer James Dunn
cover painting Lisa Alvarado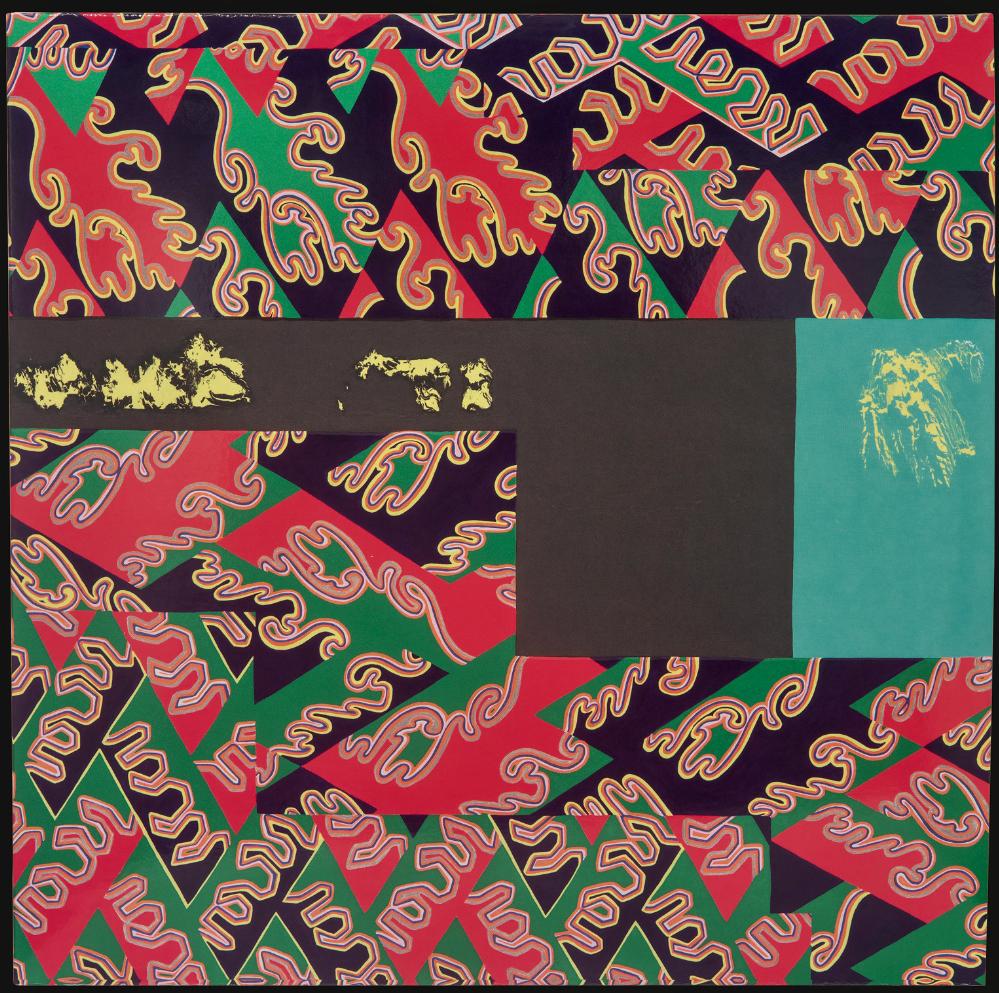 Rich in musical associations yet utterly singular in its voice, joyous with an inner tranquility, the music of Natural Information Society is unlike any other being made today. Their sixth album in eleven years for eremite records, descension (Out of Our Constrictions) is the first to be recorded live, featuring a set from London's Cafe OTO with veteran English free-improv great Evan Parker, & the first to feature just one extended composition. The 75-minute performance, inspired by the galvanizing presence of Parker, is a sustained bacchanalia of collective ecstasy. You could call it their party album.
This was the second time Parker played with NIS. Joshua Abrams: "Both times we played compositions with Evan in mind. I don't tell Evan anything. He's a free agent."
The music is focused & malleable, energized & even-keeled, drawing on concepts of ensemble playing common to musics from many locations & eras without any one specific aesthetic realization completely defining it.
"The rhythms that Mikel plays are not an exact reference to Chicago house, but that's in there," Abrams says. "I like to take a cyclic view of music history, can we take that four-on-the-floor, & consider how it connects to swing-era music? Can we articulate a through line? I dee-jayed for years in Chicago & lessons I learned from playing records for dancing inform how I think about the group's music. The listener can make connections to aspects of soul music, electronic music, minimalism, traditional folk musics, & other musics of the diaspora as well. It's about these aspects coming together. I don't need to mimic something, I need to embody it to get to the spirit, to get to the living thing."
For jazz fans, the sound of Parker's soprano & Jason Stein's bass clarinet might evoke Coltrane & Dolphy, even though they didn't necessarily set out to do that & they play with complete individuality. Abrams sees a bridge to the historical precedent, too. "Since we first met in the 1990s, one of the things that Evan and I connected on was Coltrane's music," he says. "I hoped that we would tap into that sound world intuitively. In this case, I think that level of evocation adds another layer of depth, versus a layer of reference."
Indeed, this is a performance in which the connections among the ensemble & the creative tension between improvisation and composition build into a complex mesh of associations & interactions. While the band confines itself to the territory mapped out by Abrams' composition, they are remarkably attentive & responsive, making adjustments to Parker's improvisations. When Parker's intricate patterns of notes interweave with the band, the parts reinforce one another & the music rockets upward. Sometimes, Parker's lines are cradled by the group's gentle pulse & an unearthly lyrical balance is struck.
Drummer Mikel Patrick Avery is locked-in, playing with hellacious long-form discipline, feel & responsiveness. Jason Stein's animated, vocalized bass clarinet weaves in & out with Lisa Alvarado's harmonium to state the piece's thematic material; the pulsing tremolo on the harmonium brings a Spacemen 3 vibe to the party. Abrams ties together melody & rhythm on guimbri, a presence that leads without seeming to. Like his bandmates, he shifts modes of playing frequently, improvising & then returning to the composed structure.
"As specific as the composition is, the goal is to internalize it & mix it up," Abrams says. "The idea is to get so comfortable that we can make spontaneous changes, find new routes of activity, stasis & byways every gig. It's like a web we're spinning. If someone makes a move, we all aim to be aware of it, make room for it. Experiencing & listening is what it's about, & Evan supercharges that."
& "supercharged" is the word for this album. With Parker further opening up their music, descension (Out of Our Constrictions) is the sound of Natural Information Society growing both more disciplined and freer, one of the great bands of its time on a deep run.
x2LP, mte-74/75, pressed on premium audiophile-quality vinyl at RTI from Kevin Gray / Cohearent Audio lacquers. Mastered by Helge Sten, Audio Virus, Oslo. Liner Notes by Theaster Gates. First eremite LP edition 1200 copies. First 200 direct order LPs come with the eremite signature retro-audiophile inner-sleeves, hand screen-printed by Alan Sherry, Siwa studios, Northern New Mexico. CD edition & EU x2LP edition available thru our new EU new partner, Aguirre (Belgium).
liner notes
Breath & pulse, an unforgettable strategy for transferring energy between musicians feels more directly related to endurance than typical designations of music. The possibility of a never-ending breath allows for the weaving of complex explorations of tonal possibility between harmonium, guimbri, drum, & horn that leads to non-conventional strategies of harmony & unity. The rhythmic engine further develops the pulse, shifting the sounds from recognizable forms to other worlds of sound development & masterful play. Natural Information Society balances knowledge of historical musics with the possibility of new futures, combing many exploratory cultural idioms that help us remember the heart & low sound and hum through meditative, spiritual new music.
Music has the potential to embed us in a state of unlimited possibility that leads to another kind of emotional & spiritual territory. It is this meditative possibility that leads to trans-potentials. The music constantly allows us to shift if we stay with it long enough. Descension (Out of Our Constrictions), a 75-minute composition spanning four stations on a double-sided LP, allows us to experience that build-up. In July of 2019, I had an opportunity to play with Natural Information Society in Berlin at Arkaoda & experience the build-up first-hand. I remember feeling very happy to be away from the political complexities of the United States but still close to the culture that made me. I came to hear the ensemble as a listener & believer in the music and Joshua asked me to sit in with the group. Given the times, I chose to riff on, "My Country Tis of Thee." Descension began & for the first 45 minutes, it unfolded. People danced & cheered & really listened. The groove was set & the intentional house/trance/drone was so evocative & in many ways, a polyphony of Chicago sounds. Abrams nodded & I joined. The ongoing rhythmic intent made it easy for me to choose a phrase & stay with it. I remember chanting over & over, sweet land of liberty, sweet land of liberty. Then, from every mountainside…. from every mountainside…..toward the end of the 40 minutes of so, I was exhausted from wailing… from breathing & shouting, let freedom ring. By the time it was over, I was on the floor & the energy made a shift from a state of trance-like intention to, what felt like a rock concert. We were all the way in. I opened my eyes & the band was still holding it down, with more intensity, but still in the zone, locked. It was like freedom was being nestled between pulse & breath & I was exhausted from wanting it & wanting to participate, in a freedom song or a free state.
Breathing in the wake of George Floyd's death then takes on a new dysfunction – a new tonal idiom. To be choked or to be unbalanced, for a note to be held back or a sound to be silenced, no longer feel like jazz devices, but rather, a reaction to the complexities that occur on our streets & in our cities. There are shouts, but they are not wailings, there are utterances, yet they are not full speech. It is this truth that links Descension (Out of Our Constrictions) as a sign of the times. Natural Information Society forces us to imagine the myriad of voices that have fallen on our streets and hear cries & shrieks in the music as a way to understand the immeasurable & often unmediated circumstance of violence that is our new truth. & yet, within the unsettling horror of this day, there is a mantric pull that refuses to cease. An impulse toward redemption. Theaster Gates
Joshua Abrams' Natural Information Society is always more than it appears. You might mistake it for a kind of trans-cultural jam band, which it is, but what jam band takes on as many cultures (from Abrams' ancestral Odessa to Morocco's Gnawa people, the source of Abrams' guimbri, a kind of bass lute) or possesses the rhythmic discipline of NIS, in this case sustaining and expanding interlocking motifs for 75 minutes. It's also a composer's forum, Abrams knitting dense works from minimal materials, oft repeated, subtly altered. On Descension, the NIS consists of Abrams, Lisa Alvarado on harmonium and effects, Mikel Patrick Avery on drums, and Jason Stein on bass clarinet, as well as Evan Parker playing soprano saxophone.

The title of Descension will immediately and deliberately invoke Ascension, but for this writer the first relevant Coltrane piece is a blues recorded in the fall of 1960 called "Mr. Knight" (from Coltrane Plays the Blues). It didn't get special attention from critics, but it got a lot from Coltrane, who a year later at the Village Vanguard, in what one might consider his greatest extended recording session, turned it into "India,"expanding the quartet of "Mr. Knight" first to a sextet and then, better still, to an octet, as well as expanding its pitch range to microtones. It followed from the big band piece "Africa" and the almost simultaneous "Olé,"crucial collaborations with Eric Dolphy, McCoy Tyner, and Elvin Jones that turned the jazz universe from lines running from New Orleans to Chicago and New York to a global network linking India, Africa, Southern Europe, and Brazil.

In a series of stages, over a series of evenings, "India" would crack open the piano-friendly, tempered pitch modality made central to jazz by Miles Davis's Kind of Blue by emphasizing its essential component of microtonality, the thing that makes modal music genuinely modal and highly, microscopically varied. Suddenly, jazz would be in touch with the global modal, the world beyond tempered pitch, always its legitimate arena, directly linking the blues of "Mr. Knight" to the global musical reach that makes a great veena player like S. Ballachander sound like his river might be the Mississippi as much as the Ganges (and conversely, the great slide guitar player Blind Willie Johnson, whose sacred blues are more intimately alive in "India" than in "Mr. Knight"). While the various Vanguard versions of "India" will expand the drone and add Garvin Bushell's double-reed wail (credited as an oboe but likely an English horn; see Dave Wild's "An oud is not an oud," available on line) and Ahmed Abdul-Malik's strummed strings (credited as an oud but likelier a tamboura, ibid), the essential sonic quality of "India" comes from Coltrane and Dolphy treating the teno rsaxophone range of "Mr. Knight" as a void between Coltrane's soprano saxophone and Dolphy's bass clarinet.The two instruments likely possess the most flexible pitches of any "orthodox" Western reed instruments; each at the symbolic register stretch of its family, the two blast and bend the micro-riff of "Mr. Knight" into a radically altered and expanded wail.

The second informing musical event for Descension's essential history comes from Randy Weston's witnessing an overnight Gnawa healing session, recounted in his memoir, African Rhythms. Weston's musical immersion would lead to working with the guimbri master Mahmoud Ghania and the adaptation of a Gnawa melody, first recorded as "Ganawa-Blue Moses" in 1972 and then in a far more compelling version as simply "Blue Moses" with Pharoah Sanders in 1991. Another crucial relation for the kind of depth involvement heard in Descension is Terry Riley's In C, whether in its original 1964 form or in the 2013 version realized in Mali.

In those strange historical modulations, Evan Parker and Joshua Abrams have been following the same paths, Parker at least since he heard Coltrane and Dolphy on their 1961 European tour and all their contemporaneous and subsequent recordings. Arriving again at the Café Oto in the spring of 2019, we have an uncanny symmetry, the wavering tones of soprano saxophone and bass clarinet, a rhythm driven by Avery and the insistent yet evolving ostinato of the guimbri, the interweaving modal figurations of horns and harmonium, sometimes even in the same register, with Parker's special mastery of soprano overtones creating the illusion of still other voices, impossible phantoms of a freedom beyond time and causality. The effect also touches on Parker's long-standing interest in African string musics, something touched on in his duets with Joe Morris (The Village, 2019).

The first live recording of the NIS, this is a performance of extraordinary power and vision, its relationship to the music of John Coltrane almost always magical. Occasionally there will be direct quotations (as with A Love Supreme's principal motif appearing at the end of part two), but this is not some kind of successful imitation. Rather, it's genetic fraternity, Parker and Abrams, Stein, Alvarez, and Avery crossing boundaries, arriving in that special otherness, that same Interzone once called "India."
Stuart Broomer, pointofdeparture.org
This live 2019 performance at London's Cafe OTO, is just one 75-minute piece, and still ends way too soon. Over the foundation of an immersive groove, the ensemble works up to a trance-like state, where acrobatic solos increase the hypnotic effect, rather than shatter the spell. The spellcasters are Joshua Abrams on guimbri; Lisa Alvarado on harmonium and effects; 
Mikel Patrick Avery on drums; Evan Parker on soprano saxophone; and Jason Stein on bass clarinet.
Dave Sumner, The Best Jazz on Bandcamp: April 2021
The finest gig this writer saw in 2019 was a set by Natural Information Society at Café Oto in London; a marathon, ecstatic jam for which the Chicago band were joined by ornery free jazz vet Evan Parker on soprano sax. It's a relief and a delight to discover, nearly two years on, that the show was every bit as breathtaking as it seemed at the time, thanks to this exceptional live recording. NIS's shtick is an often serene mix of spiritual jazz, minimalist composition and global trance rituals, anchored by harmonium and the three-string Moroccan guimbri that core member Joshua Abrams uses for low-end vibrations in lieu of a bass. Here, though, they're in party mode, with Parker and bass clarinettist Jason Stein improvising around one another, while drummer Mikel Avery holds a relentless four-to-the-floor. Seventy-five non-stop minutes of high-end squawk and groove.
John Mulvey, Mojo
Descension (Out of Our Constrictions) is the sixth long-player by the Joshua Abrams-led Natural Information Society, and the band's first live offering. Recorded at London's Cafe OTO in July of 2019, this set offers a single, 75-minute rendering of Abrams' title composition with guest collaborator Evan Parker on soprano saxophone. While NIS has gratified listeners and live audiences with their intricate meld of jazz, folk styles, and polyrhythmic improvisations drawn from a variety of world music traditions, this proceeding is unlike anything else in their catalog. Descension exists in the ecstatic sonic terrain between 21st century Western raga, free jazz, and a rave-like party album.

Abrams' guimbri (a plucked, three-stringed skin-covered bass lute of the Gnawa heritage) offers a six-note, single-tone vamp. He's joined in the theme by Mikel Patrick Avery's hypnotic drumming and Jason Stein's bass clarinet. Lisa Alvarado's harmonium adds a breath-like pulse before Parker's snaky soprano wades in. The repetition is constant, but thanks to his horn, there is subtle variation from line to line, both harmonically and tonally. There is rippling energy just under the surface as Parker begins to pour out resonant skeins of circular notes, opening his lines to the rhythms then countering them. The clarinet and harmonium remain on the theme as Abrams and Avery play double time. Six minutes in, Stein responds directly to Parker's fire breathing with countermelodies and polyrhythmic breath control. The pace quickens and dynamic tension ensues as the entire ensemble lifts off. Over the next 70 minutes, what transpires is a serpentine celebration of rhythm, polytonality, and multivalent modalities as NIS circle one another, and Parker, in turn, revolves around them. The interplay between Stein and Parker is almost jaw-dropping given its locked-on intensity; it alternately traverses across distinctive solo statements, call-and-response, and resonant unison playing while Alvarado and Avery push and pull at the fabric of sound between them.Abrams' guimbri drives from underneath and the ensemble approaches funk; Avery's four-beat rhythm approximates dance music as Alvarado expands her attack with reverb and delay. The constant presence of the vamp-like theme recalls at once the harmolodic groove of Ornette Coleman's Dancing in Your Head and the wheezing, evolutionary development of ManuelGottsching's proto-techno E2E4. About two-thirds of the way in, the cadence shifts, and the band responds empathically with single clarinet and soprano tones offered in singsong response. Abrams, Alvarado, and Avery alight around one another, outlining the reeds' interlocking groove. The rhythm players develop and release tension; they spiral and retreat to express intimacy, joy, and catharsis. By the time Descension reaches its nadir, all that's left are gossamer notes, subtly refracted rhythms, and softly uttered, undulant whole tones, whispering to and caressing one another as they approach silence and the resounding, yet astonished approval of the crowd. Descension is a collaboration for the ages: It is ecstatic, improvised jazz that reverberates inside the human body like a heartbeat.
Thom Jurek, Allmusic
While it's impossible to pinpoint a single peak in John Coltrane's vast discography, Ascension is one of his most intense expressions of transcendental intent. Local musician Joshua Abrams knows his Coltrane, so it's no accident that he's given the name Descension to this summit between his group Natural Information Society and English saxophonist (and fellow Coltrane aficionado) Evan Parker, recorded in 2019 at London's Cafe Oto. The title of the 75-minute piece suggests downward movement, but the recording proves just as effective as Coltrane's music at inducing an ecstatic state —even though it incorporates influences that never showed up in the master's work. Abrams is a multi-instrumentalist who has worked as a jazz and pop bassist, a free improviser, a DJ, and a soundtrack composer, and he understands the importance of bringing the right tool to the job. With NIS, he plays the guimbri, a Moroccan three-string lute that's often used in prayer and healing ceremonies by the Gnawa (an ethnic group descended from an enslaved population brought to Morocco from the Sahel). Abrams is fully cognizant of the instrument's spiritual role in traditional contexts, but he's also characterized it as "the original 808" because of its visceral bass tones. The hurtling rhythms that he and drummer Mikel Avery lay down on Descension sound like a convergence of Gnawa ritual rhythms with disco and house beats, and bass clarinetist Jason Stein and harmonium player Lisa Alvarado braid spiraling melodies and flickering textures into those grooves. While NIS are quite capable of evoking rapture on their own, the intricate and astoundingly lengthy lines that Parker threads through their playing put the music over the top.
Bill Meyer, Chicago Reader
Life on pandemic time tends to feel like an endless blur, and it might now also be the readiest example ofwhat bassist and composerJoshua Abrams calls "mandatory reality." "If our music's political, it's because it offers the possibility of slowing down," the Natural Information Society leader once said. "We live in the age of attention and availability, and [our music] is offering a certain level of experience, and it operates in slightly different ways." In the past year, however they may have attempted to fill the days, millions found themselves in the realm of experience described by the title of NIS' 2019 album: Stuck in the same mandatory crawl of time.

But those who caught a NIS performance in the months leading up to 2020 witnessed the delectable possibility of Abrams and bandmates speeding back up. At live shows that summer and fall, the band took a new tack, playing an expansive 40-plus minute piece that revved up to twice the speed of Mandatory Reality. Even guests sitting in with the band, like drummer Jim White, appeared propelled along like a leaf in a fast-moving river. Stripped down to a lean quartet, guided by Abrams' thrummed guimbri, a sound that had previously felt as steadfast and measured as a walking meditation now hovered at 142 BPM, more appropriate for club goers in Berlin. And —as Abrams sought a throughline between ancient Gnawa trance and1980s Chicago house— it didn't feel like too much of a stretch. "It's the original 808, because it has a percussive skin mixed with a bass tone," he has said of the guimbri. Though NIS is commonly labeled as jazz, its primary instruments of guimbri and harmonium stretch back centuries before the birth of that art form.

Spread across four sides of vinyl and now approaching 75 minutes, that single extended piece comprises the entirety of descension (Out of Our Constrictions). Recorded live at London's Café Oto in summer 2019, the quartet of Abrams, harmonium player Lisa Alvarado, bass clarinetist Jason Stein, and drummer Mikel Patrick Avery are joined by British free jazz legend Evan Parker on soprano saxophone. Exploring the outer edges of the ecstatic as well as the physically exhausting, the four sides of descension push deeper, higher, and wider, using kinetic movement to interrogate stasis.
After an introductory figure on the guimbri from Abrams, the band quickly gets to it. Avery's stickwork is astonishing throughout, maintaining that high BPM with clock-like precision. Though tireless as a drum machine, he somehow always slides around a steady 4/4, framing it yet never slotting into it. On previous NIS albums, Alvarado's harmonium favored the instrument's droney, slow-evolving aspects; watching her work its bellows now might cause your carpal tunnel to flare up. She chops her lines into 16th notes, making the thing hyperventilate rather than breathe deep.

Breath is a natural metaphor when considering Parker's long, storied career in European free improvisation—an early album was titled The Topography of the Lungs. His circular breathing on descension is a dream pairing for NIS, his cascading solos as ardent, mesmerizing, and pattern-focused as his bandmates. He weaves around, roots under, then circles above them. Hearing him in conjunction with Stein evokes seemingly contradictory qualities: Is it skronking free jazz or early swing? A high-altitude dogfight or a highly attuned conversation, akin to John Coltrane's soprano trading solos with Eric Dolphy's bass clarinet at the Village Vanguard a half-century prior?

It feels silly to roadmap, recap, much less discern the four parts of descension. Both journey and landscape, the piece lifts off and soars to maximum cruising altitude, where, even at top speed, it seems to stand completely still —and then, over an hour later, you're on the other side. Saying it all sounds the same might seem dismissive, but one of descension's remarkable aspects is its ability to convince your ears and mind otherwise. It's as transformative and banal as a transatlantic flight. Grumbling about it feels like bemoaning the number of trees in a forest, that the Sahara is just sand dunes. It's utterly maddening, and to get lost within it feels like the past calendar year: undifferentiated, infinite, and delirious.
Andy Beta, Pitchfork