News
2019-03-11
MANDATORY REALITY PRE-ORDERS
beautiful people. pre-orders are scheduled to ship first week of april, or thereabouts. when pre-ordering, please bear in mind that eremite is one of two dudes in a cave, & that handmade records take time. eremite packages mandatory reality in a double-walled LP mailer (bags unlimited box MLPB12snug) with x4 cardboard "filler pads." all together, the packaging, heavyweight gatefold sleeve & x2 LPs weigh nearly three pounds, meaning a high shipping cost on international orders. i will experiment with another packaging option soon that, if successful, may bring down the cost to ship internationally. in the meantime, all orders --without exception-- will be sent using the packaging described above. 
one idea to bring down international shipping cost is to combine your order for mandatory reality with your trusted friend's order of mandatory reality. 
---
2019-03-10
MANDATORY REALITY 4 STAR REVIEW IN MOJO
"In the fertile & interconnected Chicago music scene, Josh Abrams has been a discreetly important presence for over 20 years: jamming with Tortoise, backing Will Oldham, sharing band members with Ryley Walker, playing bass with a constellation of local jazz notables. Of late, his energies have been concentrated on this shifting collective, where his hybrid of spiritual jazz & the most patient kind of minimalism can be fully realized. Mandatory Reality, the fifth NIS record, is their best yet, with Abrams' guimbri --a three-stringed African lute-- leading his crack band through long-form trance-outs that are equal parts Don Cherry & Phillip Glass. "In Memory's Prism" sustains the mood for a stately 24 minutes, only for "Finite" to take up directly where it left off, & run for another 40. The restraint, especially from the horn section, is astonishing: the overall effect absorbing to the point of transcendence." --John Mulvey
---
2019-03-05
JA&NIS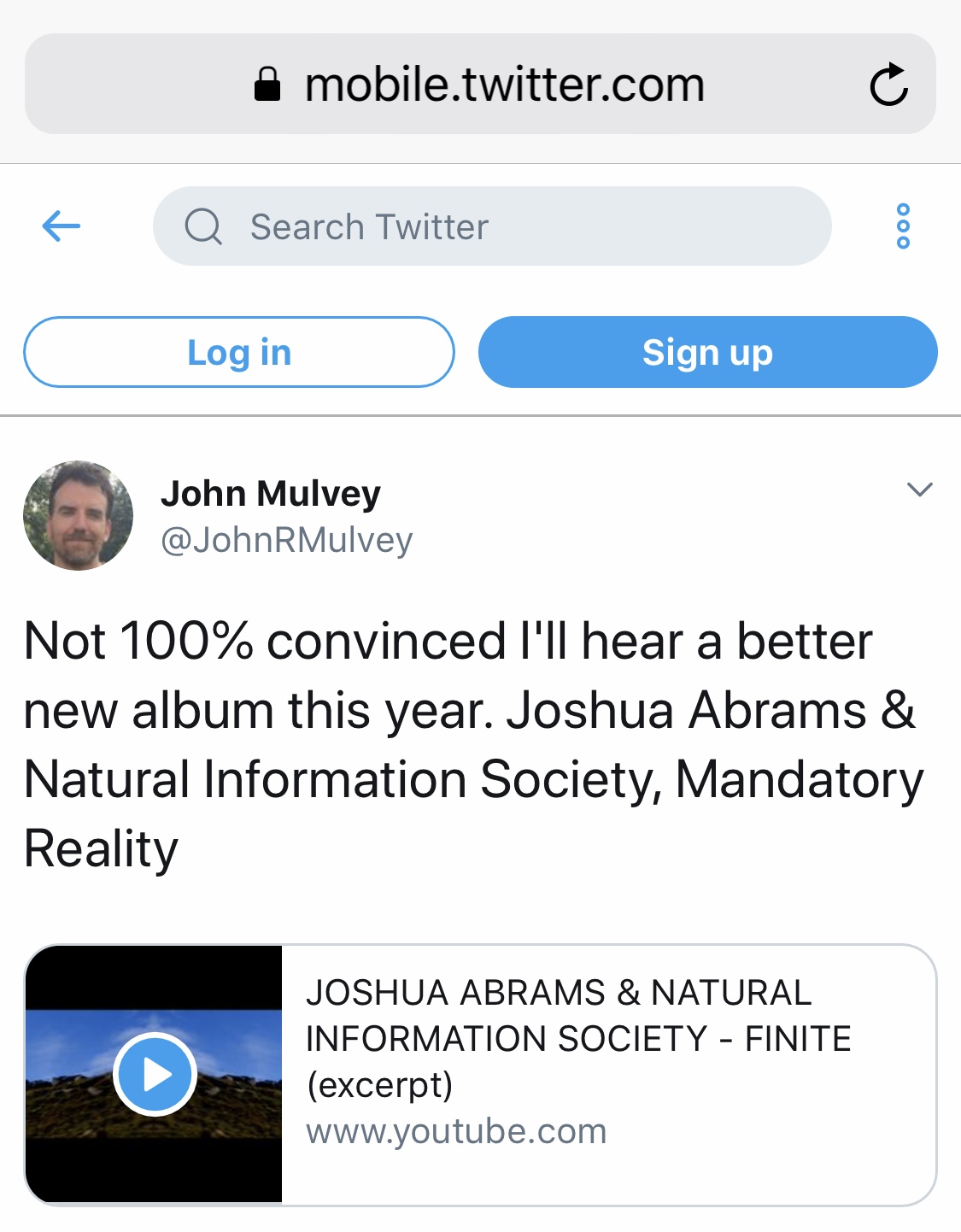 ---
2019-03-01
JA&NIS in CHICAGO READER
---
2019-02-19
MANDATORY REALITY & JA&NIS EUROPE MARCH 2019
friends of eremite records, here's an update on the forthcoming joshua abrams & natural information society record, mandatory reality. eremite is sorting out some production issues with the pressing plant --vinyl manufacturing 2019, WHAT IT IS. JA&NIS will have copies of the double LP for sale at their continental europe concerts in march, tour itinerary below. pre-sale for direct mail order copies of the double LP (mte-70/71) & double CD (mte-71/72) coming soon --here. april 12, 2019 is the new 'official' release date.

JA&NIS EUROPE MARCH 2019
07 III  art institute  chicago (pre-flight, supporting body/head)
09 III  trafo  budapest
12 III  cankerjev dom  ljubljana

13 III  bad bonn  dudingen
14 III  taklos festival  zurich
15 III  le bourg  lausanne
16 III  sienna 
17 III  caos  terni
18 III  santeria social club  milano
19 III  dobia lab  staranzano
20 III a4 bratislava
---