Peter Brötzmann & Han Bennink
Still Quite Popular After All Those Years
Brö Records Brö-4 LP
Personnel:
Brötzmann a-clarinet, tarogato, alto & tenor saxophones
Bennink drums
Track Listing:
side 'A'
clarinet/drums
tarogato/drums
clarinet/drums
side 'B'
clarinet/drums
alto/drums
tenor/drums
Recorded 4 & 5 February, 2004, at The Loft, Köln
producers: Brötzmann & Michael Ehlers
engineer: Stefan Deistler
design: Brötzmann
silkscreens: Alan Sherry/Siwa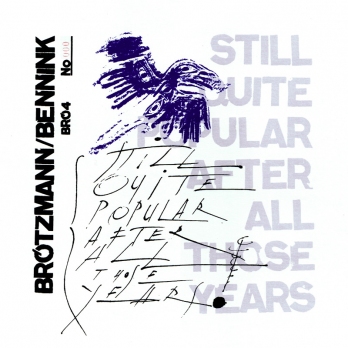 the 2nd release on brö since the label's 2003 revival presents a continuation of one of the great duos in free music history, peter brötzmann & han bennink. brötzmann organized a series of concerts with bennink in early 2004 for the ultimate purpose of capturing these moments, their first duo music on record since 1980's atsugi concert. the particular chemistry & poetry between these two old friends is still furiously alive; but the accumulation of experience & years by both artists brings new areas of consideration. this is brötzmann /bennink music formulated at once more carefully & more freely; every gesture here sounds earned, decisive, vital. as with brö 3, the record itself is pressed on real audiophile 180 gram vinyl by RTI. artwork by both brötzmann & bennink, jackets silk-screened by siwa records, oregon, u.s.a., in a numbered edition of 999.
The presence of the LP isn't always just in the sound. I'd been looking at a first pressing of Albert Ayler's Spiritual Unity, with its silk-screened cover, when this 180 gram LP arrived, complete with hand silk-screened covers of artwork by the musicians. It seemed to sing across time to the Ayler record. It's the first recording of the Brötzmann/ Bennink partnership since 1980, a 2004 performance at the Loft in Cologne that has a consistent conversational intimacy between these two senior masters of free jazz, European chapter. Brötzmann plays clarinet on half of the six tracks, with a warm vocal sonority that leaps out of the grooves, while Bennink matches and feeds his impassioned discourse. The palpable humanity of the music is matched by the presence of the artifact. Limited to an edition of 999, the LP is available through the Eremite web-site.
Stuart Broomer, Coda
I surely wasn't the only one whose jaw hit the floor at the news that German free-jazz wildman Peter Brötzmann was one of Bill Clinton's favourite saxophonists. It's hard to square the image of Clinton jamming on the White House lawn with all of the sweaty chops of Kenny G with the kind of immolating force, artless profundity and explosive, mile-wide tone that Brötzmann regularly brings to the table. Early on, Brötzmann took the elastic lessons in form of titanic thinkers like John Coltrane and contemporaries like Albert Ayler way out into whole new vectors of now while cutting a series of revered sides with unequivocal titles like Machine Gun, Nipples and Balls. Unlike most of his generation, his music is as bloodied and unbowed as it was back in the 1960s, so I guess we can forgive him the little bit of tongue-in-cheek slack he cuts himself in the title. Still Quite Popular is the second release on Brötzmann's recently re-activated Brö label and comes on heavy-duty vinyl in a beautiful, individually silk-screened sleeve. Both sides see him burning lucid iron arcs of clarinet, saxophone and tarogato deep into the air, while drummer and long-term shadow Han Bennink sounds like a locomotive driven straight through the European night.
David Keenan, Sunday Herald Online