Jemeel Moondoc
Tri-P-Let
Eremite Records MTE-01 CD
Personnel:
Moondoc alto saxophone
Laurence Cook drums
John Voigt bass
Track Listing:
Triplet (5:48)
Another One the Hard Way (14:13)
Improvisation #61696 (11:34)
Campbell's Soup (11:50)
Ruby's Riches (11:08)
16 November 1996, PBS Studios, Westwood MA
producers: Cook, Moondoc, Voigt, Michael Ehlers
engineer: Peter Kontrimas
liner notes: Jemeel Moondoc
photography: Charles Gross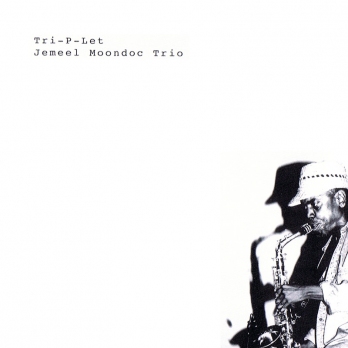 The first recording since 1985 by this prime and crazy mover of the loft era. The Moondoc trio is as catalyzing and deeply musical a group as any currently working in the so-called free jazz.
A spectacular showcase of players in love with the aesthetic and spiritual adventure of high-level improvisation.
Norman Weinstein, Boston Phoenix
Emotional, incredibly flexible, and constantly suprising.
Jerome Wilson, Option