Ellery Eskelin & Andrea Parkins
Green Bermudas
Eremite Records MTE-02 CD
Personnel:
Eskelin tenor saxophone
Parkins sampler
Joey Barron drums
Rod Keith vocals
Track Listing:
More or Less the Truth (3:05)
Mary Jane's Dilemma (5:11)
The Cocktail Hour (1:41)
Flamingo (2:16)
With Bells and Drums (9:08)
Yummy Love (2:45)
Sleight of Hand (2:03)
Behind the Curtain (4:29)
Green Bermudas (3:29)
Scratch (1:00)
Untitled Two (9:25)
This Warm Secret Dial (11:59)
11 June 1996, NYC
producers: Eskelin & Michael Ehlers
engineer: Jon Rosenberg
onions: Dalison Darrow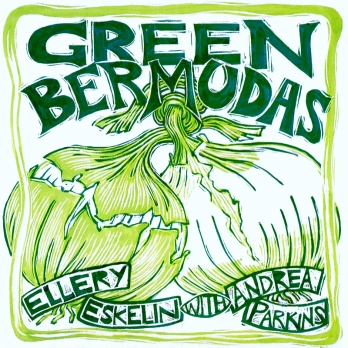 fifty-seven cracked minutes of tenor and sampler woozery. includes radical extensions of the 'song-poem' form pioneered by eskelin's father, the legendary rodd keith. one of the more resolutely 'out' recordings you are likely to hear, really.
Tenorist Eskelin has a real talent for taking the potentially maudlin and giving it real sentiment through, of all things, irony. In this way, he is the Douglas Sirk of jazz, and sampler/puckish sound-terrorist Andrea Parkins of his regular ensemble shares his sense of melancholy mischief (Eskelin's employer, the drummer Joey Baron, also guests on one track). Thanks to the sampler, the duo is any number of musicians or moods, sometimes playing out of time, or at intentional cross-purposes.

A few pieces feature a manipulation of songs performed by Eskelin's father, the late composer-for-hire Rodd Keith. Keith's MSR recording studios advertised in the back of populist magazines such as the National Enquirer, soliciting doggerel of the general public, and turning it into very quickly written and somewhat crazed pop songs, which it would press into a bunch of singles to sell back to the "poet", now filled brimming with ambition. What was created was a sort of unduplicable outsider Pop art. Eskelin and Parkins take that poetry turned into music, and turn that music back into poetry.What might at first appear mere mockery shows itself, through the father-son bond, to be deeply touching.

Yet it is exactly "deep" feeling which is under the microscope. "(With Drums and Bells)" features exactly that -- if one didn't know better, one might assume one was hearing a rare BYG Black Power recording. But when Eskelin's transcendental lugubriousness comes twisting in, skirting over the time, it calls exactly how one IS supposed to feel into question. His solo take on the standard "Flamingo" sounds as if it comes out of a transistor radio you've hidden under your blankets along with your lonesome body. "Flamingo" isn't just touching, it accesses the history of touchingess -- unlike many in NY's Downtown circle, Eskelin and Parkins play with feeling because of their brains, not in spite of them.
David J. Strauss, CD Music & Arts
If your idea of music is a squawking, screeching tenor paired with utterly dissimilar background keyboard samples, then Eskelin and Parkins are for you. These 12 selections are a tribute to cacophony. Need I say that they are all originals? Mercifully, a few numbers, 'The Cocktail Hour,' 'Scratch' and 'Sleight of Hand' are brief, between one and two minutes. 'The Cocktail Hour' sounds like the buzzing of a thousand demented insects. If the instrumental numbers don't accelerate a descent into madness, the vocals on 'Mary Jane's Dilemma' and 'Yummy Love' should do the trick. 'Flamingo' is intended as a ballad, I think, while 'Behind the Curtain' suggests the machinations of a deranged wizard -- an appropriate metaphor for this release. The promotional buzz for Green Bermudas calls it a testament to the ingenuity and weirdness of the human spirit and instructs the listener to dig it. I don't think so.
Marcela Breton, Jazztimes