Raphe Malik
The Short Form
Eremite Records MTE-05 CD
Personnel:
Malik trumpet
Dennis Warren drums
George Langford bass
Glenn Spearman tenor saxophone
Track Listing:
invocation: Spiel City (8:00)
Ray (Thine Own) (10:00)
Civilization After Coltrane (13:03)
Big G (7:36)
Hightail (4:57)
Gem Stone (7:16)
Grab Bag of Crabs on the Bayou (7:55)
27 July 1996, Fire In The Valley Festival, Bezanson Recital Hall, UMASS Amherst
producer: Michael Ehlers
engineer: Norman Blain
photography: Charles Gross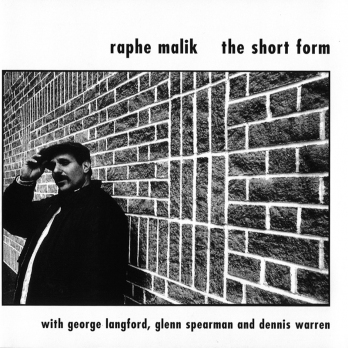 Civilization After Coltrane
noted for his work with the 1970s cecil taylor unit, malik's ferociously clear & powerful playing belongs with don cherry, bobby bradford & bill dixon in the pantheon of free jazz trumpet stylists.
Trumpeter Raphe Malik is a distinguished if underappreciated master of his instrument and the free jazz movement. For this recording date, a concert at the Fire in the Valley Festival in 1997, Malik assembled a band of giants in tenor savant Glenn Spearman, drummer Dennis Warren, and bassist George Langford. Malik and Spearman, having worked in the Cecil Taylor unit at different times, have like-minded approaches to composition, and are therefore a perfect match. Both prefer long, loping lines that eventually give way to extended fiery improvisation in which all instruments are used to find a common center and play out from it. On "Invocation: Spiel City," which opens the album, melodies appear in three different sections in the piece, each one vastly different harmonically from the preceding one. On "Ray (Thine Own)," Malik and Spearman find an angular melodic invention that soars over the rhythm section that is playing triple time. They work in and through each other as the lines becomes shorter until they disappear into Spearman's modal solo. He sounds like Dolphy on India, though he's playing tenor, cutting swathes across Malik's trumpet, carrying a melody, Eastern in color and tone, and eventually turning his intervallic modality into a screaming, screeching fit of passion. Malik drops out all together when this happens, only emerging when it's time for his own solo begins in full cry and pushes the physical limits of the horn. These cats aren't worrying about texture or subtle timbral palettes, they are concerned with voice, singing, and the structure communication of this type requires. It's breathtaking. The true m.o. for this band becomes clear when they enter Malik's "Civilization After Coltrane," with its Miles Davis-ish modal beginning which is purposely deconstructed within the first two minutes --seen to ably by Warren beating his kit to move the tempo in another direction. As Malik concedes and abandons the mode, he moves full bore to the smattering colors and ribbons of sound he is famous for. Here is the speed and dexterity of an improvisation that understands its musicality intimately, and has no worry about its abandonment in the heat of singing communication. Strange notions of harmonic scale and intervallic play are passed around like stories around a campfire and blown out of all proportion then turned into something strange, beautiful, and unclassifiable. This date was an evening that revealed to an enthralled audience what speaking in tongues was all about. As evidenced by The Short Form, Malik should be recorded as a leader far more often than he is. It's simply stunning.
Thom Jurek, Allmusic.com
One of the most distinct voices in free jazz, capable of infusing the rough and tumble music with a bluesy authority that draws on the clarion-toned legacy of Louis Armstrong as much as the heady structural freedoms of the 60s New York avant garde.
Ed Hazell, Boston Phoenix
The music is a four-part rotation around a glittering centre, its clear, collective vibe harkening back to New Orleans: tight and sweet, freedom without chaotic stodge.
Ben Watson, Hi-fi News & Recod Review
Malik bends his brass in endlessly inventive ways.
The Wire