Denis Charles
Captain Of The Deep
Eremite Records MTE-09 CD
Personnel:
Charles drums
Nathan Breedlove trumpet
Wilbert Dejoode bass
Jemeel Moondoc alto saxophone
Track Listing:
We Don't (14:04)
Mota (13:37)
Round About (15:38)
Jamaj's (9:40)
Rob (13:55)
Tobie Continyou (6:05)
09 May 1991, De Effenaar Culture Center, Eindhoven, Holland
producer: Michael Ehlers
engineer: Kees Polling/VPRO
photography: Charles Gross
liner notes: Byron Coley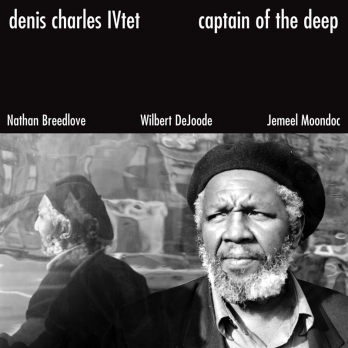 at last, a new recording under the leadership of the legendary Denis Charles. Beautifully swinging, upfull, and rambunctious.
jazziz magazine critics picks top ten recordings 1998
cadence magazine reviewers' choice best recording 1998
Captain is an imposing live set led by the late drummer Charles (he died the day this was released). With a resume that included time with Steve Lacy and Cecil Taylor, Charles was firmly ensconced in the restless beauty of the free jazz world, and that sort of passion and joy overflows here. His group draws its sound from Albert Ayler and early Ornette Coleman, with stirring folkish themes that turn into blazing marathon solos. Its all-encompassing exuberance draws funeral wails, blues, African rhythms and down-the-line bebop into one roaring vortex. This band includes veteran avant-gardist Jemeel Moondoc on alto and Nathan Breedlove, now with the Skatalites, on trumpet. Their music is consistently powerful but controlled. They are both careful never to go so far out that they leave the other musicians behind or destroy the fabric of the melody. They are uplifting both on the crazed, martial air of 'We Don't' and the bluesy improvisations of 'Round About.' Add Wilbert DeJoode's deep-souled bass and Charles powerful drumming and you have an amazing, hot-blooded session with the best features of modern jazz. It sounds both ancient and up to the minute at the same time.
Jerome Wilson, Option
Recorded at the Zuid-Nederlands Jazz Festival in Holland, this piano-less quartet features drummer Denis Charles with Jemeel Moondoc on alto saxophone, Wilber DeJoode on bass, and Nathan Breedlove on trumpet. With a sound often approximating the work of early Ornette Coleman, the two horns spurt attractively dissonant themes, after which the four players turn out repeatedly fascinating solos and interactive lines. Underrecorded Breedlove is surprisingly agile and charmingly ragged, with a clear debt to Don Cherry and Bobby Bradford. Unsung giant Moondoc is stunning throughout, with twisted, winding lines stretched across a brush of vibrant colors. Charles smolders with excitement, driving hard and pushing forcefully, but laying low when necessary. Its great melodies and adventurous solos make Captain of the Deep a vital inside/outside document of the 1990s.
Steve Loewy, Allmusic.com
I've been hip to Dennis Charles since "introducing" him in The Jazz Review in 1961, as Cecil Taylor's drummer. His recent departure is tragic, just as he was getting his life together, and his music, his delightfully spare, "old timey" traditional approach (put you in mind of Eddie Blackwell), he is taken.
King of the Deep suffers from an over-discursiveness and seeming randomness of non-thematic blowing. Jemeel Moodoc, an exciting player, is not given enough direction by leader Charles, who remains the beating heart of the set. Yet, behind Ayler-blunt melodies, straightahead timbre, the unique daring simplicity of Charles' rhythmic motive force, Deep has lovely moments. Dennis' solos, hip, self contained, quirky links and carriers of the whole. Check "We Don't" and "Rob."
Amiri Baraka, Jazztimes