Jemeel Moondoc Trio
Fire In The Valley
Eremite Records MTE-08 CD
Personnel:
Moondoc alto saxophone
Laurence Cook drums & percussion
John Voigt bass
Track Listing:
Fire In The Valley (39:51)
Encore (1:28)
27 July 1996, Fire In The Valley Festival, Bezanson Recital Hall, UMASS Amherst
producer: Michael Ehlers
photography: Charles Gross
liner notes: Byron Coley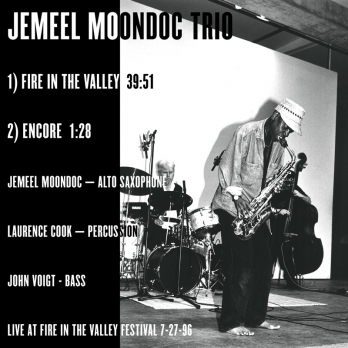 jazziz magazine critics' picks #6 recording 1997
cadence reviewers' choice top ten recordings 1997
This 41 minute set, comprised of just two tracks, was recorded at the 1996 Fire in the Valley Festival in Amherst, MA. Moondoc and his alto saxophone are accompanied by bassist John Voigt and percussionist Laurence Cook. The title track, which clocks in at a mighty 39:51, is where all the meat is. Here is where the listener gets to witness what the cult around Moondoc is all about. Unlike many free jazzers who try to blow the guts out of the horn each and every time they improvise, he digs deep into the jazz tradition for his material. And while he has been often compared to Ornette Coleman, it's mainly because they both play the same horn. His tone is more reminiscent of Jackie McLean's while his playing style comes from the same place that Charles Tyler's does. There is a quiet insistence here as Moondoc and company begin their journey through the hallways of postmodern jazz. Moondoc goes in, around, and through his rhythm section in search of a song he can hear but can't quite touch and get to some astonishing places on the way. It's as if he is coming to a threshold where silence itself has built a tunnel, and he tiptoes, steps, dances, runs into, then calls and cries out of once inside. There are passageways of great power that lead into small, quiet lyrical rooms of harmonic beauty and grace.
Voigt and Cook are certainly backing players here. They listen closely and offer an inherently solid force for Moondoc to push against for momentum. They simmer when he shouts, wail when his alto sings --and his playing does sing. Perhaps more than any other alto player of his generation, he understands the complexities of melodic invention and how it relates both to post bop swing and the avant garde's quest for a new syntax in sonic language. And while the 1:28 skronkfest encore is a throwaway --added as documentation of the entire performance--it doesn't detract from the beauty, originality and wondrous group interplay of the longer piece that reveals how multi-dimensional Moondoc is as both a soloist and bandleader.
Thom Jurek, Allmusic.com
Moondoc seemed to bare his very soul with his darting clipped jumps, plaintive smears, and skirling cries. The three seemed to be charged particles, simultaneously sparking and surging with the turbulent crackling energy of a storm cloud.
Michael Rosenstein, Cadence
Moondoc's alto restlessly tumbles forth from antic bounces to r&b drenched Texas honk to piglet squeals to bursts of tenor-like resonance. High-impact and, often, high-velocity, the Moondoc trio blazes like a hail of comets.
Sam Prestianni, Jazziz