Tom Bruno & Sabir Mateen
Getting Away With Murder
Eremite Records MTE-07 CD
Personnel:
Mateen tenor saxophone
Bruno drums
Track Listing:
Getting Away With Murder (45:49)
28 February 1995, Grand Central Station, NYC
producer: Michael Ehlers
engineer: Alen Hadzi-Stefanov
liner notes: Byron Coley
photography: Charles Gross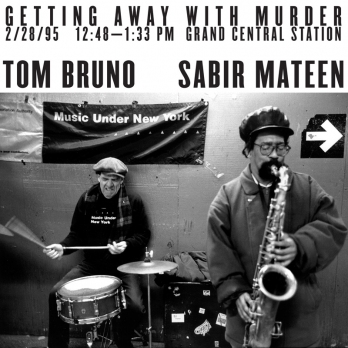 two of our universe's best unsung musicians performing the true new york underground circuit. listen to the trains run, the announcers squawk, the commutes dawdle, and tom and sabir break the bread of the earth.
coda magazine writers choice top ten recordings 1998
Two musicians recorded down New York's subway -- and, surprise, surprise, they're playing excellent jazz. Tom Bruno uses brushes on his busker's pared-down kit: a glorious, intricate waterfall of beats. Tenorist Mateen leaps in like a salmon, flashy and wise. A 45 minute improvisation requires pace and intellect; Mateen's meditative, Lowe-like intimacy is just what is required. When the sax lays out for nine minutes, Bruno's fluid ebullience comes to the fore. Mateen's concluding flourish lets in some subway ambience -- train-door slams and commuter chatter -- and the results are haunting. DAT recorder and hand-held mic provide better sounds than many routine studio dates. Byron Coley's sleevenote is, as usual, a gas.
Ben Watson, Hi-fi News & Record Review
A duet of shifting momentums, interplay, fresh feeling. Mateen coils up in repeat figures, releases into legato culminations. Bruno taps and shimmers crisp rhythm platforms, turning points. Train announcements, walk-up chatter included. Hey, they're on to something. Stop a while; there'll be a later train...
Coda
Two guys, a tenor sax, one-third of a drum set, a pair of brushes, and the occasional sound of a train being announced.... The album is admirable. Both exhilarating and thoughtful.
Walter Horn, Cadence