Sabir Mateen Trio
Divine Mad Love
Eremite Records MTE-11 CD
Personnel:
Mateen alto & tenor saxophones, flute, clarinet
Laurence Cook drums & percussion
John Voigt bass
Track Listing:
Glory & Praise to the Most High (6:32)
Checking in with Yourself (18:55)
Conversation/Lunch before Departure (4:51)
Running into the Truth (after Chasing a Lie) (9:57)
Illuminations Flute (5:51)
Divine Mad Love (8:27)
Illuminations Bass (1:25)
Illuminations Drums (2:13)
Whydidjadolt (2:19)
02 February 1997, PBS Studios, Westwood MA
producer: Michael Ehlers
engineer: Peter Kontrimas
photography: Lila Lee & Charles Gross
Liner Notes: Steve Dalachinsky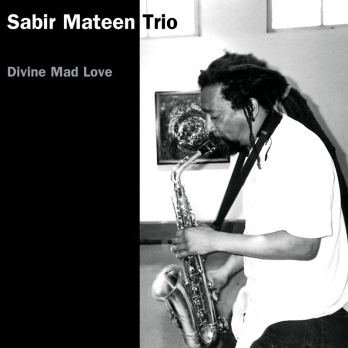 multi-instrumentalist mateen (alto, tenor, clarinet, flute) made his recording debut in 1979 with horace tapscott's pan african people's arkestra. after years of heavy dues paying, mateen is now a luminous presence on the american improvised music scene, as part of TEST, tenor rising, sunny murray's bands, the raphe malik quartet, & william parker's little huey creative music orchestra. laurence cook and john voigt forged their concepts in the more arcane vein of the free jazz universe: lowell davidson, alan silva, bill dixon.
Bracingly pure. The nine tracks here demonstrate that he's harbored, fed & nurtured inborn musical drives without reference to niceties of song form. He tells stories his own way. His complete avoidance of cliche during the nearly-19 minute epic "Checking In With Yourself" is only one example. Mateen seeks the freedom & accepts the responsibilities of playing only what he's dreamed up from deep within.
Howard Mandel, Jazziz
Saxophonist Sabir Mateen emerged on the west coast playing with eminence grise Horace Tapscott, and his grasp of the the traditions has a similar depth and disregard for fashion. He has found his own voice, skippy and playful like Ornette, but also vocalized and ecstatic like the players encouraged by Coltrane. His clarinet is fluid and soulful; his flute intelligent enough to keep airiness at bay. On 'Running in to the Truth After Chasing a Lie,' his alto darts about like a lizard on a wall, finding new cavities that glisten with gems, new harmonic zones to bask in. Voigt and Cook find a universe in Mateen's merge of harmonic exploration and melodic delight.
Ben Watson, Hi-fi News & Record Review
Only recently has Sabir Mateen done much recording, his most high-profile association being TEST, through which his long-standing relationship with Daniel Carter has resulted in a language & methodology that allows both players adequate room for expression. As comfortably matched as they are, it is good to hear Divine Mad Love. The trio allows Mateen ample room to stretch out & manipulate the direction of the music.
In playing Divine Mad Love for a friend, his first remark, an astonished "what a beautiful tone," took me by surprise, as Mateen's playing, rather than his tone, entrain my ear. While he plays the tenor as aggressively as anyone else, Mateen's lushness of tone & relative gentleness of approach to the tenor, alto, clarinet & flute are as prominent as the extreme competence of the players.
In the time since Cook & Voigt both played with Lowell Davidson, followed by Cook's 10-year stint with Bill Dixon, Cook has certainly played the full range of the drums. With Dixon, he mastered the ability to simultaneously play quietly & with intensity (as best exemplified on Dixon's Son of Sisyphus)-- & Voigt remains comfortable both with Cook's unique rhythmic approach & use of 'traditional jazz' metricism. While the recording is under Mateen's name, the presence of both Cook & Voigt is unmistakable, to the point where the recording takes on a collaborative feel, rather than that of leader-with-sidemen.
Stanley Zappa, Bananafish
We are enthralled and fascinated by the process as invention from accretion and accumulation, yet too often we hear a great deal of "aiming," which fixes the music, with the ironic dialectic of its method, as somewhat "aimless." Improvisation is the heart of the music, expressing variations on some thematic focus, which then links them as a "symmetrical" or logical (aesthetic not geometric) whole. Without this contrast and resulting "tension," the "wholly" spontaneous coheres as overly formal, or unconnected and meandering. This is the shape of Sabir Mateen's work on Mad. Full of energy and desire, without the wholeness or interior rationale of clear, riveting aesthetic cohesion. He'll get there.
Amiri Baraka, Jazztimes