William Parker
Through Acceptance of the Mystery Peace
Eremite Records MTE-12 CD
Personnel:
Parker bass
Ramsey Ameen, Billy Bang, Jason Kao Hwang & Polly Bradfield violins
Roger Baird & Denis Charles drums
Charles Brackeen and John Hagan tenor saxophones
Daniel Carter alto and tenor saxophone, flute, trumpet
Will Connell, Jr alto saxophone and flute
Tristan Honsinger cello
Toshinori Kondo alto horn
Peter Kuhn, Rozanne Levine & Henry Warner clarinets
Jemeel Moondoc alto saxophone
Arthur Williams trumpet
Track Listing:
Desert Flower (19:42)
Through Acceptance of the Mystery Peace (9:43)
Rattles & Bells & the Light of the Sun (12:12)
Commitment (18:36)
Face Still Hands Folded (8:03)
February, 1974; August, 1977; 24 October 1976; 21 January, 1979, NYC
original producer: William Parker
reissue producer: Michael Ehlers
engineers: Peter Kuhn & John Mingione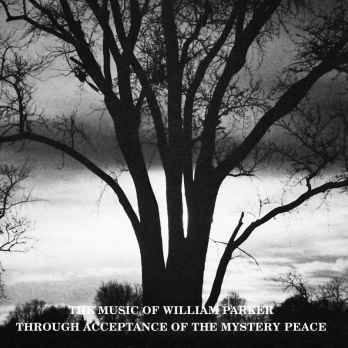 Through Acceptance of the Mystery Peace
william parker's earliest recordings as a leader. first released in 1979 on his own centering music (centering 1001), in an edition of 500 copies, through acceptance of the mystery peace has been a much sought-after collectors item for many years. eremite is proud to return this vital & historic music to common circulation. five ensembles recorded between 1974 and 1979, ranging in size from trio to octet, including denis charles, charles brackeen, billy bang, jemeel moondoc, daniel carter, toshinori kondo, tristan honsinger, and many others from far corners of the 1970s n.y.c. free music community. an altogether different view of the new york loft era than that provided by the wildflowers series, & the earliest view of parker's decisive influence upon the the american free jazz idiom. one previously unissued performance (title track), & the complete unedited version of "desert flower."
jazz magazine (france) top releases 1998
wire magazine top reissues 1998
An important early record by the bassist, originally on Centering, & now reissued with one new track. In many respects, it looks forward to the larger bands of the 90s, but here Parker develops his ideas with a series of smaller ensembles & with more emphasis than later on free blowing... The smaller groups favor strings & could almost be playing classical pieces. The bigger ensembles, though, are the surest indication of what was to come.
Richard Cook & Brian Morton, The Penguin Guide To Jazz Recordings
The feeling comes across that it is here that free jazz took the next giant step in its evolutionary process and grew wings.
Edwin Pouncey, The Wire