Malcolm Goldstein
Live at Fire In The Valley
Eremite Records MTE-16 CD
Personnel:
Goldstein violin, voice
Track Listing:
Soundings I (4:45)
From Configurations in Darkness (17:51)
When the River Overflows (18:38)
My Feet Is Tired But My Soul Is Rested (17:44)
Soundings II (2:41)
27 June 1997, Fire In The Valley Festival, Bezanson Recital Hall, UMASS Amherst
producer: Michael Ehlers
engineer: Norman Blain
photography: Michael Wilderman
liner notes: Malcolm Goldstein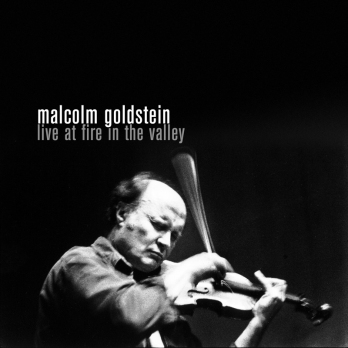 a significant addition to the discography of this important and underdocumented avant garde figure. "a doyen of the american avant garde," (the wire, may 1999) goldstein co-founded the tone roads ensemble in the early 1960s with james tenney and philip corner, and went on to establish an aggressively individual voice as a violinist and composer. later his reputation as one of the new music's great instrumentalists and solo performers prompted john cage, ornette coleman, and christian wolff, among others, to compose for him. goldstein has lived quietly for many years in vermont's northeast kingdom, and is too seldom heard from. this beautiful solo set from the 1997 fire in the valley festival is a fairly stupefying demonstration of his unique genius.
Live at Fire in the Valley is one of the best examples of improvised solo violin on disk, & it is a critical document of one of the finest free music improvisers in our midst.
Steven Loewy, Cadence
Malcolm Goldstein has been obsessively working through extended violin sounding strategies since the early '60s. His proto-orchestral conceptions seem to imply the presence of ghostly parallel lines and buzzing counter patterns as he carves see-sawing folk melodies and abstract architectures from out of the air. While his feet are most firmly planted in the avant-classical field, he also draws on jazz theoreticians such as Ornette Coleman, who penned 'Trinity' especially for him. Live At Fire In The Valley combines some visceral free-sawing improvisations with some other semi-structured pieces and it's the more subtly directed of the pieces that work best. 'Configurations Of Darkness' is based on a haunting Bosnian folksong and Goldstein plays it as a threnody for the victims of genocide, tearing through it's folk-simple truths with savage, human sounding screams and wails. 'When The River Overflows' takes the piece Ornette wrote for him and resituates it in a pool of deep silence as Goldstein slowly circles, taking stabs at the guiding melody from countless different angles.
David Keenan, Opprobrium