Glenn Spearman
First & Last
Eremite Records MTE-15 CD
Personnel:
Spearman tenor saxophone
Rashid Bakr drums
Matthew Goodheart piano
Track Listing:
Intertextual Reference (21:10)
Under the Incalculable Sky, Diseased with Stars (21:59)
25 July 1998, Fire In The Valley Festival, Bezanson Recital Hall, UMASS Amherst
producer: Michael Ehlers
engineer: Alen Hadzi-Stefanov
photography: Jere Carroll & Michael Wilderman
liner notes: Matthew Goodheart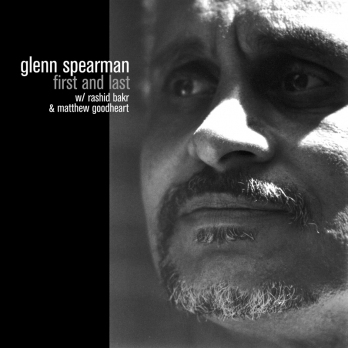 Each sound contains the encapsulation of our condition; an entrance, a varying sustain, a decay. Notes like the lives of people. Filled with the ase, their rich resonances giving meaning. Sounds uttered by Creator who both is & is not. Divine Truth encapsulates both a created & a non-created universe; a transcendence discovered in sound, in the act of utterance. Glenn believed in the Creator, in the divine seed. He possessed that seed. He spoke of love. -- Matthew Goodheart, liner notes
#2 outside/in album, 1999/2000 jazziz readers poll
cadence magazine reviewer's choice, top 10 recordings 2000
This is now our only chance to hear Spearman's tenor sax, as he died shortly after recording this trio performance at Eremite's Fire In the Valley festival. Spearman plays like Archie Shepp in 1969: a full-throated tenor sax cry that goads his accompanists to play ever harder, heavier, more recklessly. Pianist Matthew Goodheart's 'Intertextual Reference' is simplified Cecil Taylor; though he was cunning enough to build a harmonic contradiction into the piece's cell structure. The musicians hammer at the cloven motif with a kind of beautiful anger. Goodheart's portentous chords recall McCoy Tyner's contributions to Coltrane's classic quartet, but he doesn't progress the harmonies. Indeed, the monumental immoveability of the harmonic system is harrowing, almost a symbolic recognition of the political reaction which smashed the aspirations of Coltrane & his audience. However, whereas minimalism deems such an 'end of history' sublime, these guys are beating their fists against it: the resulting wondrous timbres & effects intimate a utopian music beyond the tempered scale... If you're ready to let the music of the spheres wring your bowels, this is it.
Ben Watson, The Wire
By the end of this set at Eremite's Fire in the Valley Festival, Glenn Spearman has pushed everything through his horn: fractured tones, scales torn & bent, a tenor saxophone's very guts. & as the audience breaks into sustained applause, no one could have known that this would be Spearman's last performance. Recorded in July 1998 in Amherst, Massachusetts, shortly before his death, this is Glenn Spearman's final recording. In that 1960s tenor tradition, from Coltrane to Ayler to Shepp, Spearman's volcanic sound & turbulent narrative dominates this bassless trio. Pianist Matthew Goodheart & drummer Rashid Bakr continually feed Spearman's stormy improvisations through two long pieces. & the tenorman is irrepressible. How can this kind of spirit be replaced?
Greg Buium, Coda
...Impassioned honks, screeches, & screams are, of course, common practice among jazz's energy players. But Spearman's music can push the wailing concept to transcendent levels. When he hits high & hard with his fully fleshed tone poems, the music takes on an urgency that bears substance. On First & Last the message is forceful & foreboding. It's intense, nearly overwhelming, & a fitting final word from a colossal jazz improvisor.
Sam Prestianni, Jazziz
You would never know that tenor saxophonist Glenn Spearman was terminally ill at the time of this recording, billed as his last. His full tone, unmitigated energy, and graceful spirit soar to the heavens on these two lengthy tracks recorded live at the third Fire in the Valley Festival in Amherst, Massachusetts. Drummer Rashid Bakr and particularly, pianist Matthew Goodheart, were effective partners for Spearman, as he basked in their grooves. Goodheart knows when to step to the side and when to interact with premeditated clusters. This is energetic music of the highest order, a fitting memorial to one the unsung jazz legends who could sing on his horn with the best of them, but who never entirely received his due during his lifetime. This recording should help to place his forceful and very spiritual spirit in proper perspective.
Steven A. Loewy, Allmusic.com