Peter Brötzmann Die Like A Dog Quartet
From Valley To Valley
Eremite Records MTE-18 CD
Personnel:
Brötzmann alto & tenor saxophones, clarinet, tarogato
Roy Campbell flugelhorn, trumpet, pocket trumpet
Hamid Drake drums & percussion
William Parker bass
Track Listing:
I (16:40)
announcement (1:27)
II (40:02)
encore (10:07)
26 July 1998, Fire In The Valley Festival, Bezanson Recital Hall, UMASS Amherst
producer: Michael Ehlers
engineer: Alen Hadzi-Stefanov
photography: Michael Wilderman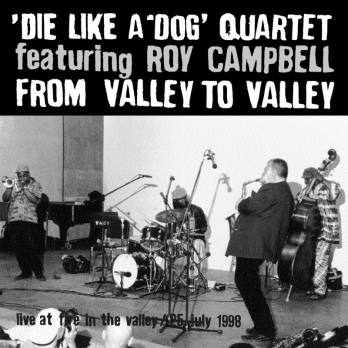 the debut north american performance of peter brötzmann's quartet for the apocalypse, recorded live at the '98 fire in the valley festival. roy campbell's open & muted brass replaced kondo for these seventy uproarious minutes of group conjuring. only brötzmann delivers music of this immediacy & old testament purpose. violent & beautiful enough to rip you, briefly, out of history
cadence magazine readers poll top recordings 1999
cadence magazine reviewer's choices, top 10 recordings 2000
coda magazine writers choice top ten recordings 2000
This version of the Die Like a Dog Quartet substitutes trumpeter Roy Campbell on trumpet. Otherwise, in addition to Brötzmann, the group includes percussionist Hamid Drake and bassist William Parker. From the perspective of free-style jazz, it does not get much better than this, the group totally in sync for three untitled pieces recorded live at the Fire in the Valley jazz festival in Amherst, Massachusetts. From any perspective, this very tight, highly disciplined unit is one of the leading ventures in the history of avant-garde jazz. On the second "tune," they launch into a magnificent dialogue for forty minutes, rising and ebbing, with distinguished improvisations along the way. Campbell is a big plus, his clipped phrases, bold gestures, and confidant lines a welcome addition to the group sound. As to be expected, Brötzmann electrifies with never-ending torching, while Parker and Drake flow in and out with mesmerizing solidity.
Steven A. Loewy, Allmusic.com