Noah Howard
Patterns/Message To South Africa
Eremite Records MTE-19 CD
Personnel:
Patterns
Howard alto sax, bells & shakers, vocals
Han Bennink drums, percussion, Tibetan horn
Steve Boston congas
Earl Freeman bass
Misha Mengelberg piano
Jaap Schoonhoven guitar
Message To South Africa
Howard alto sax, bells, vocals
Johnny Dyani bass, vocals
Kali Fasteau sheng, vocals
Chris Mcgregor piano
Noel McGee drums
Track Listing:
Patterns (36:24)
Message To South Africa (18:26)
Patterns: October 1971, VPRO studios, Hilversum, Holland
Message To South Africa: 1979, Studio Vincenee, Paris
original producer: Noah Howard
reissue producer: Michael Ehlers
photography: Thierry Trombert
liner notes: Byron Coley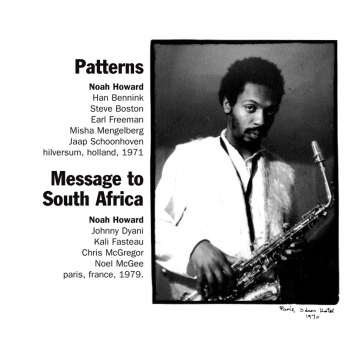 Originally issued on his own AltSax label in 1971, the "Patterns" session is one of the great mystery spots in the Noah Howard canon... The blasted opening sequence, which we seem to enter whilst already in-process, is a space duet for conga & electric guitar unprecedented in the annals of jazz & new music. When the rest of the musicians enter there is a heavy attempt to africanize Dutch architecture, a proposition which Mr. Mengelberg seems reluctant to accept. What eventually occurs is a primitivist aerial slugfest that invokes a world of shared experience, then negates its substantiality with hammers of nihilist beauty. Emblematic of the end of Europe's open arms policy towards America's expatriate improvisers, "Patterns" remains a ferocious, confounding ghost. The "Message to South Africa" session is another kind of spirit flare. Written in Paris the week that Steve Biko was killed, the date came together around two of the great South African jazz exiles, pianist Chris McGregor & bassist Johnny Dyani. Drummer Noel McGhee (who had played on Noah's Live at the Swing Club date) was enlisted to give the band Caribbean representation. In Paris as well was Kali Fasteau, who lends the proceedings some of the same vibrational magic she had used so notably on Archie Shepp's Bijou. Mr. McGregor spliced in the chords to what was then the South African National Anthem, & Mr. Dyani improvised vocals and invocations in Zulu throughout the suite. The combination of free-ranging throats & small, repeated melodic figures gives the piece a feel very congruent to that which flowed from the pipe of free Africa. It is truly a slab of riveting "world music" in the purest sense - cartwheeling through the changes like a shaman & surging up from a place beyond the reach of the western civ shuck. The project was done with the idea that Mercury might release it, but the heavy political vibe was too much for the company. Consequently, the track has never been released until now.' --Byron Coley, liner notes
cadence magazine reader's choices, top 10 reissues 2000
cadence magazine reviewers' choices, top 10 reissues 2000
Message to South Africa was written in the week that Steven Biko was killed & it features two of the Cape's most powerful & evocative exiles. It's a stunning performance, laden with passionate vocals from Howard, the magnificent Dyani & Zuzaan Kali Fasteau. Howard is always sensitive to the yin aspects of the music, its feminine side, & even in the midst of violence & despair it sings. The earlier material was originally released on Howard's own AltSax label. It was commissioned by Dutch Radio, just as that country nurtured the last wisdom of Eric Dolphy. As with Eric back in 1964, Bennink is magnificent: swinging, dark & funny. Mengelberg is more uncomfortable in the context, & at moments he treats the African material almost dismissively. McGregor quotes from the African National Congress anthem, 'Nkosi Sikeleli Afrika,' once explicitly & once in inverted form on Message to South Africa. It's a tiny reminder of the political context against which this music is created. At this point, almost anything of Howard's is welcome. These, though, are genuinely important points in the story.
Richard Cook & Brian Morton, The Penguin Guide To Jazz Recordings