Jemeel Moondoc Vtet
Revolt of the Negro Lawn Jockeys
Eremite Records MTE-28 CD
Personnel:
Moondoc alto saxophone
Nathan Breedlove trumpet
Khan Jamal vibraphone
Codaryl Moffett drums
John Voigt bass
Track Listing:
Moon Mode (15:46)
You Let Me Into Your Life (13:17)
Revolt Of The Negro Lawn Jockeys (15:22)
encore (3:00)
25 May 2000, Vision Festival, New Age Cabaret, NYC
producer: Michael Ehlers
engineer: Alen Hadzi-Stefanov
photography: Charles Gross
liner notes: Ed Hazell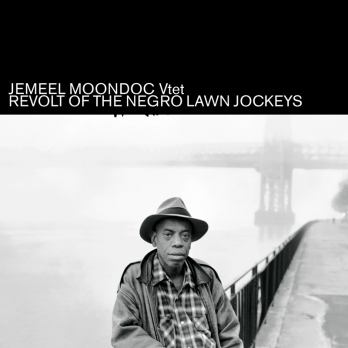 You Let Me Into Your Life
our bid for moondoc's finest ever small-group recording. revolt of the negro lawn jockeys shows a musician capable of drawing together the post-bop lineage that includes jackie mclean & charles mingus, & the free jazz/energy music tradition of ornette coleman & cecil taylor into one grand, swinging synthesis. it is clear that for Moondoc, one does not exclude the other. his big-hearted, all-embracing music renders irrelevant the boundary between free & post bop jazz.

jazztimes critics picks, top five c/ds 2001
wire magazine, 50 records of 2001, all categories
wire magazine, 15 records of 2001, jazz
cadence magazine reviewers choices, top ten records 2001
coda magazine writers choice top ten recordings 2001
Any quintet lineup featuring alto sax, trumpet, vibes, bass and drums inevitably invites comparison with Eric Dolphy's Out To Lunch. Hard act to follow, but Jemeel Moondoc can hold his head up high. Those who take perverse pleasure in announcing the death of jazz in all its forms should be strapped to a table and forced to listen to this 47-minute set (from the Vision Festival in May 2000) until their ears bleed. Alen Hadzi-Stefanov's recording is so clear you can hear beads of sweat hit the floor as Moondoc and the aptly-named Nathan Breedlove shoot from the heart, supported to perfection by the dynamite rhythm team of Cody Moffett and John Voigt and, especially, Khan Jamal's vibes. Back in 1964, in the Out To Lunch liner notes, Dolphy explained why he chose to work with vibes rather than piano: "vibes have a freer, more open sound than a piano. pianos seem to control you [...] vibes seems to open you up." Dolphy was referring to Bobby Hutcherson, though the same applies perfectly to Jamal's work here.
Dan Warburton, Paristransatlantic.com
Few musicians record with the consistency of Jemeel Moondoc. While he records fairly infrequently, his albums almost always produce music of a very high order, with original concepts that incorporate modern harmonies while absorbing the lessons of the past. This one is no exception, and in some ways it is his most highly developed. Using a quintet in which vibes substitute for piano, Moondoc builds on the innovations of the classic Ornette Coleman small groups, taking them incrementally to the next level. A sense of melody always underlines Moondoc's most radical excursions. His wailing alto is a perfect foil for trumpeter Nathan Breedlove's chopped, ragged phrases. Khan Jamal may be the most conservative member of the group, largely due to the refined nature of the vibraphone, but he performs with a clear recognition of the most progressive harmonies. Recorded live at New York City's demanding and explosive Vision Festival, the quintet explores a plethora of emotions, from the sublime to raw, unabashedly revolutionary exuberance. Moondoc never loses focus, as the group marches forward with touches of Ayler, Coltrane, and Coleman, while Moondoc's distinct vision is always in the forefront. The audience's approval evidences the power of this group, who creates some of the best jazz of its kind.
Steven Loewy, Allmusic.com