Jemeel Moondoc with Denis Charles
We Don't
Eremite Records MTE-43 CD
Personnel:
Moondoc alto saxophone
Charles drums
Track Listing:
We Don't (09:31)
Home (11:54)
Judy's Bounce (09:29)
We Do (11:41)
29 July 1981, Tucasa Sound Studio, NYC
producer: Michael Ehlers
engineer: Mario Careaga
photography: Gary Halpern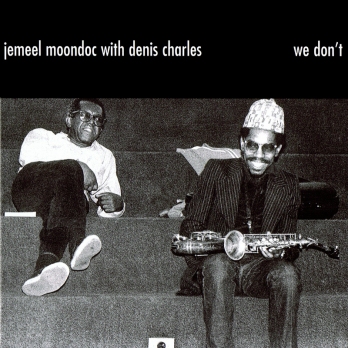 we don't is a previously unreleased 1981 session pairing moondoc with denis "jazz" charles (1933-1998). in the 1970s, moondoc was a member of ensemble muntu with william parker. moondoc's quirky & vivid alto style suggests the influence of ornette coleman, but the comparison "does not do justice to moondoc's originality" (the penguin guide to jazz on cd). moondoc's grandfather, the original 'moondoctor' & the family namesake, sang & danced in medicine shows at the turn of the century, & the presence of older american folk musics haunts the edges of moondoc's post-cecil taylor strategies. moondoc had a special chemistry with the late denis charles. a legendary "underground" figure charles worked with cecil taylor & steve lacy in their formative periods, & his caribbean-inflected rhythms animated jazz in an entirely unique way. we don't is rough-edged, eloquent storytelling, & completely on-fire from start to finish.
magnet magazine, top 10 free/jazz recordings 2003
Anyone who thinks there are no second acts in creative music should consider the comeback of Denis Charles, whose raw thrilling introduction to the 1960 Cecil Taylor classic "Air" merits inclusion in any survey of jazz drumming. After years off the scene, Charles emerged in the late '70s, and assumed an elder stateman's role by the time of his passing in 1998. A passionate duo exchange with alto saxophonist Jemeel Moondoc, We Don't (Eremite) is a fine companion volume to a 1991 recording issued under Charles' leadership, Captain of the Deep (Eremite), which also featured Moondoc. Recorded less than three months after the quartet date, the duo revisits the traditional Caribbean tune that kick-started the quartet date, triangulating the folk material with Ayler-like intensity. From there, the duo stokes up three Moondoc originals, including the buoyant "Judy's Bounce," highlighted by a joyfully elemental Charles solo. We Don't is a welcomed addition to both musicians' respective discographies.
Bill Shoemaker, JazzTimes
For a lot of you, this set needs no hard sell. a duo with Jemeel Moondoc & Denis Charles? The very thought puts an expectant smile on your face & this set doesn't disappoint. "We Don't" starts out with Moondoc blowing raspy variations on an Aylerish folk theme against Charles' relentless machine gun drumming. "Home" switches things to a swooning, soulful wail against grandiose tom-tom & cymbal beats. On "Judy's Bounce," they work out a funky theme reminiscent of Ornette Coleman's early work & "We Do" is full-on screaming in the best '60s 'scour the earth' fashion. Both of these men are highly underrated musicians though Moondoc has been getting recorded a bit more lately. Moondoc is in powerhouse form, blowing hard but in control & shaping his sound even when playing free. The late Denis Charles shows that he belonged in the pantheon of great modern drummers right beside Cyrille, Murray, Jones, Blackwell, & Shannon Jackson. The patterns he uses to set off Moondoc's hellacious blasts & create a perpetual undercurrent of rhythm are remarkable. Even the great Ed Blackwell couldn't set cymbals alight the way Charles does here. There is astonishing communication between Moondoc & Charles in a continual storm of energy & passion. You can almost feel the sweat running off them. This is one of those so-called 'avant garde' sets that retains a sense of the familiar even when both men are playing for their lives. This is exquisite stuff from two masters & very highly recommended.
Jerome WIlson, Cadence
Recorded back in 1981 when drummer Denis Charles was still on the planet, We Don't is a fine and craggy set of four pieces, three penned by altoist Moondoc (the title track is public domain). The difference between Moondoc's tone today - twenty years down the line, several fine releases have appeared under his leadership, most of them on Eremite - and what it was back then is immediately evident; The edge is harder, the attack more pronounced, but the innate sense of melody and timing is unmistakable. "Denis Charles he'd just chug-a-lug you for ever," Sunny Murray reminisced in our recent interview, and he was right. Add Ed Blackwell to the equation and you can clearly see just where Hamid Drake came from. There's a strange dull reverb to some of the tom tom crashes, though that's presumably an inevitable result of Jim Hemingway's remastering of the original recordings, made in a studio down in Alphabet City. This is a minor quibble though in the face of such glorious, strong, lyrical musicianship. One wonders what else might be lying around in the vaults awaiting the attention of Eremite's Michael Ehlers.
Dan Warburton, paristransatlantic.com
Not released until more than twenty years after it was recorded, this major find should not be missed. The sound quality of this studio release is surprisingly good but more importantly Jemeel Moondoc and Denis Charles are in outstanding form, with the saxophonist wailing passionately for the length of the album and the drummer egging him on with characteristic panache. While the total time is too short, especially for a CD, each of the four cuts exhibits the sort of stimulating, hardcore blowing that listeners have come to expect from Moondoc. The uncanny similarity in sound to early Ornette Coleman is unmistakable, yet Moondoc, of course, is no clone. Yet he has the same cry imbedded in his voice, a prayerful yearning, a call from the inner depths of being that strikes an emotional chord. Not many horn players could play for forty-plus minutes with only a drummer and keep the listener enthralled the way Moondoc does, a tribute to him and to the exquisite drumming of Charles. Although each of the tunes hover around the ten minute mark, there is not a moment of diminished joy, as the power and forcefulness of the moment infuses every note. Some of the best work of each of these artists can be found here, marking this recording as an important discovery and a fine example of free jazz at the highest levels.
Steven Loewy, Allmusic.com