Alan Silva & The Celestrial Communication Orchestra
H.CON.RES.57/TREASURE BOX
Eremite Records MTE-39/40/41/42 x4CD
Personnel:
Silva conduction & synthesizer
Marshall Allen alto saxophone, flute, E.V.I.
Johannes Bauer trombone
Joseph Bowie trombone
Karen Borca bassoon
Roy Campbell, Jr trumpet & flugelhorn
Baikida Carroll trumpet & flugelhorn
Daniel Carter alto & tenor saxophone, b-flat clarinet, flute, trumpet
Joseph Daley tuba & tenor horn
Bobby Few piano
Edward "Kidd" Jordan tenor saxophone
Jackson Krall drums & percussion
Bill Lowe bass trombone and tuba
Sabir Mateen tenor & alto saxophone, clarinets, flute
Wilber Morris bass
Itaru Oki trumpet, oki trumpet
William Parker bass
J.D. Parran baritone saxophone, clarinets, wooden flute
Warren Smith drums & percussion
Steve Swell trombone
Ijeoma Thomas vocals
Oluyemi Thomas bass clarinet, c-melody saxophone, wooden flute
Francis Wong tenor saxophone & flute
Track Listing:
MTE-39
Amplitude I (04:50)
Amplitude II (21:30)
Amplitude III (20:14)
Amplitude IV (15:41)
MTE-40
HR57 I (23:48)
HR57 II (15:50)
What Is Your Name? (09:35)
MTE-41
Amplitude I (15:43)
Amplitude II (10:46)
HR57 I (15:41)
HR57 II (18:56)
MTE-42
HR57 III (31:14)
Soon (26:30)
What Is Your Name? (08:10)
24 & 27 May 2001, The Uncool Festival, Le Prese, Poschiavo, CH
producers: Michael Ehlers & Silva
engineers: Gabriele Kamm & Paolo De Martini/Radio Svizzera
photography: Jacques Bisceglia
liner notes: Byron Coley, Matthew Goodheart, Ed Hazell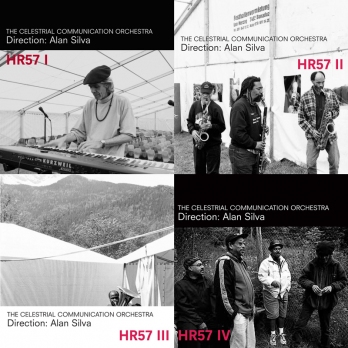 What Is Your Name? (24 May)
for some time now, alan silva has commented that the market value of his records should more closely resemble the price of a lithograph or an artist's print than that of an ordinary record. we remind him that his albums are not produced in special gallery editions, but "mass produced" for a niche market. silva has responded with THE TREASURE BOX. eremite agreed to support the effort, giving away four of its catalog numbers & what little sanity & peace of mind those of us close to the label's activities can claim to have ever possessed. the box is one of the more agreeably preposterous odysseys undertaken by a musician of silva's stature in many years. only silva's contemporary franz koglmann has done anything similar (opium for franz). silva designed & fabricated the 12"x12"x1" box, assembling & uniquely embellishing each one by hand, using a multitude of different materials to give the project what he refers to as "a little crafty feel." the box contains 4+ hours of music on 4 c/ds by a mind-blowing version of the celestrial communication orchestra, specially assembled for the 2001 uncool festival in poschiavo, switzerland. the occasion marked the first time ever that silva's choice of musicians for the orchestra was completely unrestricted by geography, festival budget, or any other grubby, earthly reason. writes matthew goodheart: "in many ways, listening to HR57 reminds me of listening to the the music of the late baroque era, like bach's mass in b-minor. it is secure in itself, skilled & clear in execution, subtle & finessed as well as frighteningly powerful, & summing up in its massive structure & sound all the forms & aesthetics that gave rise to it." musicians: marshall allen, daniel carter, sabir mateen, kidd jordan, william parker, bobby few, baikida carroll, roy campbell jr, itaru oki, joseph bowie, joe daley, karen borca, jackson krall, warren smith, wilber morris, oluyemi thomas, ijeoma thomas, steve swell, johannes bauer, bill lowe, francis wong, j.d. parran. the national swiss italian radio engineered the concert recordings (they really know what they are doing). the four c/d booklets contains photographs by jacques bisceglia, & writings & essays by byron coley, matthew goodheart, & ed hazell. signed & numbered by silva, in an eventual edition of 385.
BOX COMPLETELY SOLD OUT, $56 gets you just the 4 c/ds
coda magazine writer's choices top ten recordings 2003
These remarkable albums were recorded over two concerts in may 2001 at The Uncool festival in Poschiavo, Switzerland. The odd title refers to a 1987 House of Representatives resolution introduced by Congressman John Conyers Jr of Michigan 'respecting the designation of jazz as a rare & valuable national american treasure.' The text of the resolution is performed on both concerts by Ijeoma Thomas & establishes a utopian context for these large-scale improvisations.
Silva assembled his orchestra well before the concerts to allow rehearsal time as well as personal space for the members to interact. A measure of the chemistry so developed is the 26 minute "Soon" on disc four of the series; this was a spontaneously composed & harmonized composition, & the only non-improvised element of these performances. All the rest were led & conducted live by Silva, who also played synthesizer. His gestures & body movements direct every parameter of the music: pitch, dynamics, tempo, & the density of sound. Suffice it to say that with so many players of this temperament, the sound is very dense indeed. These, though, are much better representations of the orchestra's potential than past recordings. Silva effectively disbanded the CCO in 1989 to concentrate on other projects. His eremite recordings with the Sound Visions Orchestra (see under Silva entry) was a return to this kind of work & clearly reawakened the bassist's interest in such projects.
The ensemble includes musicians who have been closely associated with the leader in other formations: Bobby Few was a member of the Center of the World (a quartet which also numbered Frank Wright & Muhammad Ali); Johannes Bauer had played with the bassist in Traditions; Kidd Jordan knew him from the TTT ensemble; Marshall Allen was a friend from Sun Ra days. Raphe Malik was ill & was replaced by Itaru Oki. Such close associations pay dividends.
Describing the music is almost impossible. So large are the sections of HR57 in its various incarnations that any generalization is impossible, but the sound has a strong, almost primitive quality which perhaps recalls Silva's association with Albert Ayler in his later days. The pun on 'Celestial' & 'Terrestrial' in the ensemble's name is telling; this is not entirely earthly fare, but it is not floating 'space' music either. However, just as Sun Ra learned a great deal from his association with Fletcher Henderson, so Silva isn't so very far from the great bandleaders of a later generation. If one can imagine the Albert Ayler group guesting with the Stan Kenton band, that isn't very far from reality. We have found these fascinating sets aurally 'difficult,' sometimes frustrating, but packed with moments of majestic power & even a certain frail beauty. As an assertion of jazz's authority & position in American culture, these four hours of music are unequalled, though some may find the whole package a hefty outlay.
An astonishingly beautiful object, even leaving aside the music inside, each copy of the strictly limited treasure box is unique. All 383 copies are hand-painted, making them instantly collectable artifacts as well as documents of some of the most powerful free music around.
Richard Cook & Brian Morton, The Penguin Guide To Jazz Recordings
The "Treasure Box" is as much an art artifact as it is an exemplary document of Alan Silva's consummate skill as a composer, big band leader, arranger, and improviser. Presented as two individually hand-painted fold out 12" x 12" panels (no two are alike) with a pair of CDs in either side, the visual presentation, stunning as it is, only hints at what beauty and innovation lie in digital code on the discs themselves.
These CDs document two different performances of the "Celestial Communication Orchestra" recorded live at the Uncool Festival in Switzerland. For the first time in his career, Silva was allowed to choose his own cast of musicians without regard for cost or distance of travel. And the cast he assembled was not only impressive, it was unthinkably complex and included, among others, Silva, Ijeoma Thomas, Roy Campbell, Baikida Carroll, Joseph Bowie, Johannes Bauer, Marshall Allen, Sabir Mateen, Francis Wong, Daniel Carter, Karen Borca, Wilbur Morris, William Parker, Warren Smith, Jackson Krall, and Bobby Few.
Compositions performed on the 24th of May were "Amplitude," (in four movements), "HR 57" in two parts, and "What Is Your Name?" The performance on the 24th is particularly notable because of the nearly unbearable length of "Amplitude." It's not unbearable because it's drawn out or indulgent or overly ornate, but because of its nearly frightening power and beauty. Soloists enter and leave the ghostly composition by hidden doors, following one another down strange intervalic paths and knotty harmonic corridors of sonic architectures and carefully crafted textures by Silva on his synthesizer. On "Amplitude," and then again dovetailed on "HR57," aural divisions and arbitrary categories implode and then dissolve. Jazz and classical, musically tempered, and free improvisation become part of something much larger, something sublimely connected to a force outside itself, and perhaps even outside the realm of music. The performance is so tightly focused on Silva's direction and vision that all individual identities cease to exist. And this is a compliment because only players of this caliber could join themselves to a project like this in order to accomplish the goal of erecting this sonic architecture out of thin air.
The performance of the 27th, while not so transcendentally beautiful, is knottier, the dialogue more aggressive and multi-lingual. "Amplitude" again opens the set, but as only a two-movement piece instead of four, and "HRS 57" has a third movement added to it. "What is Your Name?" and "Soon" round out the set. Here, "Amplitude" seems like a peremptory exercise in order to get to "HRS 57." The prologue notion serves as a backdrop of particular soloists to refract the harmonics of the composition into smaller units to extrapolate on into the harmonic considerations of "HRS 57." As the newly entered third movement begins to wind itself up, soloists and line players becomes threads; inseparable from the tonal clusters created by Silva, even as they execute and change them. While the sheer power and intensity is not so readily apparent here, it is replaced by a much more swinging sensibility with interplay happening simultaneously between entire groups of musicians. The final two compositions offer a breezier exit than one could have even thought possible, leaving the listener quite stunned by what has taken place. This set, limited to 383 copies, is worth its weight in gold and should be referred to continually in the jazz canon for its revelatory control and exploration.
Thom Jurek, Allmusic.com
There's no small irony in the fact that Alan Silva had to take his 23-piece orchestra to Switzerland, to a festival called The Uncool Festival, to perform a work based on the 1987 House Resolutions declaring jazz an historical treasure to be celebrated & preserved. Fact of the matter is, the congressmen & senators probably did not have large orchestras playing free jazz in mind when they passed the resolution. not live ones, anyway. In any event, Silva found the right conditions under which to perform the work, & we should be grateful that he insisted that things be done right. For the two performances on May 24 & 27, 2001 at Poschiavo, Switzerland, Silva had the musicians, a varied assortment --multiracial, male, female, American, non-American, young, old-- hang out for the week so that they could get to know one another in ways that would make the conducted improvisations richer. On the evidence, this was a successful strategy. HR57 is a huge whack of music, a lot to digest, dense & textured as it is. I don't think it's appropriate to assess this monumental recording --beautifully packaged & annotated-- in terms of its place in jazz history. But any project that brings together people like Marshall Allen, Daniel Carter, Kidd Jordan, Bobby Few, Johannes Bauer, Roy Campbell, William Parker, Wilber Morris & Warren Smith, among others too numerous to mention, is worthy of attention. But there is something majestic in the music's swooping lines, its ebbs & swells -- & it is the proper setting for Silva's synthesizer -- that demands attention beyond the simple respect that is due in this case.
Mike Chamberlain, Coda
In the heady, turbulent years of the late '60s and early '70s, bassist Alan Silva along with members of Chicago's AACM and musicians like Steve Lacy, Dave Burrell, and Bobby Few reigned as expatriates in Paris. They were lured by the specter of escape from the political and social turmoil of the U.S., and the opportunity for artistic freedom and more lucrative gigs. Once there, they convened along with like-minded europeans at festivals and at recording sessions for the BYG record label that were destined to change the face of free jazz forever. During those years, Silva had the occasional opportunity to work out his take on spontaneous composition with his Celestrial Communications Orchestra, assembled from the residing masters of the form. Their recordings were amongst the grail of record collectors, and have only recently come back in to print, proving that, in this case, the legend did in deed live up to the reality. Over the intervening years, Silva had only rare opportunities to exercise his take on the juncture of blustering free jazz, orchestral improvisation, and the big band tradition. Turning to synthesizer, the bassist tried to capture the massed power and timbral depth of a large ensemble, but it was only at the 1999 Vision Festival that he was able again to work a pool of improvisers on that scale. So when Silva got the call from Christina Müller to come for a residency at the 2001 Uncool Festival in Switzerland along with a hand-picked orchestra, he jumped at the chance. Pulling together the A team, Silva headed off with a reed section (Marshall Allen, Kidd Jordan, Sabir Mateen, Daniel Carter, J.D. Parran, Francis Wong, Oluyemi Thomas, and Karen Borca), brass section (Roy Campbell, Itaru Oki , Baikida Carroll, Joseph Bowie, Steve Swell, Johannes Bauer, William Lowe, and Joseph Daley), bassists Wilber Morris and William Parker, drummers Warren Smith and Jackson Krall, pianist Bobby Few (member of the '60s sessions) and vocalist Ijeoma Thomas. this crack group spent the week settling in, rehearsing, and hanging together. Under silva's guidance, they worked out a collective approach to the leader's orchestral forms, gestural conducting techniques, and free blowing, forming that rare thing – a cohesive large ensemble. They had the opportunity to play two sprawling concerts, where they blew a thunderous storm around the basic forms Silva had charted out. The leader had chosen to feature the text of Congressional Resolution 57 (H.CON.RES.57), passed by the U.S. Congress in December of 1987 which designates jazz as "a rare and valuable national american treasure to which we should devote our attention, support, and resources to make certain it is preserved, understood, and promulgated." Of course the irony that this all-star ensemble had to make the trip to Switzerland to call up the energy and dynamism first fomented in Paris only helped to spark the music to a firestorm. All of this might have just gone down in the legend books again, but Michael Ehlers and the Eremite label have released it all on, what Silva has dubbed "The Treasure Box." This limited edition opus houses four c/ds in a hand-fabricated cardboard box; each one individually painted and decorated by silva. there is no doubt that this is some of the most formidable large ensemble, free jazz music ever documented. Expertly engineered by the National Swiss Italian Radio, these four c/cs capture both concerts in their entirety, which makes for listening that requires some serious stamina. It is no surprise that this is music of muscular intensity played with personal conviction. each member gets their spotlight and there is plenty of scorching power in evidence. but Silva is always at the center of it all, massing the ensemble, playing sections off each other, dropping the music down to a simmer and then slowly churning things up to a roar. One hears as many shades of Ellington as of Sun Ra. From the very choice in instrumentation, Silva makes his mark. The paired tubas and paired Basses provide a rumbling foundation for the music. Drummers Smith and Krall know how to prod things along by playing around the coursing pulses rather than over them. Few's splashing slabs cut through, crashing against the walls of brass and reeds. Through shouted prompts and synthesizer colors, Silva is constantly tuning and shaping the propulsive flow and his infectious energy and joy is broadcast across the music. These players all know how to listen to each other and respond to the leader, and through both two-hour performances, they keep the energy at the highest level. (the second of the two wins out, but only by a bit.) Silva elicits dazzling performances from all, from the very first introduction of the band, through swirling ensemble sections, torrid solos, teaming pulses, thundering call and response, to Ijeoma Thomas' chanted invocation of H.CON.RES.57. Is the steep price for this set worth it? A bit more of a deluxe treatment of liner notes would have been nice, and some of the boxes are a bit slapped together. But as it is, this is a recording that stands up to Silva's Seasons in all its tempestuous glory and will certainly endure as an momentous document of the free jazz tradition.
Michael Rosenstein, Signal To Noise