Fred Anderson/Hamid Drake/William Parker
Blue Winter
Eremite Records MTE-47/48 2xCD
Personnel:
Anderson tenor saxophone
Drake drums
Parker bass, nagaswaram
Track Listing:
MTE-47
I (44:16)
MTE-48
II (37:59)
III (13:08)
IV (14:03)
12 December 2004, Dibden Center for the Arts, Johnson State College, Johnson VT
producer: Michael Ehlers
engineer: Amos Scattergood
photography: Nancy J. Parisi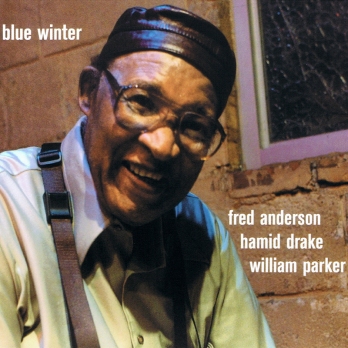 blue winter is a milestone achievement in the career of tenor saxophone stalwart fred anderson. an exponent of the illustrious chicago heavyweight tenor tradition that includes his contemporaries gene ammons, johnny griffin, john gilmore & von freeman, anderson spent decades as a family man & bar owner before starting to seriously tour & record in the nineties. born 1929 in monroe, louisiana, anderson migrated to chicago in 1940, devoting many years of study to the music of lester young, coleman hawkins, & charlie parker. in 1964 anderson co-founded the seminal chicago musicians' organization the association for the advancement of creative musicians (AACM). the strength & individuality of his playing in early AACM ensembles with muhal richard abrams, joseph jarman, & henry threadgill earned anderson the nickname "the lone prophet of the prairie." joining anderson on blue winter is one of the premier rhythm sections in any music genre, william parker & hamid drake. the two-cd set features an impeccably recorded complete concert performance from the trio's 2004 northeast tour.
howard reich, chicago tribune, #2 jazz record of 2005
Chicago tenor saxophonist Fred Anderson has recorded with some regularity in recent years, but the two-CD "Blue Winter" represents a pinnacle in his work, and in its documentation. Performing with longtime collaborator Hamid Drake on drums and William Parker on bass, Anderson unfolds solos of uncommon majesty, duration, invention and intellectual heft. The first CD alone represents one extended piece, nearly 45 minutes of extraordinarily fluid jazz improvisation, Anderson's characteristically gnarly, complex yet free-flowing lines pushed forward by Drake's relentless rhythms and deepened by Parker's resonant bass. Anderson rarely has been more faithfully recorded, the often leathery quality of his midrange, the acidity of his high notes and the barreling quality of his nethermost pitches captured more vividly than ever before. In every regard, then, a tour de force.
Howard Reich, Chicago Tribune
Septuagenarian tenor saxophonist Fred Anderson has recorded with drummer Hamid Drake and bassist William Parker before‹on the 1999 Eremite release Two Days in April, where they were joined by the volatile Edward "Kidd" Jordan on second tenor. But Blue Winter, which documents a December 2004 concert in Vermont, marks the CD debut of these three as a trio. The two-disc set reveals a superb band driven by an enthralling rhythmic tension. The first CD, which consists entirely of "I," a single improvisation lasting more than 40 minutes, is Blue Winter's highlight, a straightforward demonstration of Anderson's agility and confidence as an extended soloist. Drake plays busily from the outset, but Anderson paces himself; he lazily muses on an impromptu theme before gradually ratcheting up his intensity. His phrases, rendered in an unmistakable silvery, gruff tone, hover just behind the beat without sounding sluggish. Meanwhile, the rhythm section oscillates naturally between hard swing and skittish pulse. The trio's inspired interplay flags on "II," which opens disc two. In this piece, Drake and Parker fixate on a stilted backbeat, over which Anderson layers frustratingly static riffs. "III," on which Parker plays the nagaswaram (a piercing Indian oboe) and Drake limits himself to the frame drum, acts as a mysterious interlude before the trio recalibrates on the closing "IV." Here, Parker and Drake goad Anderson to move from a languorous ballad texture to a scampering up-tempo exchange. The players abruptly halt in the middle of a heated passage, hopefully signaling unfinished business for this formidable collective.
Hank Shteamer, Time Out New York
Fred Anderson, the 76 year-old tenor saxophonist and founding AACM founder, is on a roll. He was honored with his own day at the Vision Festival this spring, and he recently spent two nights recording his first concert DVD. But the occasion for that filming, the imminent demolition of his club the Velvet Lounge, is sad news indeed. Not only is it a free music haven on Chicago's south side, the Velvet has long been Fred's livelihood (check out the club's website, www.velvetlounge.net , to learn more about the situation and what you can do about it). Fred's has stood out from his AACM brethren in both the company he keeps ‹he fits in equally well with South siders, North siders, New Yorkers, and Europeans ‹ and his sound. Anderson doesn't flirt with multi-instrumentalism of any stripe, let alone the vaunted little instruments. He has maintained a single-minded commitment on the tenor, and works mainly with its familiar sounds, which he fashions into long, winding, lines. Fred mainly plays from a set of tunes that he developed long ago, and anyone who catches a few of his concerts or records will get to know them. It's strong material, but one must also note that there's a lot of it about; Blue Winter is Anderson's seventh live album, his fifth with Drake (who lived under Fred's roof as an adolescent), and his third double to be released since 1999. But notions that this is a dispensable effort evaporate once the laser hits the plastic. For a start, the remarkably named Amos Scattergood got a very different sound from this performance, which went down at Vermont's Johnson State College last December, than the harsh, in-the-red sound that typifies the Velvet Lounge recordings. William Parker's bass notes sound out big and round, pushing through the swirl of Hamid Drake's dynamic drumming like a great whale breeching. Parker's relative lack of familiarity with Anderson's music is another bonus; he forges his own course, inviting Fred to take a different route where Tatsu Aoki and Harrison Bankhead might anticipate where he's going and help him to get there. Anderson plays fewer of his signature licks, and when he does they're recontextualized. This is never more apparent than when Parker pulls out his nagaswaram (an Indian double reed instrument) and issues a snake charmer's challenge, which the saxophonist answers with noble, pile-driving cries. But it's just one exhilarating moment among many; winter's never felt so hot.
Bill Meyer, Signal To Noise
Tenor saxophonist Fred Anderson has a beautifully deep tone, a sound that spans decades and a facility for extended bouts of melodic improvisation that's the equal of elemental players like John Coltrane, Illinois Jacquet and Archie Shepp. Yet despite being one of the founding members of Chicago's Association for the Advancement of Creative Musicians alongside pianist Muhal Richard Abrams and playing in regular groups with thinkers of the calibre of saxophonist Joseph Jarman and trombonist George Lewis his star has never risen to the latitude of many of his contemporaries. Over the past decade or so this has slowly begun to change, thanks to the evangelical support of a select band of independent labels, including Thrill Jockey, Atavistic and Eremite. Despite turning 75 this year, Anderson is playing as hard as ever and this beautifully presented double disc set documents an incendiary performance that took place in Vermont last December. Here Anderson is paired with the best groove-based improvising rhythm section on the planet, drummer Hamid Drake - who grew up with Anderson's family - and bassist William Parker. The recording quality is beautiful, with the organic, earthy quality of Parker's bass the perfect compliment to Anderson's big, brassy sound and the playing is restlessly inventive, with the trio burning up two discs with barely a pause for conscious thought.
David Keenan, Scotland Sunday Herald
You don't have to witness dozens of performances by tenor saxophone titan Fred Anderson to notice two traits: especially for someone in their seventies, he bends considerably at the waist and knees when the music heats up; and he is always ready, if not eager for one more blow at the end of a set. Undoubtedly, Anderson was crouching within minutes of the opening 45-minute work out that comprises the first of this excellent 2-CD concert recording. Drummer Hamid Drake and bassist William Parker, widely regarded as the premier rhythm team in creative music, immediately lay down the type of infectious groove that is conducive to Anderson's deliberate development of streamlined motives and his subsequent rigor in building and sustaining intensity. Given that the second disc has equally engaging tracks of 37, 13, and 14 minutes, it's easy imagining Anderson motioning "one more" to his colleagues at least once. Blue Winter is a welcomed reminder of Fred Anderson's greatness.
Bill Shoemaker, pointofdeparture.org
This record is a joy. A surprise it isn't. These three men have overlapping histories of development and collaboration of such depth that when they convene nowadays, the results are always inspired. One of Hamid Drake's early mentors was AACM mainstay Fred Anderson, who decided to stay home in Chicago, tend bar, and keep his connections to the muse wide open. Later, Drake connected up with William Parker and they've played on dozens of excellent records over the past few years. One of the delights Blue Winter spotlights is how far inside "free" can be. This is a 2-CD set consisting of four extended, unnamed improvisations and yet, vast stretches of this music bop to the beat or groove unmercifully. And these guys don't waste time. Not thirty seconds into the first cut, you can feel this monstrous groove being created beneath your feet. Parker finds a bass line to his liking and repeats it a few times, as Drake's drums and cymbals dance around him. Throughout the album, they display the level of empathy that such great rhythm sections of the past as Haden/Higgins, Grimes/Blackwell, and Hopkins/McCall have used to create the kind of attack that has backed many of the masters of the last half-century. Of course Anderson isn't a sideman on his own album. Far from it. When he enters, beginning with a few terse phrases, Parker starts to expand on his riff, and the three take off, treating the music like a ball of yarn being played with by a trio of energetic kittens. There are times when Anderson's playing resembles, say, Von Freeman, or Dewey Redman or Joe Henderson, but it's important to remember that he's a contemporary of these giants, not a footstep follower. The second CD continues at the same high level, though each man has more unaccompanied solo space. Parker eventually pulls out his nagaswaram and he and Anderson find a mutual language to converse in. After several plays, I confess I have found no weak spots whatsoever here. Exceptionally well-played music, exceptionally well-recorded, it's sure to end up on many Top 10 lists by year's end.
Michael Davis, All About Jazz LA
If it wasn't one already, Fred Anderson's trio with Hamid Drake and William Parker can rightly be considered a supergroup. Anderson was named the first Vision Festival Lifetime Recognition honoree last month, and if such awards were given, Drake and Parker would surely have shared the MVP trophy. While the three have worked together before--notably in quartet with Kidd Jordan--this is their first trio recording. Blue Winter also may be Anderson's definitive release, at least thus far. He's made great records before (see especially Vintage Duets with the late drummer Steve McCall and Chicago Chamber Music, featuring varying lineups) and the documents from his Southside Velvet Lounge club capture a homebrewed character, but Blue Winter is the best effort yet at preserving Anderson's sound in a petri dish. The first disc is a long, relaxed jam of 45 minutes, with Parker and Drake in an exploratory mood. While the rhythm section players' penchant for groove has rightly made them in high demand, they're also extraordinarily flexible. It isn't until twelve minutes into the first track on the second disc that they start to fall into regular rhythm and even then in flux. The second disc continues with a thirteen-minute call and response with Parker on the double-reed nagaswaram and Drake on hand drum, before concluding with another slow, free jam. Extended unaccompanied sax and percussion sections strengthen the trio's stance. But the real value of the set is the presence of the no longer under-recognized Anderson. He's released a dozen or more records in the last decade, after making it to retirement age with barely a handful of records to his name. Blue Winter is pure Anderson--with the best rhythm section in the land to be sure--and an indispensable selection of energy improv.
Kurt Gottschalk, All About Jazz NY
Listening to Fred Anderson can sometimes be akin to listening to a sage or prophet. Wordless history and wisdom simply pour from the bell of his horn, allowing him to communicate with listeners on a different level than most other musicians. Recorded on December 12, 2004, this two-CD, nearly 150-minute complete performance with William Parker and Hamid Drake speaks on many levels. Since Anderson's decision to return to music full time in the nineties (and still run the Velvet Lounge at the same time), he has experienced a resurgence in popularity not unlike fellow Chicagoan Von Freeman. A co-founder of Chicago's AACM (Association for Advancement of Creative Musicians), Anderson plays with a tone and mindset steeped in tradition, yet he pushes himself to find new ways to communicate and speak through his horn. Bassist William Parker and percussionist Hamid Drake may be more familiar, given their recently raised profiles in the public eye and the constant flow of albums on which they participate. Nonetheless, here they form one of the tightest and most intuitively limber backbones found in music today. The impeccably recorded Blue Winter consists of four improvisations that are far from the completely out, screeching free jazz some may associate with a program of extended improvisations. Anderson and company never leave the organic-sounding nature of their thematically developed and consistently evolving music by simply going for pyrotechnics. The hallmark here is invention and evolution of melodic ideas, which is in line with something Anderson has said in the past: music is about communicating a story. If that was the intent for Blue Winter, these men succeed. To give a breakdown of this music is somewhat futile because so much occurs that highlights should be heard and not laid in text. Nonetheless, for a sense of how these musicians can create improvised music that is cohesive and firmly entrenched with the tools of the tradition, listen to "II." Anderson opens the song with a six-minute solo before he is joined by Parker and Drake, who create a swinging groove, propelling the nearly 38-minute track forward. Parker carries the rhythm in his solo spot, only to be swallowed up by Drake riding his cymbals and bringing the music to a groove-based composition that increases in speed and eventually cruises for Anderson to continue his angularly fluid lines. All three musicians follow their own paths; no one is simply fulfilling a role, and when they interlock around the twenty-minute mark, one has to wonder how they communicate with such a singular mindset. From the opening moments of "I" to the fascinating "III," replete with hand percussion and Parker on nagaswaram (somewhat similar to an oboe) in a call and response with Anderson, through the applause that closes "IV," the three are working holistically: listening and responding to each other, never losing the arresting core sound they create. There are few, if any missteps here. Listen up.
Michael McCaw, allaboutjazz.com
Now 76, Fred Anderson is a repository of songs from the Heartland. As a founding member of the AACM, he's been a vital member of the Chicago jazz community, and it's clear that he's listened to others as much as others have listened to him. This trio date with ideal bandmates bassist William Parker and drummer Hamid Drake from December, 2004 captures his prodigious outpouring of song‹plainspoken, yet delivered with the intensity of fire music; cogent and tightly knitted, yet flowing free and uninhibited. The trio opens with a 44-minute exploration of the folk blues. Drake sets the scene with some tap dance figures, while Parker adds a resonant melodic seam. Anderson comes in on top, entering at an odd-angle, singing in his middle register, pulling continuous melody from the blues modality. And that's the train the musicians ride throughout the tune. The time eludes easy metric calculation. Anderson lifts melodies from the bass line and elaborates on them. Parker plucks phrases from the saxophonist's stream of song, and shapes them into invigorating vamps. They keep turning the same material over and over, pushed along by Drake, who adds polyrhythmic flourishes at the end of Anderson's phrases. Yet even after three-quarters of an hour, they still seem not to have exhausted the materials at hand. Having exercised such stylistic single-mindedness on the opener, the trio follows up with a more diverse musical journey. Anderson opens up with a five-minute modal call to prayer. He rises with simple pleading figures. As he spins those out, he alternates direct swing-like riffs with bop filigrees, punctuating them with honks in his lower register. Anderson and Parker converse when the bassist enters, nailing notes as a foundation. Drake joins them with some tambourine and Anderson worries a gospel-inflected figure. The tempo picks up for Parker's solo. It's indicative of the way he and Drake are able to shift gears with nary a hiccup. When Parker takes an arco solo, Drake deftly cuts the tempo in half. Parker ends the solo picking out two low notes as Drake's beat becomes more insistent. Then, echoing a figure Anderson had played while accompanying the arco solo, he brings forth a funk figure with Drake's backbeat right at his elbow. Two shorter pieces close the set. The first is an extended conversation with Parker on nagaswaram, a bright, nasal double-reed instrument, Anderson's tenor, and Drake's hand drumming. The set closes, I'm assuming this was an encore, with an unsettled ballad that evolves into the trio's most frenzied playing of the date before Anderson brings the trio home with some searching lyricism. A fitting end for a set of songs from the heart.
David Dupont, onefinalnote.com