John Blum Astrogeny Quartet
John Blum Astrogeny Quartet
Eremite Records MTE-49 CD
Personnel:
Blum piano
Denis Charles drums
Antonio Grippi alto saxophone, alto-clarinet
William Parker bass
Track Listing:
Simultanium (12:20)
Astrongeny (15:17)
Encomia (06:27)
Dieci (09:03)
Astrogeny Reprise (03:12)
11 February 1998, The Open Center, NYC
producer: Michael Ehlers
engineer: Alen Hadzi-Stefanov
photography: Jennifer Heller
liner notes: Ed Hazell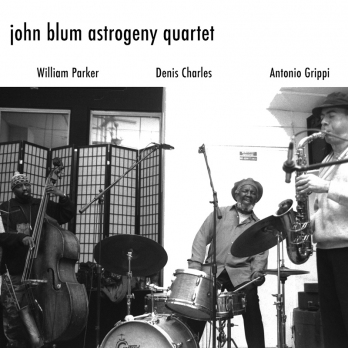 there are few sessions to rival this one for sheer urgency and gusto. it's as if something pent-up in these four musicians waited for this combination of players to unleash it--the music explodes into action. pianist john blum is a secret hero of new york's free jazz community, known as a proficient & forceful improviser in the tradition of his mentors, borah bergmann & cecil taylor. blum's performance on astrogeny is his shining moment on disc to date. the legendary denis charles was at his best when paired with william parker; together they formed one of the great, yet under-documented, rhythm-sections in the music. antonio grippi, a shadowy figure in free-jazz history, makes an appropriately rousing contribution on alto saxophone.