The Khan Jamal Creative Arts Ensemble
Drum Dance to the Motherland
Eremite Records MTE-50 CD
Personnel:
Jamal vibraphone, marimba, clarinet
Alex Ellison drums, African percussion
Mario Falana sound effects
Dwight James drums, glockenspiel, clarinet
Billy Mills fender bass, double bass
Monnette Sudler guitar, percussion
Track Listing:
Cosmic Echoes (07:48)
Drum Dance (12:40)
Inner Peace (15:51)
Breath of Life (06:47)
06 or 07 October 1972, Catacombs Club, Philadelphia PA
original producer: Khan Jamal
reissue producer: Michael Ehlers
engineer: Mario Falana
reissue artwork: Dr. E. Pelikan Chalto
liner notes: Ed Hazell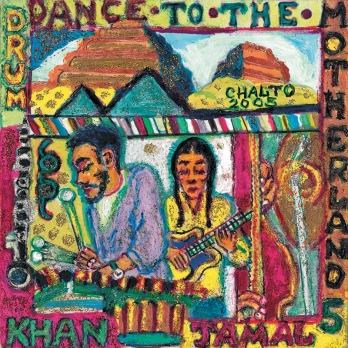 there's not another record on the planet that sounds even remotely like vibraphonist khan jamal's eccentric, one-of-a-kind masterpiece, drumdance to the motherland. in its improbable fusion of free jazz expressionism, black psychedelia, & full-on dub-like production techniques, drumdance remains a bracingly powerful outsider statement thirty-four years after it was recorded live at the catacombs club in philadelphia in 1972. comparisons to sun ra, king tubby, phil cohran & byg/actuel merely hint at the cosmic otherness conjured by the band & by recording engineer mario falana's real-time "enhancements." The original edition of three hundred copies, issued by jamal in 1973 on the local philadelphia label dogtown, was barely distributed outside the city's limits. since then drumdance has assumed a mythic status among the very few aficionados, e-bay mutants, & heads who know of it at all. hallelujah that it can finally be heard outside their murky inner-sanctums! reissue artwork by the legendary dr. e pelikan chalto.
*a note on this album's original cover art. the "unique painted cover" version sold on ebay in 2007 & archived here http://www.popsike.com/KHAN-JAMAL-spiritual-jazz-ORIG-US-PRIV-PRES-1972-NM/160105739757.html is to eremite's almost certain knowledge a fraud. for one thing the musicians who supposedly painted it don't recognize it. furthermore the imagery from this painting, dated 1972 by the seller, is blatantly & unimaginatively appropriated from 1) dr. e. pelikan chalto's artwork for the eremite drumdance reissue, executed in 2005 & 2) the artwork for another rare album on dogtown, sounds of liberation (now reissued by porter, http://www.porterrecords.com/id72.html ). in any case the sale price of $915 is within 15-20% of what an original drumdance, w/ the genuine --minimally embellished-- cover art, typically sells for.
Jesus. Forget what you know. Every now and then, a record comes along that sneaks up on you and punches you in the back in the head so hard, it sends you reeling for days. This is one of them. Recorded live in 1972, this holy grail private press album by vibraphonist Khan Jamal probably qualifies as a "jazz" record, but not as this world knows it, as it sounds like it was recorded in a spaceship, an echo chamber, and a cave all at once, which makes it virtually impossible to put a timestamp on. The dubbed-out percussion intro of "Cosmic Echoes" sounds like Sun Ra overseeing an Aggrovators session, yet strangely contemporary, and it only gets more inspired and unfathomable from there. The extended free jazz shocks (complete with recording engineer's mystery effects!) and cosmic black psychedelia dreamed up by this underground Philly collective explores outsider worlds that Actuel never knew existed, and emits a kind of smoke ESP-Disk never had a whiff of. Drumdance to the Motherland will render a majority of your record collection somewhat useless, but you're going to want to take that gamble. Utterly unique and essential document from way left of center.
[AK], Othermusic.com
Vibraphonist Khan Jamal has been around since the mid-1960s, and his Drumdance to the Motherland--recorded in 1972 Philadelphia, released this year on Michael Ehlers' flawless Eremite label--reveals an ensemble approach to rhythm calisthenics on par with anything Sun Ra, Beaver Harris, or Sam Rivers cooked up. This 12-minute beast is a percussion smorgasbord, with any number of the quintet's members--Jamal, bassist Billy Mills, guitarist Monnette Sudler, and percussionists Alex Ellison and Dwight James--taking on the sidewinding pulse and bending, twisting, and reinventing its magic to his will. Dig: Jamal's vibes solo seven minutes into this jam is just as third-eye jubilant as anything Konono No. 1 has kicked out.
Bret Mccabe, Baltimore City Paper Online
Philadelphia vibraphonist Khan Jamal isn't very well known outside of the jazz world, but within those ranks he's long been one of the most reliable voices on the instrument, an elegant player with a deep sense of the blues and a probing creativity. In the 60s he was involved with the jazz avant-garde, coleading a group called Cosmic Forces with reedist Byard Lancaster and later working with drummers Sunny Murray and Ronald Shannon Jackson. But a recently reissued recording from 1972 shows that, in that particular moment, he was in a class by himself.
Drumdance to the Motherland was recorded live in October of that year in a subterranean coffeehouse in west Philadelphia, on the campus of University of Pennsylvania. It was issued some time later in an edition of 300 copies on Lancaster's Dogtown label--it wasn't supposed to be a fetish item, but at the time 300 copies was all he could afford. The record was never really distributed outside of Philadelphia, and nearly three decades later it became a highly sought-after collector's item. The disc's rarity is one thing, but the otherworldly sounds captured within its grooves are quite another. The group morphed out of the Sounds of Liberation, a jazz-tinged R & B band that opened for many soul stars of the day, and on Drumdance to the Motherland they play a weird mix of free jazz, psychedelia, dub, and Afro-futurist mayhem.
The album was just reissued by Amherst's Eremite, which is a free-jazz label, but this recording transcends most stylistic borders--it's way out there. It's a wonderfully murky recording, and thanks to the live mixing and dub effects provided by the live engineer Mario Falana (brother of entertainer Lola Falana, sez the liner notes) it's hard to believe that it was performed live and totally improvised. It's not that the four pieces sound like well-formed compositions--they're loose, rhythmic jams with simple motifs arising with endless permutations every few minutes--but this quintet had its shit down, and somehow Falana's mixing made an integral part of the band. (Maybe he was the Martin Swope of free jazz?)
Some of the electronic effects were made by the musicians themselves; drummer Dwight James attached a device to his snare that created an echo effect. The thick polyrhythmic grooves and an elusive sonic haze certainly suggests the influence of Sun Ra , who had moved his Arkestra to Jamal's Germantown neighborhood two years earlier. On the fifteen-minute "Inner Peace" guitarist Monnette Sudler --who's long been a steady mainstream presence on the Philly scene--uncorks a lyric solo that's as spacey as it is bluesy, while Jamal switches instruments to play some snake-charmer clarinet. However freaky things get, the five musicians maintain a sublime degree of communication, carefully reacting to and prodding one another. Ultimately this album delivers a stunning demonstration of the free-jazz ethos applied to a fairly nonidiomatic, deeply spiritual sound world, and it sounds as fresh and unusual now as it probably did back then.
Peter Margasak, Chicago Reader
In all my perambulations during these decades of record hunting, i have never seen a copy of khan jamal's drumdance to the motherland. it's so rare that i'd never even heard of it, despite liking jamal & generally looking for unusual 1970s free-jazz. &, despite the fact that it has now been lovingly reissued, i still have no idea what the record looks like. so, let's get extra geeky & talk about record covers. when eremite repackaged drumdance, they put a nice new image on it. the original issue, on the microscopic dogtown label from philadelphia, came with individually designed covers, a probable nod to jamal's then-fellow philadelphians in sun ra's arkestra, who regularly decorated records by hand, often just before a big gig. there's more than just the cover about drumdance that's ra-esque. wave upon wave of tape delay recalls the ra lps, nearly a decade earlier on which drummer tommy 'bugs' hunter first accidently put the microphone into the wrong jack & discovered the supernatural, spaced-out powers of over-driven echo. jamal's is a fantastic record, with funky grooves & maniacal blowing periodically reflected in the funhouse mirror of slapback. jamal's vibraphone & marimba are, in some sections, featured in an unfettered & undistorted way. it's a real treat, as is monnette sudler's aggressive guitar. an absolutely unique lp, drumdance is testament to the liberating powers of the underground, the shared do-it-yourself mentality that links fringe jazz & punk. hats off to eremite for dredging it up, even with its new visage.
John Corbett, Downbeat
Whatever you do, don't let the godawful cover art fool you. This is not some crappy new age cd you'd buy in an art gallery in New Mexico, while picking up some healing crystals. This is some seriously demented, gloriously inspired outsider free jazz abstract psychedelic dub tribal weirdness. You'd never know from the cover though. A super cheesy crayon drawing of the band beneath some pyramids... ugh. Inside there's a bad ass photo of the band, killer afros, leather jackets, cravat, one guy holding a flute, leaning against a wall, looking ready to unleash some seriously cosmic musical might. Had that picture been on the cover you'd know exactly what you were getting into. Cuz this is indeed some seriously cosmic shit.
Released originally in 1973 in a run of 300 copies, this disc by vibraphonist Khan Jamal has become a jazz head free music freak holy grail. And it's easy to see why. A heady mix of vibes, marimba, clarinet, drums, glockenspiel, guitar, bass and percussion. But it's all about the drums. These four lengthy tracks are all about rhythm. If the opener doesn't totally blow your mind, there is something seriously wrong. A completely effect drenched burst of free jazz drum splatter, careening and echoing all over the place, horns bleating, reverberating into infinity, adding more tripped out percussive swirl to the already chaotic soundfield. Eventually the drums drift off, and the track morphs into some dizzying glockenspiel marimba jam, all tinkle and shimmer, still drifting in swirls of FX and random clatter. This track alone makes this disc essential. But it's only the beginning.
The second track is like a supercharged, blown out, extended version of the opener, just with more horns and a more obvious rhythm. A groovy free jazz drum jam, beneath skronking horns, shouting and hand clapping, reverb drenched horns, a total wild and wooly free for all, before the marimba comes in, and things coalesce into a slightly less abstract funky free jazz percussion blow out. So good. Track three is the most subtle of the bunch, but that in no way means it's any less weird or tripped out. A droney bass line, some jazzy smokey guitar, all beneath a dense swirl of percussive shakers, wrapped in tons of FX, a sort of dubbed out ambient jazz. A slow mellow groove that sort of drifts and slithers, occasionally bits of freaky effects float by, but for the most part it's all late night mellowness, a slow stroll through a moonlit alley, or hold up in the dark corner of some alien jazz bar.
The final track takes the smokey moonlit ambience of track three and gives it the King Tubby treatment, Sounds are dubbed to kingdom come, melodies become distorted and crumble into pieces before they're sent careening into the ether, drums shuffle and stutter, occasionally being propelled dubwise, the whole thing sounding like some Wes Montgomery b-side produced by Lee Perry. A supreme, super laid back dub drenched free jazz freakout of the highest order. In fact this whole disc is some sort of cosmic dub drenched free jazz from beyond. Some seriously Sun Ra meets King Tubby in the great hereafter shit. A divine jam session transmitted through some mysterious sound system and captured on tape. Totally and completely mindblowing.
Aquarius.com
If the word pairs "long-lost" and "out-jazz" start you drooling, stop reading now and fetch your bowl. None of the players on Drumdance to the Motherland were well known when it was recorded in 1972, and only bandleader Khan Jamal - who partners nowadays with Matthew Shipp and Grachan Moncur III - has since evaded obscurity. This album was released in miniscule numbers on Byard Lancaster's short-lived Dogtown records and barely circulated beyond the Philadelphia city limits.
And yet this has to be one of the reissues of the year. Whether by design or by chance, it bears a strong resemblance to the work of another resident of the city of brotherly love - Sun Ra. Like Ra's efforts for his own Saturn imprint, the recording is mystery-maximizingly murky and echo-laden. Engineer Mario Falana's (yup, Lola's brother) live reverb applications, particularly the way he makes isolated drum beats leap out of the percussive tapestry, navigate this record into the zone where King Tubby's dub meets Ra's Cosmic Tones For Mental Therapy.
Jamal is currently known almost exclusively for his mallets playing, and certainly his vibraphone and marimba playing here ably cover the range from coolly melodic modal questing to astronautical space-throb. But he and drummer Dwight James also double on clarinet; on "Drum Dance," their dueling overblown reeds dart and wheel above an Afro-Latin quilt of handclaps and drums like swallows wheeling and diving above city roofs. Billy Mills' Fender bass comes to the fore on "Inner Peace," navigating a rainforest of tumbling bell tones and Monnette Sudler's reverberant guitar licks as instinctually as a jungle-born guide. Sudler is equally comfortable functioning as the keeper of the jazz flame here, spinning out idiomatic licks that float seductively above the fray, as she is diving into deep proto-dub canyons. Much of this record's appeal resides in the way that assimilated elements, such as Sudler's picking, draw you in only to turn you adrift in a sea of wondrous cosmic confusion.
Bill Meyer, dustedmagazine.com
One of only three releases on the Philadelphia-based Dogtown imprint, Drumdance to the Motherland is one of those recordings that makes one realize that a lot of what's currently touted as new had already been done a long time ago. This 1972 club recording by vibraphonist Khan Jamal's Creative Arts Ensemble is an early case where live signal processing played a crucial role in shaping a bracing new sound. Khan and engineer Mario Falana were not the sole African American experimentalists in this area; Muhal Richard Abrams daringly used echo on his first Delmark LP and Bugs Hunter employed reverb-rich mixes in his recordings for Sun Ra. Still, Falana's processing on Drumdance yielded unique results that transformed Jamal's mix of traditional African music, ecstatic free playing and post-Coltrane jazz into a distinctive psychedelic sound. Without the processing, "Cosmic Echoes" would have sounded much closer to an Art Ensemble-like percussion-driven collage. Jamal and drummer Dwight James' screaming clarinets on the title piece would be far less harrowing. Guitarist Monnette Sudler's bluesy solo on "Inner Peace" is given a surreal, liquid tone heard nowhere else on her recordings. And, there is a shimmer enveloping the grooves on "Breath of Life" which melds vibes, guitar, Bill Mills' bass and the rhythms of James and percussionist Alex Ellison. This would have been a much different recording without Falana, and probably less legendary, as well. As it is, Drumdance to the Motherland is a truly unique album. However, don't check it out as a novelty, but as a window to a vibrant, creative period in Philly jazz.
Bill Shoemaker, pointofdeparture.org
Awesome spiritual free-jazz freakout from early 70s Philadelphia ('dogtown', specifically, as it's referred to throughout...) I was tipped off to the existence of this fine record a few years back by Mr. Andrew Schrock, who lovingly described it as "having tape-echo on everything..." - certainly a selling-point in my book. Seriously glad to have it reissued on disc; and in such a fine edition c/o Michael Ehlers' Eremite imprint... After starting out with a bang of fierce percussion and vibes the set progresses into flourishes of free jazz, afro-psych, and even a bit of minimalism as the band feed repetitive figures into said tape-echo. The resultant morass of overloaded instrumental timbres into the echoplex just obliterates their individual characteristics, yielding a pretty damn special cosmic forcefield... Fans of the Pyramids disc on EM, or hell even just about any concrete-jazz/psych crossover will assuredly dig this...
mimaroglumusicsales.com
Originally released on obscure Philadelphia label Dogtown, Drumdance to the Motherland has long been a sought after collector's item of early 70s underground free jazz. Literally underground: it was recorded in a basement coffeehouse in October 1972, & features Jamal on vibraphone, marimba & clarinet, Alex Ellison & Dwight James on drums, percussion & clarinet, Billy Mills on bass & Fender bass, & Monnette Sudler on guitar & percussion. Titles like "Drum Dance" indicate there is plenty of deep African groove on offer, but thanks to the input of sound engineer Mario Falana, whose use of reverb is so outstandingly musical he deserves to be listed as a group member in his own right, the album sounds nothing like any of the other extended riff workouts that appeared in the early 70s when the major labels tried to move in on free jazz.
On "Inner Peace," the combination of Mill's loping bass riff, Sudler's cool bluesy guitar licks -more Montgomery than McLaughlin-- & the kind of raucous shrieking clarinet Arthur Doyle would be proud of is truly striking. & in Falana's hands, the gently cycling riffs of "Breath of Life" sound not so much spaced out as otherworldly --even without the kind of chemical stimulation one suspects helped inspire The Creative Arts Ensemble & their producer, you wouldn't be surprised if someone told you this was a mid-90s release on Thrill Jockey beamed back through time.
Dan Warburton, The Wire
Dogtown was an underground Philadelphia jazz operation owned (in some part) by saxophonist Byard Lancaster. in addition to a few records under Lancaster's name, the label issued this forgotten l/p by vibraphonist Khan Jamal... The first time i heard this, i thought i was listening to something relatively new, a record on Siltbreeze or Sound-at-one... there are four songs spread across two sides, & the a-side is a free-jazz powerblast that shares no aural companions in the U.S. at the time. Even comparisons to dense Japanese noisemakers like Masayuki Takayanagi or Sabu Toyozumi would be a little off the mark. On the other side of the record we are presented with the true sound of "cosmic jazz," an effects-laden, watercolor portrait of the heavens painted by heavy delayed drums & Monnette Sudler's sparkling freak guitar. Ask somebody, "do you like jazz music?" & then drop the needle on this platter to watch their face contort into a rapidly changing palette of emotions. Someone named mario falgna is credited with "sound effects" & you get the feeling that the "sound effects" might be of the green combustible sort. Originally aired live on local Philly jazz radio, apparently, the Drumdance to the Motherland l/p is left to remain as a mobius strip of black energy, twisting & eternal in the face of "making a living" & "real expression." Thirty-odd years down the road, the record is more relevant today than it has ever been, for the intensity & anger have faded & we are now left only with the intergalactic vapors of a cast of artists questing for the cosmos through music. If ever a record was ripe for reissue, Khan Jamal's invisible release on Dogtown is the exact fruit everyone should be trying to harvest.
Dante Carfagna, Waxpoetics