Sunny Murray
Big Chief
Eremite Records MTE-51 LP
Personnel:
Murray drums
Ronnie Beer alto saxophone
H. Le Roy Bibbs vocals
Becky Friend flute
Beb Guérin bass
François Tusques piano
Alan Silva viola, violin
Kenneth Terroade tenor saxophone
Bernard Vitet trumpet
Track Listing:
Side 'A'
1. Angels & Devils
2. Hilarious Paris
3. Now We Know
Side 'B'
1. Angel Son
2. Straight Ahead
3. This Nearly Was Mine
11 January 1969, Studio E.T.A., Paris
reissue producers: Sunny Murray & Michael Ehlers
liner notes: Michel Le Bris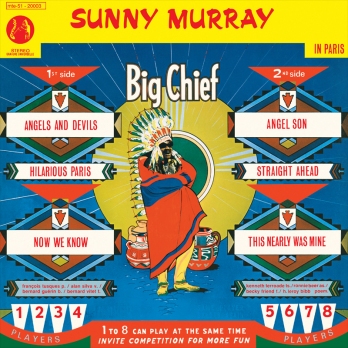 examples on record of sunny murray's enduring originality and influence as a drummer are many (refer to eremite 14, 45 & 46, among others), but very few recordings demonstrate his strikingly unusual voice as a band leader and composer. none do so more spectacularly than his 1969 album big chief. unfortunately it's been a sick collector's item since long before ebay. so it is with great pride and satisfaction that eremite returns to our friends in the human clan this long unavailable masterpiece. the group assembled for this parisian studio date includes musicians from france (guérin, tusques & vitet), south africa (beers), jamaica (terroade), and the u.s.a. (bibbs, friend & silva), and the huge sweeping sound they conjure while absolutely NAILING murray's highly irregular compositional structures is as thrilling as free jazz gets. hart le roy bibbs appears once only in a wildly memorable turn. everywhere and throughout murray uses the ensemble's orchestral instrumentation to explore his fascination with "sound displacement" & the far extremes of the frequency range. prepare your hearing for searing high-end burn! the record resolves beautifully in a performance of "this nearly was mine" that manages to be both otherworldly and poignant.

not only is big chief one of murray's great achievements, it's one of the truly special recordings in free jazz history. seriously. there is no greater love. the music was fastidiously remastered from the best available sources by mike king (reelrecordings.org), pressed on premium HQ-180 gram vinyl by RTI, and presented in a heavyweight stoughton replica sleeve in an edition of 600. PROJECT PRODUCED WITH THE ARTIST'S FULL PERMISSION & COOPERATION.
Sunny Murray's Big Chief was recorded in Paris in 1969, then a crucible for expatriate American free jazz musicians. Murray has demonstrated his compositional skills on few records, but he has an authentic and radical voice as a composer, though with clear affinities for associates like Don Cherry and Albert Ayler. I can recall hearing him lead an octet in 1966 in which predetermined materials had been reduced to a sustained, high-pitched trill. Here he achieves striking coherence and intensity with an octet made that includes Americans, French and South Africans, including saxophonists Ronnie Beer and Kenneth Terroade who lend an appropriately Ayler-ish cast—vast swaying vibratos—to the ensembles. Murray's band concept is very much an ensemble one, and his own cymbals impart a constant shimmer to the sound that's reflected in the continuous strings, with Beb Guérin on bass and Alan Silva on violin and viola. That rich texture both exalts and subsumes the individuals, so that it's the sheer sound of the band that you remember, whether jerkily making their way through the angular "Hilarious Paris," driving on poet Hart Leroy Bibb on his "Straight Ahead," or playing Murray's arrangement of Richard Rodgers' "This Nearly was Mine," a wailing, hymn-like recitation that takes on the mood of a lyrical crucifixion.
Stuart Broomer, pointofdeparture.org
A couple of jazz reissues just came out that are so savagely great it would be a goddamn shame to imagine there are homes without them. Both are on Eremite, both are LPs, and are packaged with amazing care via-a-vis sonics, wax quality & visual/heft appeal. The first is Sunny Murray's Big Chief, originally released on the French Pathe label... Recorded in January '69, Murray leads a wild international octet (supplemented in spots by the expatriate jazz poet, Hart LeRoy Bibbs) into insane, ragged bursts of gorgeous beauty. The material they tackle is a fine sample of Murray's early compositions and the brakeless genius of the group (Francois Tusques, Ronnie Beer, Beb Guérin, Bernard Vitet, Kenneth Terroade, Alan Silva and Becky Friend!) is the perfect compliment for the moment. Long a lost piece of the Murray discography, it is finally back the way it should be.
Byron Coley & Thurston Moore, Arthur
...Of all the object-based delivery systems for music, the record still seems to hold the strongest allegiance for its users. Two vinyl-only releases by Eremite are an excellent case-in-point: These are two of the rarest free-jazz classics, both of them virtually impossible to find. I only had one of them, Sunny Murray's Big Chief, & I had to pay dearly for it. Solidarity Unit's Red, Black & Green was something that I'd only heard due to the kindess of Manny Maris from New York's Downtown Music Gallery, who had burned me a disc.
From one perspective these would be perfect items for release on CD. Until now they have only been available on LP & have grown more rare as collectors buy up any available ones on the vintage vinyl market. But Eremite decided, against that logic, to issue them on vinyl only. It's perhaps a savvy move, amplifying rather than diminishing their fetish power. In a matter of months, when these two pressings, (limited to 600 copies each) are sold out, they'll probably be almost as valuable as the originals. Get them now or forever wonder what they sounded like.
The Murray LP is one of the drummer's best efforts. Working with a largely Parisian band, augmented by American bassist Alan Silva (here playing violin), & British musicians Kenneth Terroade (tenor sax) & Ronnie Beer (alto sax), it's an intensely raucous set of relatively short free-jazz bursts. These include "This Nearly Was Mine" (which Murray had been performing with Cecil Taylor) & germinal tunes like "Hilarious Paris," familiar in a different version from Murray's self-titled ESP record. Poet H. LeRoy Bibbs gives a period recitation on "Straight Ahead." The sharp recording sounds great on this 180-gram pressing.
John Corbett, Downbeat
There's nothing quite like the satisfaction of something done right. Vinyl may be in resurgence, but even so bad execution abounds. Perhaps you too have spent your money of late on shitty fold-over sleeves with plenty of white space where you can put your $25 sticker, bowl-shaped & off-center pressings, & crackly LPs that remind you, if you're of a certain age, why people were so ready to switch to CDs in the first place. These two Eremite reissues are faith-restorers, the acme of faithful reproduction of free jazz's nearly forgotten past. Both have sturdy cardboard sleeves faithful to the first issues' art; Eremite's added credits are there if you need to find them, but never distract from the original package. & both are pressed on vinyl that is not just heavy, but immaculate; whatever music was on the original is what you get, no more, no less. The only enhancement is a highy detailed mastering job. Other labels should consult with Eremite boss Michael Ehlers on how to do it right before pressing up another LP.
...Sunny Murray's Big Chief was recorded in Paris in 1969, a year before Red, Black & Green, & it's very much a product of its time. Names familiar from various BYG releases populate his eight-member ensemble, & the studio recording is much more dynamic & detailed than Red, Black & Green. Murray was already a veteran of groundbreaking work with Cecil Taylor & Albert Ayler, & had led a couple of his own sessions. His compositions are fairly simple, more in Ayler's vein of short strong launching points for full-on sound exploration than Taylor's ultra-detailed elaborations on lucidly imagined structres. Murray's drumming is like orchestrated steam, controlled hiss that envelopes rather than propels. There are times when the horns seem almost superfluous, so monolithic is the striated wall raised up by Murray, pianist François Tusques, & string players Bernard Guérin & Alan Silva. But they do make their mark, especially on a tragiccomic rendering of Rogers & Hammerstein's "This Nearly Was Mine."
Bill Meyer, Signal To Noise
The spirit of drummer Sunny Murray's time with Albert Ayler is very much in evidence on Big Chief. Ecstatic versions of trumpet player Jacques Coursil's "Angels & Devils" & Richard Rodger's "This Nearly Was Mine" from South Pacific are the bookends for the Murray originals that make up the rest of this rare &, until now, overlooked album. Recorded in Paris during his European exile in 1969, the drummer leads a free-blowing ensemble from America, France, South Africa & Jamaica. The session also reunited Murray with French pianist François Tusques plus fellow free jazz expatriate & ESP-Disk/BYG labelmate viola/violin player Alan Silva. Vocalist H le Roy Bibbs makes his presence felt on "Straight Ahead," an impassioned performance that is part poem & part social rant. Recited over a solemn accompaniment, Bibbs's passionate prose becomes entangled in the instrumention, words ascending like coils of smoke as the group smoulders behind him.
Edwin Pouncey, The Wire