Solidarity Unit, Inc.
Red, Black & Green
Eremite Records MTE-52 LP
Personnel:
Charles Wesley Shaw, Jr. "Bobo" percussions
Clovis Bordeaux piano
Joseph Bowie trombone
Kada Kayan bass
Oliver Lake alto saxophone, flute
Floyd Leflore trumpet
Richard Martin electric guitar
Carl Richardson bass
Danny Trice conga drums
Baikida Yaseen trumpet


Track Listing:
Side 'A'
1. Something To Play On
Side 'B'
1. Floreo
2. Beyond The New Horizon
18 September 1970, BAG Room, East St. Louis IL
"This concert was originally dedicated to Jimi Hendrix, & performed on the day of his death."
original producer: Charles "Bobo" Shaw
reissue producer: Michael Ehlers
liner notes: Ajulé of-the-Shadows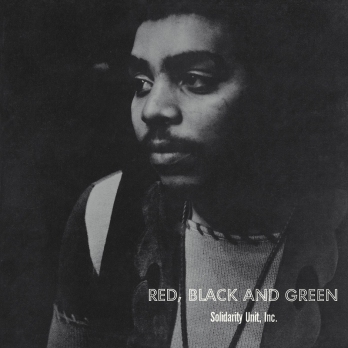 Something To Play On (excerpt)
originally produced and issued by charles 'bobo' shaw himself, red, black & green, by "solidarity unit, inc." documents what happened inside "the bag room" in st. louis, mo, the day jimi hendrix died. shaw captured his ten piece ensemble's raw teeming caterwaul in a low-res recording as gloriously blunt as his b&w cover art. lake & bowie were by this time already powerful soloists, & both declaim fervently and damn near relentlessly over shaw's swaggering themes. dead at age 34 and recorded just four times, guitarist richard martin's performance is a true revelation; as martin leaps from blues idioms to screaming attacks to pure howling feedback, one wonders if even sonny sharrock reached these places with the instrument. furious kit & hand drumming, violently rattling little instruments, jabbing percussive rhodes, thundering bass guitar, these guys don't hold back! easy to say "lost underground free jazz classic," but that's the real story here.
the music was remastered from the best available sources by mike king of reel recordings, pressed on premium HQ-180 gram vinyl by RTI, and presented in a heavyweight stoughton replica sleeve in an edition of 600. PROJECT PRODUCED WITH THE ARTIST'S FULL PERMISSION & COOPERATION.
Recorded on the day of Jimi Hendrix's death and dedicated to his memory, the music has an incendiary power, always alert and driving, but with sudden explosive entries by the two trumpets that suggest the drama and power of R 'n' B. While many of the instruments blur into a collective roar, there are some very fine moments from Oliver Lake, already playing with a controlled frenzy, and Joseph Bowie, whose trombone possesses a fluid bluster. There's also a rare appearance by a very intense Richard Martin, one of the first guitarists to begin assembling a personal vocabulary from free jazz and rock. The concluding moments of the side-long "Beyond the New Horizon" present a lyrical postlude to the heat, with just Lake and Shaw on flute and drums.
Stuart Broomer, pointofdeparture.org
Solidarity Unit, Inc were an offshoot of BAG (Black Artists Group), a collective of black artists, musicians, poets, actors, dancers & thinkers from St. Louis, Missouri. Principal members included saxophonist/flautist Oliver Lake, trombone player Joseph Bowie & drummer Charles "Bobo" Shaw, who with a host of other musicians became Solidarity Unit, Inc. Recorded at a concert the group dedicated to Jimi Hendrix & performed on 18 September 1970, the day that he died, Red, Black & Green lets fly with three compositions that capture the social tension & hunger for change that was present at the beginning of the 1970s.
Both "Something to Play On" & "Floreo" are bristling with exciting new variations on the free jazz formula, with Martin's Sharrock-style electric guitar playing on the latter track breaking apart the horn barrage, while Shaw's steady but lively drumming steers the group safely through the improvisational rapids. The side-long "Beyond the New Horizon" takes in superb contributions from Bowie & especially Lake, who transcendental concluding flute solo, accompanied by Shaw, is one of the record's high points. As Ajulé of The Shadows' righteous rap on the sleeve of this exquisitely packaged reissue states, "We need young Black men like these --they should be encouraged."
Edwin Pouncey, The Wire
Filled with some of the craziest electric guitar ever, courtesy of the late Richard Martin. The sonics have the same raw galacto-fidelity associated with Arkestral recordings of the same period, and this is a great goddamn explosion.
Byron Coley & Thurston Moore, Arthur
...Of all the object-based delivery systems for music, the record still seems to hold the strongest allegiance for its users. Two vinyl-only releases by Eremite are an excellent case-in-point: These are two of the rarest free-jazz classics, both of them virtually impossible to find. I only had one of them, Sunny Murray's Big Chief, & I had to pay dearly for it. Solidarity Unit's Red, Black & Green was something that I'd only heard due to the kindess of Manny Maris from New York's Downtown Music Gallery, who had burned me a disc.
From one perspective these would be perfect items for release on CD. Until now they have only been available on LP & have grown more rare as collectors buy up any available ones on the vintage vinyl market. But Eremite decided, against that logic, to issue them on vinyl only. It's perhaps a savvy move, amplifying rather than diminishing their fetish power. In a matter of months, when these two pressings, (limited to 600 copies each) are sold out, they'll probably be almost as valuable as the originals. Get them now or forever wonder what they sounded like.
...Solidarity Unit comes from a few years later & a whole world apart. Undertaken by drumer Charles "Bobo" Shaw, it is a seminal work of St. Louis' BAG (Black Artists Group), with key members Oliver Lake, Joseph Bowie & Baikida Yaseen (later know as Baikida Carroll). Open, a tad funky & venomously strong with room for drift, it was a tornado of a recording that should have been heard, though with its tiny private pressing it remained the domain of specialists alone. For a minute, on vinyl only, that's no longer the case.
John Corbett, Downbeat
There's nothing quite like the satisfaction of something done right. Vinyl may be in resurgence, but even so bad execution abounds. Perhaps you too have spent your money of late on shitty fold-over sleeves with plenty of white space where you can put your $25 sticker, bowl-shaped & off-center pressings, & crackly LPs that remind you, if you're of a certain age, why people were so ready to switch to CDs in the first place. These two Eremite reissues are faith-restorers, the acme of faithful reproduction of free jazz's nearly forgotten past. Both have sturdy cardboard sleeves faithful to the first issues' art; Eremite's added credits are there if you need to find them, but never distract from the original package. & both are pressed on vinyl that is not just heavy, but immaculate; whatever music was on the original is what you get, no more, no less. The only enhancement is a highy detailed mastering job. Other labels should consult with Eremite boss Michael Ehlers on how to do it right before pressing up another LP.
...Drummer Charles Bobo Shaw led the Solidarity Unit, Inc., which features ten knowns & unknowns from St. Louis's BAG stable of players. While Shaw & trumpeter Floyd Le Flore get the writer credits on Red, Black & Green, this is collectively created music, expansive & varied, if ill-served by the murky concert recording. Shaw's more extroverted injections seems to signal directions, but then one or another of the players takes the lead. Oliver Lake's adroit alto sax & flute & Joseph Bowie's ebullient trombone make their mark. But the strongest presence is guitarist Richard Martin, whose raw lava-rock abrasions carve a place in the densest group tangles. What happened to this guy?
Bill Meyer, Signal To Noise
One of the first records to come outta the St. Louis BAG scene, this pre-Human Arts Ensemble platter features perennial HAE member Charles "Bobo" Shaw leading a ten-piece group through some mighty rough terrain recorded live on the night that Jimi Hendrix choked his way to eternity. From the sound of it these guys were pretty miffed about it because what you get on this disc is almost (or maybe even over) an hour of total fury that not only features BAG mainstay Oliver Lake on sax and flute but guitarist Richard Martin (the same guy who put so much oomph into Lake's NTU: POINT FROM WHICH CREATION BEGINS on Arista/Freedom) taking out his frustrations in his playing coming off like a cross between Sonny Sharrock and Doug Snyder on the DAILY DANCE album... Sound quality is strictly dungeon and if anyone can stomach the communist liner notes calling for the "death of the kapitalist/individual" they obviously haven't been reading their Mr. A, but frankly I found the entire experience pretty earth-shattering in a way the best free/avant jazz has always been. Too bad many free excursions sound like a trip to the tea parlor nowadays, because what we can sure use is the low-fi, feral sound that the BAG and AACM amongst others used to excel in to the point of panic overload. Why Arista/Freedom didn't release this one in the mid-seventies while they were reissuing the early HAE albums I'll never know, but it is a must-have, perhaps even a contender for best jazz rec of the year even if it is only February.
black2comm.blogspot.com