TEST
LIVE/T E S T
Eremite Records MTE-21 CD
Personnel:
Tom Bruno drums
Daniel Carter alto & tenor saxophones, flute, trumpet
Matthew Heyner bass
Sabir Mateen clarinet, alto & tenor saxophones, flute
Track Listing:
baltimore 2 (54:10)
boston 2 (12:30)
unedited concert recordings from TEST's 1998 USA tour
producer: Michael Ehlers
engineer: Eremite Mobile Unit
photography: Michael Ajerman
liner tanka: Byron Coley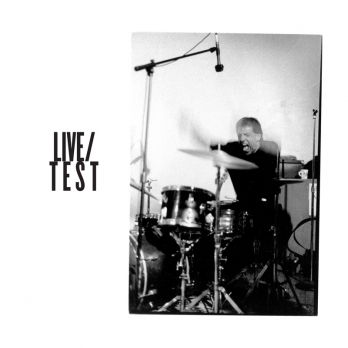 wire magazine records of the year 2000, jazz
This quartet seem ready to spearhead a back-to-the-roots exercise in New York free jazz, playing long & loud (though not unlyrical) sets of unfettered improvisation. The notes to the AUM Fidelity disc release suggest that TEST can be heard at the corner of 57th & 5th, & they've also been known to do subway gigs; this is classic street music: tough, sweepingly passionate, but informed & articulate playing. The Eremite disc has one long set from Baltimore & a brief postscript for a Boston show which is a riotous coda to the disc. Rough, live sound, but the spirit is unquenchable & there is some feelingful & exciting interplay among the four players, each of whom suggests that he has a good grasp of long form improvising.
Richard Cook & Brian Morton, The Penguin Guide to Jazz Recordings
Twin sax quartets can be confusing as too-similar voices vie for the lead. Daniel Carter & Sabir Mateen work well together. While one is building to a skronk climax, another is skipping about, lightening the tone with references to Tom Bruno's fantastically active & bouncing drums. Bassist Matthew Heyner completes a quartet that, having started as a busker's project, looks set to help redefine jazz as an expressive medium. Test have the poise & reality that characterizes unsigned rock bands. A jazz scene fixated on somnolent classicism won't thank them for that, but for those needing a wake-up call, it's a blast.
Ben Watson, Hi-fi News & Record Review
Recorded live from a fall tour through the eastern United States, Live! finds this exhilarating group in fine form. It can be hard to believe that four musicians can make such a singular clatter, but these fellows excel at ecstatic screeches and a muscular intensity that shocks the system. To their credit, they can also tone it down with some deft and suave forays. The end product is bound to please those who are immersed in free jazz. The longer of the two tracks clocks in at almost an hour, but rarely tires, due in large part to the incredible diversity of the musicians. While this cd is a fairly "typical" session (to the extent that you can ever call a free-flying, take-no-prisoners approach "typical") for this group, it is an outstanding example of one of the most exciting free-improvisation groups making the rounds.
Steven A. Loewy, Allmusic.com
That Daniel Carter & Sabir Mateen have been playing together for years is clearly evident & underscored throughout Live/TEST. What a pleasure it is to hear two masters coming together as one. Though they have distinctly different playing styles (there is no mistaking solo Mateen for solo Carter) their counterpoint creates both a menacing, tumbling sprawl & a composure that seems conducted if not read, what with its rhythmic unisons & clearly deliberate lines. At first I wasn't terribly taken by Tom Bruno's drumming. As 'Baltimore 2' progresses, the music --& by extension his playing-- gets to the point where the question of individual style gives way to whether one is sufficiently coming to terms with the exigencies at hand. In this instance, the more hectic the situation, the more numerous & pressing the musical exigencies, the more convincing Bruno becomes. While he is not an immediately distinctive drummer, he is an effective one. Matt Heyner maintains an even keel without capitulating to the seductive lure of the free-bop walk. His lines & solos are more involved rhythmically than harmonically, though discerning his harmonic choices, due to the intensity of the two horns, is difficult. That's not to say Heyner is lost in the fray, just that he rarely rushes to the head of the pack. Given the relatively traditional gestalt of the music, support is the role of this bassist. Heyner's playing would be out of place were it to be anything other than what it is.
Stanley Zappa, Bananafish