Tom Bruno
White Boy Blues
Eremite Records MTE-22 CD
Personnel:
Bruno drums, piano, voice, dance
Track Listing:
White Boy Blues
Ellen, Portait of an Artist
The Sound Comes From Within
Get My Hat, It's a Rat
Brushmush
13 October 1981, Roulette, NYC
Producers: Michael Ehlers & the New York City Artists' Collective
engineer: Jim Staley
photography: Shep Hunter
painting: Neil Anderson
liner notes: Russell Gold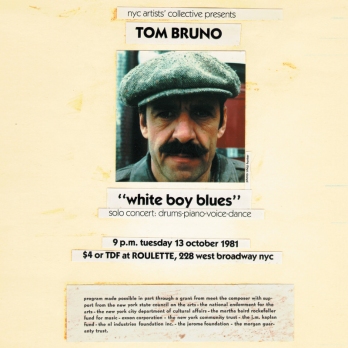 maybe he took the phrase underground musician too seriously. maybe everyone else didn't take it seriously enough.
Best known, if at all, as the thundering percussive backbone of NYC subway quartet TEST, Bruno has actually had a long career underneath the city of New York jamming through the commuter frenzy at Grand Central Terminal or under Times Square since the early '80s. This isn't a field recording, however --if that's what you're after, check out his duo with saxophonist Sabir Mateen, called Getting Away with Murder, also on Eremite, which includes clanking trains & loudspeaker announcements. White Boy Blues documents a 1981 solo performance at the Roulette artist's space in Tribeca. However, it is much more than just a solo drum set: while it's not short on alone-in-space tonal impact, some of the most rewarding sections feature Bruno's surprisingly nimble fingered & dramatically melodic piano ringing.
David Keenan, The Wire