Fred Anderson/Hamid Drake/'Kidd' Jordan/WIlliam Parker
2 Days In April
Eremite Records MTE-23/24 x2CD
Personnel:
Anderson tenor saxophone
Drake drums
Jordan tenor saxophone
Parker bass
Track Listing:
MTE-23: 1st day
17:26
11:55
15:44
10:01
MTE-24: 2nd day
10:00
17:17
17:51
01 April 1999, Bezanson Recital Hall, UMASS Amherst
02 April 1999, MIT, Cambridge
producer: Michael Ehlers
engineer: Norman Blain
photography: Michael Wilderman
liner notes: Ed Hazell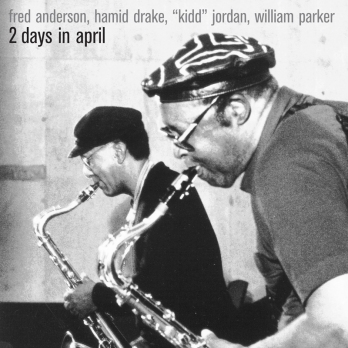 double c/d set documenting two 1999 concerts (amherst & boston) by this summit gathering of american free jazz heavies. two continuous long-form group improvisations. a major statement on american free jazz methodologies at the end of the century. 'a wall of energy, a tidal wave of celebration, that sweeps away the listener.'
wire magazine records of the year 2000, jazz
cadence magazine reviewers' choice, top ten recordings 2000
magnet magazine top 10 free/jazz recordings 2000
coda magazine writers choice top ten recordings 2000
This recording of two concerts at the University of Massachusetts at Amherst and MIT at Cambridge are striking for two reasons: One is that they smoke ass; the other is that the two elder players here, both saxophonists, Fred Anderson, who runs the Velvet Lounge in Chicago, the city's hottest spot for new creative music, and New Orleans professor Edward "Kidd" Jordan, are still shielded by the spotlight rather than having it shone on them. Meanwhile their younger, crack rhythm section of bassist William Parker and drummer Hamid Drake are celebrated all over the planet in both mainstream and marginal publications for their brilliance and dedication to bringing "free" creative jazz out from under the rock of obscurity. Kidd Jordan and Anderson obviously care less, and the music they make here with their younger counterparts is the proof. There isn't anything remotely "inside" about the playing on these two CDs. They are documents of concerts in which two brilliant veteran saxophonists engaged each other, stretched each other's musical vocabularies to the breaking point and pushed their rhythm section into places --even though these two cats have played with everybody-- they hadn't dreamed of going before --and perhaps not since. None of the individual pieces, which range anywhere from ten to 18 minutes, is worth mentioning separately because this music is, truly, "speaking in tongues," these are the pure "ribbons of sound" John Coltrane spoke of when a musician reached a placed beyond the point of "ordinary" language. The sheer mode-shattering, polytonal majesty of creative over tonal joy of two men old enough to be grandfathers, speaking, squealing, honking, praying, bleeding, singing, crying, preaching, whispering, and laughing to each other is enough. And yes, Drake and Parker were easily the only capable pair for this job; they ride the hurricane from the inside knowing far too much to attempt to contain the sheer joy that this fury of sound conjures.
Thom Jurek, Allmusic.com
A powerful, touching collective statement. (4 stars)
John Corbett, Downbeat
There are moments in these two concerts on consecutive April days in 1999 when the group attains a forward motion-density that exceeds their collective parts. Sure you can still hear those individuals -- Parker's solid & deep arco bass, Drake's heavily funked up circularity, Anderson's tremendously sure-footed low end tenor, fellow tenorist Jordan's angel-winged upper register flights. But the music has something else, the secret sound of soul fusion probably. This provides a warmth that envelopes the group as they move through a smooth suite encompassing News For Lulu-like brass dance, downhome blues & good old ecstatic gospel blowouts. & for once, the strictly traditional power relationship that relegates the rhythm section to the role of of mere accompanists, even in the freest of free jazz, is toppled over. Drake & Parker are as much part of the continuum as Anderson & the too little recorded Jordan, shooting off in different tangents that branch out from the same luminously pulsing centre. This is simply fabulous stuff, without a doubt one of the jazz releases of the year.
Alan Cummings, The Wire
The Music emerges from the speakers like some sort of wonderful, piano-less version of Coltrane's mid-60s band, taking the music everywhere that implies in terms of rhythm, scale, & power.
Byron Coley, Jazziz