Eneidi/Parker/Robinson
Cherry Box
Eremite Records MTE-25 CD
Personnel:
Marco Eneidi alto saxophone
William Parker bass
Donald Robinson drums
Track Listing:
Cherry Box (04:11)
Slashing the Bird (13:50)
Forget it (13:56)
Barbequed Brahms (19:04)
One More Thing (12:34)
Spank (05:42)
20 September 1998, Mills College, Oakland CA
producer: Michael Ehlers
engineer: Peter Valsamis
photography: Julia Lynch
liner notes: Christopher Cauley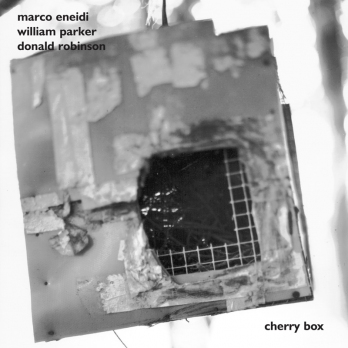 coda magazine writers choice top ten recordings 2001
Despite a string of significant releases on the Botticelli label, altoist Marco Eneidi remains relatively unsung. Unfairly so on this showing. He is a vigorous & exciting player, his hard-blown overtones white-rafting tumbling torrents of rapid notes in a searching exploration of the horn's timbre. Scarcely better known, drummer Donald Robinson served time in the late Glenn Spearman's various groups. His drumming rarely takes center stage here, but its polyrhythmic complexity & tonal color evidence an experienced & expressive player. In this context, Parker acts as mediator & facilitator, bonding & framing Eneidi & Robinson's contributions. It is a deeply humble performance, admirable in its self-effacement.
Alan Cummings, The Wire
The 1998 trio shows Eneidi off at his best, blowing fiercely enough to make his wirey saxophone sound glow with energy. Parker does his usual thing, but Robinson is the real star of the piece, providing a tireless but subtle accompaniment.
Richard Cook & Brian Morton, The Penguin Guide To Jazz Recordings
What's immediately attractive about Marco Eneidi's saxophone playing is that it's loud & fast. Nothing can prepare you for his tone; let loose in a small ensemble his tone won't intimidate as much as terrify. Regardless of what's going on & who's playing what, if Eneidi's playing, Eneidi can be heard. Then there is his superhuman virtuosity on the horn. No tempo is too fast; for that matter, the faster the tempo, the more natural his playing sounds. But if loud & fast were the sum & substance of Marco Eneidi, he would be enjoying widespread albeit conceptually emaciated popularity. Unfortunately, Eneidi challenges those merely looking for someone to gawk at, inevitably frustrating the vanilla-inclined & otherwise shallow with his sophisticated approach to tonality & phrasing. Eneidi's Cherry Box marks the first small ensemble recording with Denis Charles & William Parker since Vermont Spring 1986 that he's not using Jackson Krall on drums. Donald Robinson's drumming is less conspicuous than Jackson's & as a result one of less constraint. Not that Jackson is a constraining drummer-- with Jackson, the feel is more two-voice counterpoint. Though his closest antecedent is Jimmy Lyons, Eneidi isn't cowering in his shadow. Like Lyons, his ability to arrange (or follow, if you look at it that way) a solo is remarkable. "Slashing the Bird" illustrates the consistency with which he creates challenging variations on already advanced ideas without being redundant. Eneidi is an asset to the music, contributing new material to & giving us fresh perspectives on this music's tradition. As with all of Eneidi's small group work to date, Cherry Box eloquently & ably moves the music ahead.
Stanley Zappa, Bananafish
In both the unpretentious intensity of the saxophone improvisations and the emphatic cardiac throb of the bass, this disc projects melodic energy. To offer a recent point of comparison, Cherry Box bears notable similarity to the '93 FMP Gayle/Parker/Ali record Touchin' on Trane, though it makes more ample use of space, color, and melodic restraint. Alto saxophonist Marco Eneidi states deliberately simple themes, then subjects them to spirited reinterpretation using the full timbral spectrum of his instrument (including overtones and rapid-fire note flurries, as well as more relaxed passages with a bluesy sound). Even during moments of peak density, Eneidi's improvisations remain grounded. Of course, the presence of bassist William Parker does a great deal to anchor Cherry Box. Parker offers an intuitive combination of ostinato pulse, urgent walking basslines, and melodic complement. As usual, he plays an essential role uniting the group. (Astute listeners will note Parker's similar role on Gayle's landmark '93 FMP record.)
One of the most exciting aspects of this group is the remarkably versatile drumming of Donald Robinson. Robinson, a longtime Glenn Spearman associate, covers the range from "color percussion" through swing accents. While he shuns the center stage, his presence often spurs the other players to a higher level. It's worth taking a moment now and then to focus on Robinson's playing in isolation. At times he might play offbeat accents or shape his delivery around the other two players' statements, but he also devotes much of his effort to building multilayer polyrhythmic textures. This level of detail helps make Cherry Box a resounding success. I for one have not heard a stronger record from out of the post-Coltrane continuum in a long time.
Nils Jacobson, allaboutjazz.com