Raphe Malik Quartet
Companions
Eremite Records MTE-34 CD
Personnel:
Malik trumpet
Paul Murphy drums
William Parker double bass
Glenn Spearman tenor saxophone
Track Listing:
Lyon's Jump (13:24)
Emblematic (10:38)
Health Food (09:53)
Bend (07:19)
25 May 1998, Vision Festival, Orensanz Art Center, NYC
producer: Michael Ehlers
engineer: Alan Hadzi-Stefanov
photography: Michael Wilderman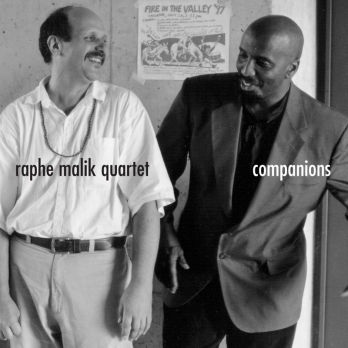 recorded at the 1998 vision festival jimmy lyons memorial celebration, a powerful commemoration from four of lyons' oldest & closest comrades. malik, "mad" paul murphy, william parker & glenn spearman. One of the finest groups ever assembled under malik's leadership, with all the concentrated drive, tautness & ferocity characteristic of his strongest music.
What a total joy! Recorded live at the annual Vision Festival in New York in 1998, and billed as "the final Malik-Spearman concert," the four pieces offer a solid sense of the excitement, synergy, and jubilance generated by this piano-less quartet. although the recording time is short (less than 42 minutes), The quality sound and exquisite musicianship easily compensate. both Raphe Malik and Glenn Spearman are in great form, with the venerable William Parker and power drummer Paul Murphy splendid in support. The four tunes, all penned by Malik, might remind the listener of updated variations of the early acoustic experiments of Ornette Coleman. The melodies resonate with the excitement of the moment, and the enthusiastic applause of the sophisticated audience tells it all. The trumpeter boasts a distinct style, a rough-edged, fat sound, coupled with a concept that absorbs the innovations of Don Cherry and Bobby Bradford, yet retains its own originality. When joined with his musical blood brother, the late Glenn Spearman, the trumpeter creates harmonies that open the heavens. The modest horns eschew grandstanding, instead opting for simple melodies, emotionally direct improvisations, and tight harmonies. Clipped phrases and raw, immediate musical statements make this one a classic performance.
Steven Loewy, Allmusic.com
The Trio Hurricane - Glenn Spearman on tenor, William Parker on bass, Paul Murphy on drums - first blew in 1986 (Suite of Winds, on Black Saint, Live at Fire in The Valley, mte-10). Companions is effectively another Trio Hurricane + 1, the extra member this time being not Marco Eneidi (see Wiretapper 6 compilation), but trumpeter Raphe Malik. recorded in May 1998, it is, unless someone taped their concert in Toronto two months later, Malik's last recording with Spearman, who died in October that year (his final concert, with Matthew Goodheart and Rashid Bakr in July 98, was released on Eremite as First and Last mte-15). "Lyon's Jump" references ex-CT altoist Jimmy Lyons (in whose memory this concert took place at the Vision Festival), who invited Murphy to join his group after hearing the drummer play in 1974. It's inspired stuff, and Parker, who presumably ate a lion before taking to the stage, turns in a bowed solo of snarling ferocity, after which the tempo - but not the intensity - drops for "emblematic'. Spearman and Malik are accompanied to perfection by Murphy's soft sticks. Murphy, an unsung drummer who also studied with Gene Krupa and Louie Bellson, is outstanding throughout. "Health Food" starts out like the proverbial hurricane, but Murphy keeps the storm moving through before it causes major structural damage. Spearman, for once, seems a little hesitant, but blows himself out of his rut with some paint-stripping high register screaming, to the crowd's delight. "Bend" is the calm after the storm, the horns hanging lazily off the theme while Murphy and Parker swing hard.
Dan Warburton, The Wire