Hamid Drake & Sabir Mateen
Brothers Together
Eremite Records MTE-35 CD
Personnel:
Drake frame & trap drums
Mateen clarinets, flute, alto & tenor saxophones, vocals
Track Listing:
Brother's Together (20:53)
Of Mind & Spirit (09:30)
Knowing Oneself (16:15)
New Life Dance (28:54)
23 October 2000, PBS Studios, Westwood, MA
producer: Michael Ehlers
engineer: Peter Kontrimas
photography: Michael Wilderman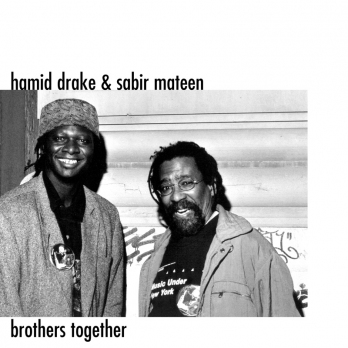 a highly energized & spirited meeting b/t two of this era's most imaginative musicians.
jazztimes critics picks, top ten c/ds 2002
jazzreview critics choice, best albums 2002
...This is a scorching session & the closing piece, 'New Life Dance,' makes half an hour pass by in seeming seconds. Mateen is a versatile reedman & his clarinet playing in particular deserves attention, full of dark power & illuminated with a quality the much heralded Don Byron can only dream of. His role on 'Knowing Oneself' is absolutely central, though again Drake takes hold of the music & pushes it into new & unexpected shapes.
Richard Cook & Brian Morton, Penguin Guide To Jazz Recordings
I really can't find anything not to like about this reeds'n'traps free jazz duo workout. There are four long tracks, of which the first is superbly arresting, mixing hard bop with afro-funk in a way which makes it seem they always belonged together, while on the final track Mateen quotes from Carmen. The musicians manage to touch all sorts of bases along the way, but the ability to imply the presence of any number of other musical elements, be it the rest of a conventional rhythm section or the sonorities of the human body --breath, heartbeat, the hiss of the nervous system-- never leaves them. A fine example of a rarified but highly rewarding area of music, this goes next to Roach/Braxton, Maslak/Moffett & indeed Coltrane/Ali, where it surely belongs.
Jazz Review
This is the third time Philadephia-born multi-instrumentalist Sabir Mateen has teamed up with a drummer on Eremite: after Tom Bruno (on, Getting Away With Murder, recorded in new york's grand central station in 1995) and Sunny Murray (1998's We Are Not at the Opera), Chicago's Hamid Drake takes to the kit in this studio session recorded in October 2000, the day after the duo played at Eremite's fifth birthday bash. With Drake's one-man percussion orchestra behind him, Mateen can let ideas fly free without any need to blow himself to pieces. On "Brother's Together", Drake keeps up a steady 84-bpm pulse that's so tight and funky you half expect Bootsy Collins to come crashing in at any moment. Things finally wind down to a slow ballad tempo at the twenty minute mark, Mateen's alto rounding off the piece with glorious arching melody lines worthy of Jimmy Lyons. Behind Drake's quietly intricate hand drumming on "Of Mind & Spirit", Mateen can explore the dark chalumeau range of his clarinet, while on "Knowing Oneself" his alto clarinet takes off - the old Muhammad Ali metaphor "float like a butterfly, sting like a bee" has rarely seemed more apposite. On the final "New Life Dance", his flute darts playfully about for twelve minutes, even finding time to throw in a quote from "Carmen", before he switches to the tenor (after some extraordinary scat singing) for some truly ecstatic blowing. Drake's playing throughout is quite simply awesome - the influence of his mentor Ed Blackwell (one could also cite Jo Jones, Philly Joe Jones and Alan Dawson) has never been so strongly felt. "I never heard Blackwell play any music where he wasn't playing a pulse," Drake told Ken Vandermark in a 1997 interview. "The lesson i got from him was that i could try to play melodic structure on the drums the way that the horn players were doing it." "Brothers Together" takes the tradition one step further: there's enough amazing work here from both musicians here to influence generations to come.
Dan Warburton, The Wire