William Parker & The Little Huey Creative Music Orchestra
Raincoat in the River
Eremite Records MTE-36 CD
Personnel:
Parker leader, bass, marimba, shakuhachi, bombard
Lewis Barnes trumpet
Andrew Barker drums
Guillermo E. Brown drums
Rob Brown alto saxophone
Roy Campbell, Jr trumpet & flugelhorn
Leena Conquest vocal
Darryl Foster tenor & soprano saxophones
Dave Hofstra tuba
Ori Kaplan alto saxophone
Masahiko Kono trombone
Alex Lodico trombone
Richard Rodriguez trumpet
David Sewelson baritone
Steve Swell trombone
Charles Waters alto saxophone & clarinet
Shiau-shu Yu cello
Track Listing:
Raincoat In The River
I: Meditation For Two Voices (09:49)
II: Mountain/Maintain (10:00)
III: Anast Crossing The Lake Of Light (09:52)
IV: Raincoat In The River (19:41)
V: Painter's Celebration (09:58)
23 February 2001, ICA Theater, Boston MA
producer: Michael Ehlers
engineer: Joe Hostetter
photography: Charles Gross
liner notes: William Parker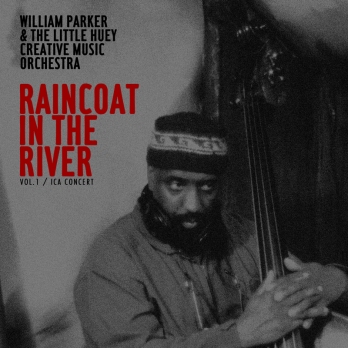 Anast Crossing the Lake of Light
vol I of the 2001 ica concert in boston. a 17 piece version of little huey perform parker's five section narrative suite based on the life of the late street musician marvin nunez (aka uncle marvin). featured soloists include parker (who solos four times on four different instruments), roy campbell jr, rob brown, & vocalist leena conquest.
jazz review top 25 c/ds of 2002
jazz review critics choice, best albums 2002
RAINCOAT IN THE RIVER --1973
Marvin Nunez, aka "Uncle Marvin," was one of the few tenor saxophone players who explored the world of sub-tone music. A world of whispers heralded by vibrations so low and subtle they could not be heard by the naked ear. We don't hear the bass, we feel it through the soul of the ear. Through our feet, fingers and the intuitive now. Marvin Nunez wore a black raincoat with a fur lining all year round. He seemed to appear and disappear at will, coming out of the shadows and returning there after he visited. "The occurrence of illuminated umbra draped in folded silk shoes asking for time to lift it's middle eyebrow over the rainbow."
I often met Uncle Marvin at the Nathan's Restaurant on 8th street and 6th avenue. We would drink coffee, tea, and hot chocolate. Billy Bang and Henry P. Warner were there, and eventually Carl Lombard aka Pelikan, aka Doctor Shalto, would show up and lecture --sometimes on the Hopi Indians, other times on Duke Ellington, Thelonius Monk, Cecil Taylor or Eric Dolphy. Afterwards I would turn and step into the summer night, invigorated and inspired. The warm feeling from these nights transcends description. Sometimes Recorder Wade (Wade Davis, Cecil Taylor's first bass player from the very early days) would be playing his recorder outside in a corner or alley way. Wade was one of the first underground journalists to review and document the happenings during the 70's loft jazz scene. He was a regular presence at both Studio We (run by James Duboise) and Studio Rivbea (run by Sam Rivers).
A lot of street musicians have problems with their sound being to loud. Uncle Marvin never had that problem. You could stand twelve inches from the bell of Marvin's horn and hardly hear the sound. One afternoon I ran into Steve McCall on 1st avenue. He said he was sharing an apartment uptown with Marion Brown. As we talked I heard a saxophone and began following the sound. It led me to avenue D near the east river. I looked over the railing and there was a black raincoat floating in the water. After that day Uncle Marvin was never seen again.
The music on this cd was inspired by that period. "Raincoat In The River" is a suite divided into five parts.
Part I, "Meditation for Two Voices" introduces the suite with a cello and shakuhachi (a five-holed bamboo Japanese flute). Here we try to conjure up some of the sounds present in the sub-tone world.
Part II is called "Mountain/Maintain." Mountains are one of the essential things in the world for me, even though i don't see them very often. Whether tall, small, brown, green, blue, black, purple, yellow or orange, they have maintained all these years, while still remaining a mystery. In this piece the marimba vibrates like the morning mists that cover the underground mountains. Once people enter one of these worlds on any level they always want to go back because it is so much better there than the current set-up here on earth. However I believe we must stay in this world and work desperately to make the necessary changes. Death and war will never defeat the power of compassion and love.
Part III, "Anast Crossing the Lake of Light," imagines a lake of light where all those who are in need gather to become one with "Song". Anast the mother of music crosses the lake on a raft. Uncle Marvin is there, also Albert Ayler with Ghandi, and Huey's Grandmother, the one he never met, all together at the edge of the water.
Part IV, "Raincoat In The River" speaks about the day a rainbow appeared in the sky without it having rained. "There's a rainbow in the ghetto and it's changing everybody into poets guns into trumpets bells of freedom ringing ringing chimes of justice singing singing raincoat in the river the end and the beginning inverted flowers turning into children a painters dream all the love ones are gathered the sunsets again and the day begins to end raincoat in the river at long last the color of the sky."
Part V, "Painters Celebration," is a celebratory song for Marion Brown, who continues to find life in all aspects of itself, then and now. --William Parker, liner notes
The fullest expression of Mr. Parker's aesthetic can be found in his work with the 15 piece Little Huey Creative Music Orchestra, which he has led since 1981. With it, he draws directly from the legacies of Ellington (by creating personalized roles for each player) & Mingus (through vamps & bluesy refrains that build into colorful explosions of sound). The ensemble is as notable for its group dynamic as for the music it produces. The orchestra's new cd, Raincoat in the River presents a long suite from a recent concert. The music blurs the line between free jazz, indigenous folk songs & contemporary classical, moving gracefully from gentle passages for one or two instruments to furious, fully orchestrated swells. Melodies are carried by a cello in one section, a middle eastern double-reeded horn in another. On occasion, Mr. Parker lays down his bass to play a japanese flute, while Mr. Hofstra's tuba undergirds the sound.
Larry Blumenfeld, New York Times
Parker's 17-piece Little Huey Creative Music Orchestra recorded Raincoat in the River (the first of three projected volumes) live at Boston's ICA, and compared to the boisterous but somewhat ragged Mayor of Punkville (Aum Fidelity, 2000) it's a more poignant, introspective affair, based loosely on the life (and supposed death) of NY street musician "Uncle" Marvin Nunez. The line-up is almost identical to the earlier album, with the addition of singer Leena Conquest and cellist Shiau-shu Yu, who helps relieve Parker of bass duty, allowing him to contribute solos on other instruments. After an elegiac opening duet between Yu's cello and Parker's shakuhachi, "mountain/maintain" superimposes wailing trombones, the polyrhythmic intricacies of two drummers, Parker (by now on marimba), and a grizzly baritone solo from Dave Sewelson in a vertical form worthy of George Russell. "Anast Crossing the Lake of Light" builds steadily over a relentless eleven-beat tuba ostinato, Conquest's plaintive wordless incantations and Yu's cello decorated by occasional sonic scribbles from Parker's bombard (sounding like a sopranino sax). "Raincoat in the River" -- the song appears in a slightly different form as the title track of Parker's new Thirsty Ear release Raining on the Moon - at last finds him on bass, and features ebullient solos from Rob Brown and Alex Lodico. The closing "Painters Celebration" is dedicated to Marion Brown, but Gil Evans' Monday Night Orchestra comes to mind on several occasions - though Parker's horn arrangements are a little less subtly voiced, there's that same raw energy and willingness to take risks.
Dan Warburton, The Wire