Joshua Abrams
Magnetoception
Eremite Records MTE-63/64 x2LP
Personnel:
Abrams guimbri, bass, celeste, clarinet, small harp, bells
Hamid Drake frame drum, tabla, conga, trap kit
Emmett Kelly electric guitar
Jeff Parker electric guitar
Lisa Alvarado harmonium
Ben Boye chromatic electric autoharp
Track Listing:
MTE-63 Side 'A'
1. By Way of Odessa
MTE-63 Side 'B'
1. Lore
2. Of Night
3. Broom
MTE-64 Side 'A'
1. Translucent
2. Of Day
3. Magnetoception
MTE-64 Side 'B'
1. Spiral Up
2. The Ladder
recorded February 2013 Attica Studios, Berwyn, IL & 2013>14 Parlor One, Chicago
producers: Michael Ehlers & Abrams
engineers: James Bond & Joshua Abrams
paintings: Lisa Alvarado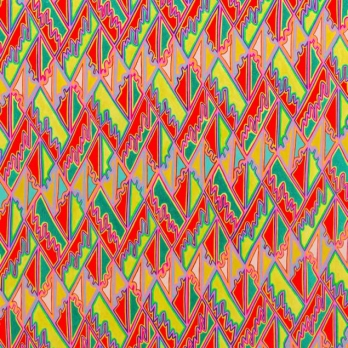 Magnetoception
Transluscent
Lore
bandcamp loseless download
"mastered for itunes" download
on magnetoception joshua abrams is back exploring new contexts for the guimbri, the three-stringed north african bass lute at the heart of his eremite recordings natural information & represencing. the artist's first large scale work on vinyl, magnetoception began as a commission by eremite for abrams to make a double LP based in extended performances by an ensemble of abrams, guitarists emmett kelly & jeff parker, & drummer hamid drake. the group recorded the nucleus of magnetoception live to two track, circled around vintage neumanns & a woodstove in a berwyn, illinois attic february 2013. over the next year at his chicago studio, parlor one, abrams added solo pieces for harp & clarinet, along with lisa alvarado's harmonium, ben boye's autoharp & percussion embellishments by drake.

abrams's compositions are a fascinating nexus of ideas from non-western traditional musics, minimalism & jazz designed to catalyze his musicians toward a single group-mind organism of sound. on his 2012 album represencing abrams presented his music in capsule-length pieces realized by duo & trio groupings drawn from a pool of a dozen musicians. magnetoception presents one ensemble methodically unfolding his compositions over longer durations. the performances intricately layer rhythm, melody & drone into sonic textiles of extraordinary expressive breadth, by turns dense or spacious, repetitive or indeterminate, clattering or placid.

in addition to his masterful contributions on trap kit, tabla, conga & frame drums, hamid drake acts as a direct link to the visionary music of don cherry, one of abrams's essential artistic models.

magnetoception is the fullest measure yet of joshua abrams's sound world. it sounds like no other music being made today. presented in a heavyweight stoughton 'laserdisc' gatefold sleeve, mastered by helge sten at sten audio virus lab, oslo, norway. vinyl cut at sterling by steve fallone & manufactured by RTI in an edition of 875 copies.

since the 2012 release of represencing, abrams has toured north america & europe with a shifting line-up of musicians as 'natural information society' & scored the music for the award-winning films the trials of muhammad ali & life itself. in may 2015 abrams natural information society will tour the u.s. & canada, including a 17 may appearance at musique actuelle victoriaville by a seven piece manifestation of the band: abrams; lisa alvarado, harmonium; ben boye, autoharp & pianette; emmett kelly, guitars; mikel avery & frank rosaly, drums & percussion; special guest hamid drake, drums & percussion.
the wire magazine no. 3 record of 2015, all genres
pitchfork no. 2 experimental record of 2015
magnet magazine no. 1 jazz/improv recording of 2015
matador records matablog top ten records of 2015
new city no. 4 rock album of 2015
stupid scientifical no. 7 best vinyl album 2015
KDHX top 10 albums 2015
reckless records employee best of 2015
the big take-over critic list best of 2015
2015 SOTO staff picks
peace & rhythm 2015 round-up
other music best of 2015
forced exposure staff pick for year's end 2015