Joshua Abrams
Music for Life Itself & The Interrupters
Eremite Records MTE-67 i-tunes & bandcamp
Personnel:
Life Itself
Abrams acoustic and electric bass, piano, Rhodes, guitar, harmonium
Rashida Black harp
Ben Boye piano, Pianet
Ari Brown tenor saxophone
Hamid Drake drums
Tony Herrera trombone
Marquis Hill trumpet
James Sanders violin, viola
Joshua Sirotiak tuba

A Place Called Pluto
Joshua Abrams acoustic bass, piano
Emmett Kelly electric guitar
Frank Rosaly drums
The Interrupters
Joshua Abrams acoustic and electric bass, MPC1000, piano, Wurlitzer, drums, percussion
Jason Adasiewicz vibraphone
David Boykin bass clarinet
Nicole Mitchell flutes
Jeff Parker electric guitar
Tomeka Reid cello
Track Listing:
Life Itself
01. Roger's Theme
02. CWA
03. Corliss Debate
04. Chaz's Theme
05. A Machine for Empathy
06. Not So Jolly
07. Argument
08. Illness
09. The Hot Sun Was Streaming Through the Windows
10. P Kael
11. Publishing & Memory
12. Ava's Story
13. Chicago
14. O'Rourke's
15. Professional Enemies
16. Daily Illini
17. After Hours Colloquy
18. Shelf of the Mind
19. Polymathic Genius
20. Morning Walk in Cannes
21. Because They Look Happy (Chaz reprise)
22. Roger's Theme (Intro)
23. Theme from A Place Called Pluto
The Interrupters
24. Introduction to The Interrupters
25. Street Chess
26. Shootouts
27. Guns, Drugs, Party, Fun
28. Cobe Memory
29. Inside a Flea
30. Not Right Now
31. Ameena's Theme
32. Shrines
33. Eddie Memory
34. I Think Tears Was Comin'
35. Eddie Memory (reprise)
36. Fenger Peace Summit
37. The Ones Telling the Story
38. Spring
39. Scattered to the Winds
40. National Guard Meeting
41. Hope for the Future
42. Now
43. Mourning
bandcamp lossless download
"mastered for itunes" digital download
emusic members
please note that eremite does not participate in i-tunes radio or any other streaming service. the album is available in the i-tunes store only & from Emusic.
Music for Life Itself
recorded by Joshua Abrams, Parlor One, & Neil Starch, SOMA E.M.S
mixed by John McEntire SOMA E.M.S
December 2013
Theme for A Place Called Pluto
recorded by Joshua Abrams, Parlor One
mixed by Neil Strauch
May 2013
Music for The Interrupters
recorded & mixed by Neil Strauch, Engine Studios
additional recording by Joshua Abrams, Parlor One
December 2010
photograph courtesy of Chaz Ebert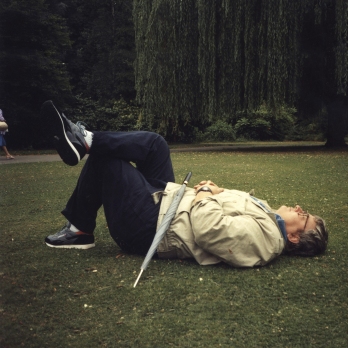 Ameena Theme
Roger's Theme (intro)
Joshua Abrams's music first came to my attention through a friend and colleague who thought he might be an interesting choice to score for The Interrupters. After listening to his eclectic and impressive record Natural Information, I was keen to meet the man. Having done a number of films and worked with many different composers over the years, I was looking for a composer who could give The Interrupters a sound that felt authentically Chicago, but didn't feel like film score. Oh, and by the time we called Joshua, we were about six weeks from the film premiering at the Sundance Film Festival. No pressure there.
In an amazingly short time, Joshua crafted music that at times felt urgent and "of the street" while never succumbing to hip hop cliches of toughness and false bravado. A song like "Drugs, Guns, Party, Fun" is as cool and catchy as its name - which like many in this collection is a direct quote from the film - but also has an underlying authentic soulfulness. At other times, his score contains tender melodies, spare and beautiful, like "Ameena's Theme" and its even sparer iteration, "Shrines." These cues echo the feelings of loss as well as redemption that characterize Ameena Matthews life and all the stories we followed in the film. And not one single cue of Joshua's ever felt derivative of some other movie score I'd heard. I thought at the time, that wasn't just a testament to Joshua's talent, but also, well, to the fact that this was the first film he'd ever scored.
I would learn on Life Itself that derivative "movie music" just isn't in Joshua's DNA. Life Itself is the fourth feature documentary Joshua has scored and it couldn't really be more different from the other three. And yet... it's also very much Chicago. What he's managed to do with this film is make music that captures the essence of who film critic Roger Ebert was: a man of great confidence, humor, and sensitivity. The signature piece for the film, "Roger's Theme," is big and bold, yet underneath Ari Brown's amazing sax riffs is the music of a wake, an eulogy, to a man who has embraced the end of his life which he knows is near. "Roger's Theme" is the whole movie in one cue.
Maybe that's Joshua's gift. He loves documentaries and he gets them on a deep level. He channels what the film is trying to say into the music he composes, and helps them to say it with elegance, humor, and feeling.

Steve James
January 2015
A well-regarded player in the Chicago jazz world, bassist and composer Joshua Abrams has spent the last several years recording expansive trance music with his band, Natural Information Society. That outfit's records are driven by improvisation, though not necessarily in the form of individual solos. Instead, Abrams and his collaborators create hypnotic interlocking patterns, rhythms, and melodies that seem to spool forth endlessly without any single voice taking center stage. It is serene and peaceful music that relies on spontaneous invention, but also on restraint.
It's a sensibility that is carried over to Abrams' other pursuits. In the past several years, the bassist has also established a reputation as a composer for film. Released digitally by Eremite Records, Music for Life Itself & The Interrupters collects two scores that Abrams composed for documentary filmmaker, Steve James—best known for his 1994 picture, Hoop Dreams—including the two features in the title as well as a two-minute piece written for the short, A Place Called Pluto.
If you're coming to this music having listened to Abrams' work in Natural Information Society, one thing will be immediately noticeable: these compositions are a lot shorter. Working in the context of a film, there's no room to sprawl and most of Abrams' cues last barely more than a minute. It's a very different kind of music making, but the results share certain qualities with the composer's other outlet, mainly in that they often carefully balance ambience and melody.
Released last year, Life Itself is an adaptation of film critic Roger Ebert's memoir of the same name. Though the film includes interview footage shot during the final months of Ebert's battle with cancer, the mood is not morose. Abrams' score is mostly lighthearted, often taking stylistic inspiration from blues and '60s cool jazz. Much of it seems to capture spontaneous interplay. The central thread, "Roger's Theme", finds a brass band trading riffs and "Professional Enemies" is largely a bass solo. For the film's somber and reflective moments, Abrams' arranges music that suggests a sense of peace—drones and light chords embellished with flourishes of trumpet and harp.
This is followed by Abrams' score for James' 2011 film, The Interrupters, which tracks a group of anti-violence activists working with communities in Chicago. Commissioned a mere six weeks before the film's Sundance Film Festival premiere, it's the slightly less polished of the pair. However, with its focus on percussion and hip-hop rhythms, it's probably the more enjoyable of the two to listen to outside of the context of the film. On both, Abrams' benefits from the presence of great musicians, including drummer Hamid Drake, saxophonist Ari Brown, and guitarist Jeff Parker, who also performs in Tortoise.
Watching the films, Abrams' music is never intrusive. It enhances a scene, but never forces a mood. And while it's probably not the first place you'd turn to experience his work, it provides an example of his stylistic reach and musical ability. Natural Information Society's music thrives amid the extended zone-out, but listening to the music for The Interrupters, it's surprising how malleable many of those sounds are—that, in miniature, the music can slot so naturally into somebody else's story.
Aaron Leitko, Pitchfork

Josh Abrams is a true renaissance figure. Although he's most closely associated with the double bass --an instrument that has insinuated him with everyone from jazz greats like Fred Anderson and Roscoe Mitchell to genre-of-one square pegs like Jandek and Loren Connors- he's also released some fantastic albums showcasing his mastery of the Gnawanese guimbri (Natural Information) and as bandleader of some distinction with his own quartet. His versatility, compositional acuity and hulking address book have all served him well on this compilation of selected film scores.

Life Itself and The Interrupters are a pair of documentaries directed by Steve James that profile radically different aspects of his adopted Chicago habitat. The first is a loving portrayal of Roger Ebert- the influential film critic who died in 2013. The second is a portal into the perilous existence of the inhabitants of the cities gang-ravaged Southside and the heroic outreach workers who attempt to mediate the violence.
"Roger's Theme" kicks off Life Itself and it's a juiced up and sloppy soul arrangement that wouldn't sound out of place on the Rolling Stones Sticky Fingers album as Tony Herrara's trombone slurps over Hamid Drake's louche triplet beat. Rashida Black's harp brings some opalescent smatterings to "Chaz's Theme" and the drone laden "A Machine for Empathy", and provides a subtle tension when arpeggio'd against Abrams' echoing Rhodes piano on "Argument".
The pieces that make up The Interrupters are more uptight and succinct with Abrams' drums hitting like kidney punches on "Introduction" and Jeff Parker's inimitable electric guitar investing "Inside a Flea" and "Mourning" with a disquieting, nocturnal feel.
Abrams and his cast of crack musicians show great range and invention to illuminate such disparate subjects, while still maintaining a distinct voice. It's the voice of Chicago in all its fury and refinement.
Alex Neilson, The Wire