News
2019-06-11
MANDATORY REALITY
dig this review of mandatory reality by stuart boomer for pointofdeparture.org. "Abrams is exploring a musical zone with tremendous potential, one focussed directly on the impact of insistent sound, repetition & rhythm on consciousness. Like traditional trance musics (Africa, India & Persia), it's illuminating work, seemingly eroding barriers between self & other, creating a kind of bliss." 
---
2019-05-23
JA & NIS CHICAGO NYC & EUROPE JUNE>JULY 2019
abrams / alvarado / avery / stein
07 VI   union pool  brooklyn  (supporting sachiko kanenobu)
28 VI   constellation   chicago  (IVtet + ben boye, hamid drake, ben lamar gay, nick mazarella)  record release concert for mandatory reality 
01 VII   roulette   brooklyn  (double bill with 75 dollar bill)
04 VII   kongsberg jazz festival   kongsberg (guests hamid drake & helge sten)

07 VII   arkaoda   berlin
08 & 09 VII   cafe oto   london  (guests alexander hawkins 08, evan parker 09)
10 VII   copenhagen jazz festival   copenhagen 
---
2019-04-24
MANDATORY REALITY
thanks to bill meyer for a fine unpacking of the JA&NIS story, with much input from abrams & lisa alvarado, at chicago reader. 
---
2019-04-24
MANDATORY REALITY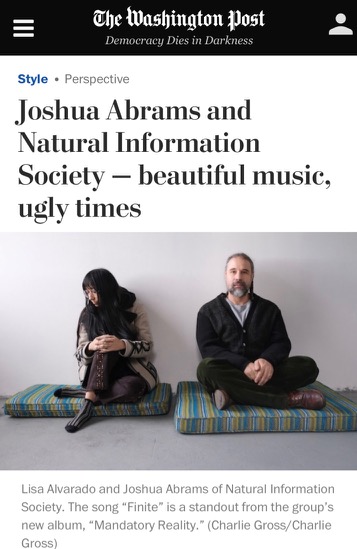 thanks to chris richards & the washington post. "it's the strange surprise of beautiful music that gives it its heft. beauty isn't a balm. it's a counterweight."
---
2019-04-19
MANDATORY REALITY ORDERS
so you are wondering what's up with your -mandatory reality- order. good freaks of the realm, eremite is grinding on it. everyone wanna get funky one more time?
"due to repeated production disruptions caused by our pressing plant, we have been shipping in w-a-v-e-s."
as of just three days ago, supplies are sufficient to resume shipping vinyl orders. big thanks to all of you rolling with the scheduling flux. to the vocal minority sending choleric "where is my record" emails: i share your excitement about the album, but a gentle reminder that the official release date for the vinyl is 2019-05-10. those of you who direct ordered the vinyl here & have not already received it will still (most likely ;) receive it well before it is available elsewhere. 
once more, these are hand-made records right down to the dust jackets & screenprinted labels. that shit takes time, & it only fully happens after the pressing plant delivers our vinyl. & the eremite shipping department is a party of one.
many thanks for your interest & support. relevant updates will be posted here. 
---