News
2019-04-24
MANDATORY REALITY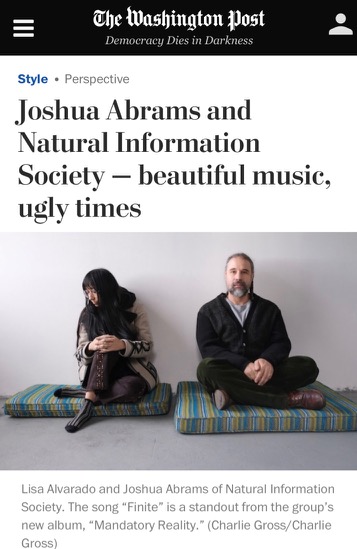 thanks to chris richards & the washington post. "it's the strange surprise of beautiful music that gives it its heft. beauty isn't a balm. it's a counterweight."
---
2019-04-19
MANDATORY REALITY ORDERS
so you are wondering what's up with your -mandatory reality- order. good freaks of the realm, eremite is grinding on it. everyone wanna get funky one more time?
"due to repeated production disruptions caused by our pressing plant, we have been shipping in w-a-v-e-s."
as of just three days ago, supplies are sufficient to resume shipping vinyl orders. big thanks to all of you rolling with the scheduling flux. to the vocal minority sending choleric "where is my record" emails: i share your excitement about the album, but a gentle reminder that the official release date for the vinyl is 2019-05-10. those of you who direct ordered the vinyl here & have not already received it will still (most likely ;) receive it well before it is available elsewhere. 
once more, these are hand-made records right down to the dust jackets & screenprinted labels. that shit takes time, & it only fully happens after the pressing plant delivers our vinyl. & the eremite shipping department is a party of one.
many thanks for your interest & support. relevant updates will be posted here. 
---
2019-04-15
JOSHUA ABRAMS & NATURAL INFORMATION SOCIETY MANDATORY REALITY
mandatory reality reviewed in the 12 april new york times & today's pitchfork. thanks to giovanni russonello (NYT) & andy beta (PF) for bringing attention to our work.  
due to repeated production disruptions caused by our pressing plant, we have been shipping mandatory reality orders in w-a-v-e-s. if you direct-ordered the vinyl edition here at eremite.com on or before 2019-03-17, your record was already packaged & mailed. CD orders & all other orders placed after the aforementioned date shipping THIS WEEK into next week. download codes are not included with purchase of the vinyl edition. lossless digital files of mandatory reality are a click away via eremite's bandcamp page. 
---
2019-03-11
MANDATORY REALITY PRE-ORDERS
beautiful people. pre-orders are scheduled to ship first week of april, or thereabouts. when pre-ordering, please bear in mind that eremite is one of two dudes in a cave, & that handmade records take time. to prevent damage to the record during its journey, eremite packages mandatory reality in a double-walled LP mailer (bags unlimited box MLPB12snug) with x4 cardboard "filler pads." all together, the packaging, heavyweight gatefold sleeve & x2 LPs weigh nearly three pounds, meaning a high shipping cost on international orders. one idea to bring down international shipping cost is to combine your order for mandatory reality with your trusted friend's order of mandatory reality. 
---
2019-03-10
MANDATORY REALITY 4 STAR REVIEW IN MOJO
"In the fertile & interconnected Chicago music scene, Josh Abrams has been a discreetly important presence for over 20 years: jamming with Tortoise, backing Will Oldham, sharing band members with Ryley Walker, playing bass with a constellation of local jazz notables. Of late, his energies have been concentrated on this shifting collective, where his hybrid of spiritual jazz & the most patient kind of minimalism can be fully realized. Mandatory Reality, the fifth NIS record, is their best yet, with Abrams' guimbri --a three-stringed African lute-- leading his crack band through long-form trance-outs that are equal parts Don Cherry & Phillip Glass. "In Memory's Prism" sustains the mood for a stately 24 minutes, only for "Finite" to take up directly where it left off, & run for another 40. The restraint, especially from the horn section, is astonishing: the overall effect absorbing to the point of transcendence." --John Mulvey
---